This easy Almond Boscotti is the perfect addition to any cup of coffee.
Ok. WOW has this week been tough. It's rare that I fall into a bad recipe slump but boy has it happened! Not one of the recipes I chose to make over the last few days has been blog worthy but here is the good news! Actually, great news! I found a recipe that has passed the test! The wonderful people over at Lagrima kept telling me how amazing this recipe is. I was hesitant because biscotti is my holiday neighbor treat and I knew that if it turned out half as good as they told me I would eat the entire batch all on my own, but after so many failed recipe attempts I was ready for something edible.
They didn't lie about this being the best biscotti recipe. It's a little more time consuming, but well worth the wait. The almond and vanilla combination is out of this world!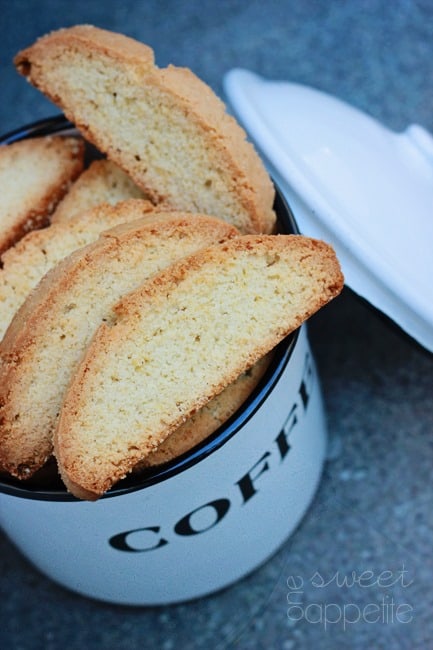 Here is my tip for the day. Do NOT use a steak knife to cut this biscotti. I learned the hard way that I should have just washed my bread knife. Steak knives suck and you will most likely slip and cut yourself. Just my little cautionary tale for the day! I hope you all will learn from my crazy ideas and be safe in the kitchen!
I love, love, loved this biscotti. We made some pumpkin spice coffee in the morning and used the little cookies to dip. A-MAZ-ING! Really… there are no words. It's so simple to whip up and a great way to start off the day. Next time I'll be dipping one end in chocolate or maybe a nice chocolate drizzle. I wasn't kidding about eating the entire batch on my own. Luckily my husband was with me and he helped out… a little.
Almond Biscotti Recipe
Ingredients
1

cup

sugar

1/2

cup

butter

melted

2

teaspoons

pure almond extract

1

teaspoon

pure vanilla extract

3

large eggs

2 3/4

cups

flour

1 1/2

teaspoons

baking powder

1/4

teaspoon

salt
Instructions
Stir together all of the ingredients. Make sure your dough is thoroughly combined. Cover and chill for 30 minutes.

Preheat your oven to 350 degrees. Line a baking sheet with parchment paper and set aside.

Divide your dough into two equal pieces. It's going to be rather sticky, so what I did was just run my hands under cool water to moisten them. Shape each dough half into a loaf that is 16x2 inches. Place on your prepared baking sheet and bake for 30 minutes.

Cool for 15 minutes then slice into 3/4 inch pieces. Place, cut side down, back onto your cookie sheet and cook for 10 additional minutes.
PS, you might like…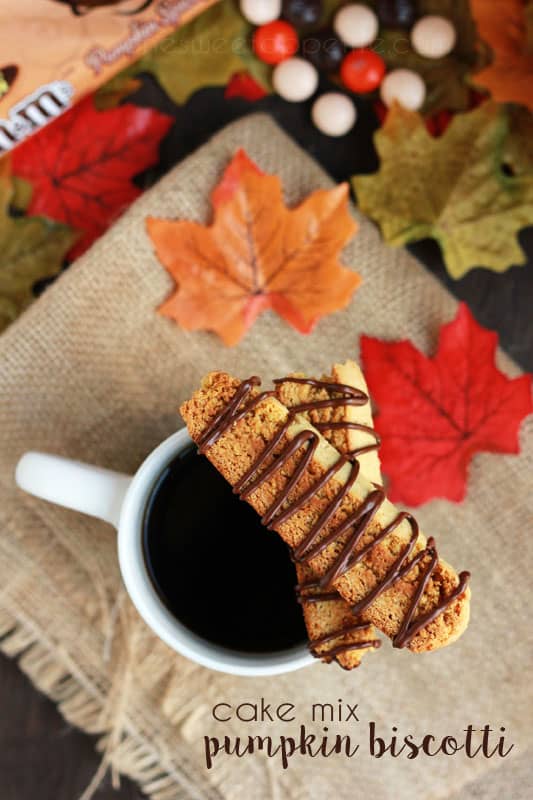 This post may contain affiliate links. I include these links to help you find specific products that are used in my recipes. If you purchase an item from the link on One Sweet Appetite, I will receive a small commission helping keep my recipes free for you.
One Sweet Appetite is a participant in the Amazon Services LLC Associates Program, an affiliate advertising program designed to provide a means for sites to earn advertising fees by advertising and linking to amazon.com
(Visited 35,715 times, 58 visits today)
69