My mom moved to Utah this last week. I'm both happy and sad about this. I love having my mommy so close to us, but this woman insists on peer pressuring me into goodies. Everywhere. Ok, so I admit it's not a hard thing to do… but still. Doesn't she know I'm supposed to be in the middle of a health challenge?!
Lucky for me, it was my off day from calorie counting when we decided to make a run through Starbucks to pick her up a chai (with two shots of pumpkin). The girl in the drive through speaker loudly suggested that we try one of the "CRANBERRY BLISS BARS!"  After politely declining and ordering our drinks, my mom leans over and says….
"Just get one of those bars. We can split it"
Which means she will take one teeny tiny bite, and I will devour the rest like I haven't eaten in weeks. . . Which is what happened. They are amazing. Like almost too good for words. So that is why I recreated them for you. Just in case you are searching for a great last minute Thanksgiving treat.
Ingredients
1 cup butter, soft
3/4 cup brown sugar
1/3 cup granulated sugar
3 large eggs
1 teaspoons orange extract
1 teaspoons vanilla extract
2 cups flour
1 1/2 teaspoons baking powder
1-1/2 teaspoon ground ginger
3/4 cup craisins
1/3 cup white chocolate chips
Instructions
Preheat your oven to 350 degrees. Line a cookie sheet (10x15) with foil and lightly mist with non-stick spray.
In a large bowl, whisk together the flour, baking powder, and ginger. Set aside.
Cream together you butter and sugars. Add the eggs and extracts. Stir until combined. Mix in the dry ingredients. Fold in your craisins and white chocolate chips. Spread the batter into your prepared pan and bake for 15 minutes, or until the edges are browned. Be careful not to over bake!
https://onesweetappetite.com/2013/11/cranberry-bliss-bars/
Cranberry Bliss Bar Frosting
Ingredients
6 oz cream cheese, soft
1/4 cup butter, softened
2 cups powdered sugar
2 teaspoons orange extract
Instructions
Cream together your cream cheese and butter. Slowly stir in the powdered sugar and extract. Mix until fully incorporated.
Spread onto your cooled cake.
https://onesweetappetite.com/2013/11/cranberry-bliss-bars/
Cranberry Bliss Bar Chocolate Drizzle
Ingredients
1/2 cup white chocolate chips
1/2 teaspoon shortening
Instructions
Combine chocolate and shortening in a microwave safe bowl. Heat in 15 second intervals, stirring in between, until melted. Drizzle over your bars.
Slice your bars into squares or triangles. Enjoy.
https://onesweetappetite.com/2013/11/cranberry-bliss-bars/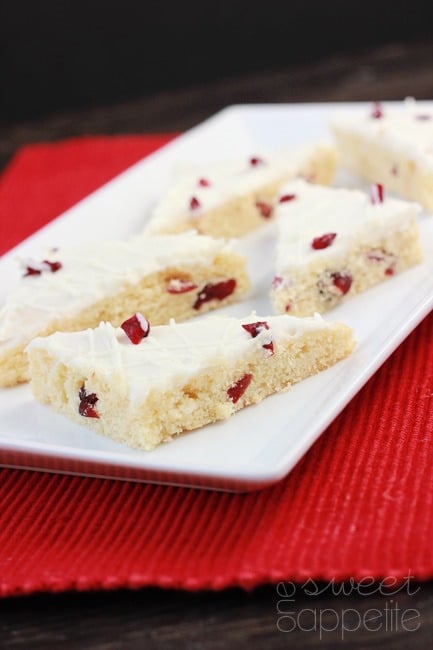 The ginger/orange/cranberry combo is delicious. It had me wondering why I never thought to do this before. I mean seriously… The recipe just screams winter. Or holiday. Or middle of summer and Starbucks isn't selling them right now. Pretty much these are good any time of the year. The white chocolate drizzle probably isn't necessary, but don't they look so pretty?
And just a side note… In case our drive thru barista is reading… Thank you for making us try this. You made our week with your suggestion and crazy outgoing personality. I can honestly say we have never had that much of an in-depth conversation with any of our servers. YOU are one in a million.
I'm off tomorrow to fall into a turkey induced coma. I hope you all have a great holiday and I'll see you soon!
Recipe highly adapted from Food.com
(Visited 491 times, 1 visits today)
0