Oh cheesecake… How I love you so. This is actually attempt number one at a recipe I found over on the Better Homes and Gardens website. You see… They asked me to try out one of their recipes so I can guest post on their site (that's right… I WILL be on the BHG website!!!) and I just couldn't narrow it down. I ended up making a few different things and these blueberry cheesecake bars were the first to be crossed off of my list.
The 9×13 pan was quickly devoured and even the picky non-blueberry eaters enjoyed one or three. I served them as a going away gift for my mom and dad. Somehow my two sisters seem to magically appear whenever something sweet shows up at home. Both inhaled a few bars and quickly let me know that this recipe is at the top of their list. I did slightly adjust the recipe to fit some picky eaters (don't worry mom, I won't let them know it's you). If you are a fan of coconut then toss some into the crust! I think that would have been a great addition to the crisp outer edge.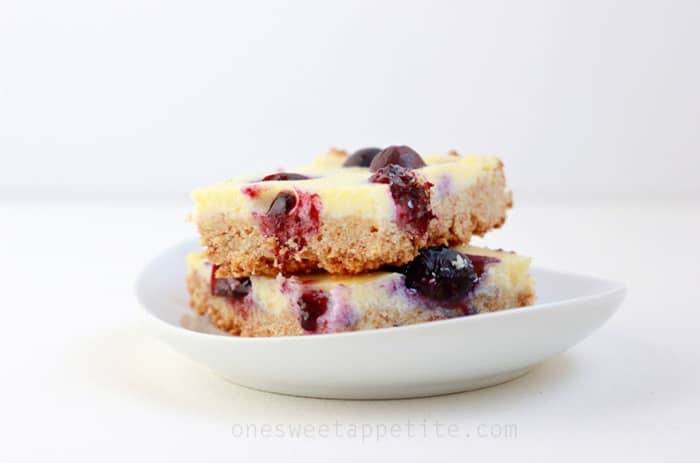 Blueberry Cheesecake bars
Ingredients
1/2 cup butter, melted
1-1/2 cup finely crushed graham crackers
1/2 cup flour
11/4 cup sugar
1 1/2 (8oz) package cream cheese, softened
2/3 cup sugar
4 eggs
1 tablespoon milk
1 teaspoon vanilla
2 cups blueberries
Instructions
Preheat your oven to 375 degrees. Line a 9×13 pan with foil and lightly spray with non-stick spray. Set aside.
Stir the butter, graham crackers, flour, and 1/4 cup of sugar together with a fork. Press into the bottom of you prepared pan. Bake for 8 minutes or until light brown.
Cream together the cream cheese, 2/3 cup sugar, eggs, milk, and vanilla in the bowl of an electric mixer. Pour over your warm crust and sprinkle with blueberries.
Bake 20 minutes or until the center looks like it has set. Cool until room temperature and refrigerate for at least 2 hours if not overnight.
https://onesweetappetite.com/2014/04/blueberry-cheesecake-bars-2/
You will want to keep this recipe in mind for blueberry season. It's just around the corner and I know that I can't wait to make a few more yummy desserts!
(Visited 1,037 times, 1 visits today)
1