It's getting crazy up in here. I'm going to just dive head first into holiday flavors starting with this pumpkin eggnog dip. That's right… PUMPKIN and EGGNOG combined into one outstanding appetizer! Er… dessert?
Some of you may have seen me on KUTV channel 2 this morning with this little treasure. Eggnog dip is a staple in our fridge this time of year. It goes great with almost any dipping cookie. I was talking with a friend who asked if there was a way to make it more of a Thanksgiving treat and that's when this genius idea hit me. I'd seen pumpkin eggnog in my parents fridge a lot recently and figured it can't be too difficult to swap it out in that classic recipe!
One trip to the store later and I was all set to dive in. The only difference I made was to sprinkle the top with a little pumpkin pie spice instead of cinnamon but either will work in a pinch. This tastes amazing with vanilla waffers (those are the mini's in the photo), graham crackers, sugar cookies, or even ginger snaps! Get creative when you are serving to your guests! We've even dipped churros (a Costco visit staple) and they are simply divine!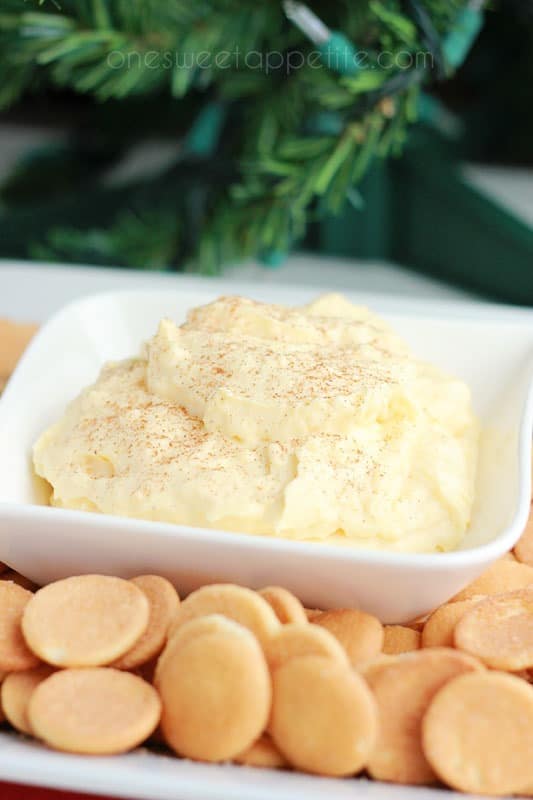 Ingredients
1-1/2 cups pumpkin eggnog
2 tablespoons Cornstarch
1/2 cup Sour Cream
1/2 cup Heavy whipping cream
1 tablespoon Sugar
Cinnamon or Pumpkin Pie Spice for dusting (optional)
Instructions
Whip together the cream and sugar in the bowl of an electric mixer until stiff. Set aside.
Whisk together the eggnog with the cornstarch in a small pan. Heat to a boiling and cook two minutes. Make sure you are constantly stirring to avoid any burning.
Remove from the heat and stir in your sour cream. Fold in the heavy cream.
Refrigerate until chilled, sprinkle with cinnamon or pie spice, and enjoy with your favorite cookies.
https://onesweetappetite.com/2014/11/pumpkin-eggnog-dip/
(Visited 505 times, 1 visits today)
1