Use up your in season produce with this simple Strawberry Peach Jam recipe!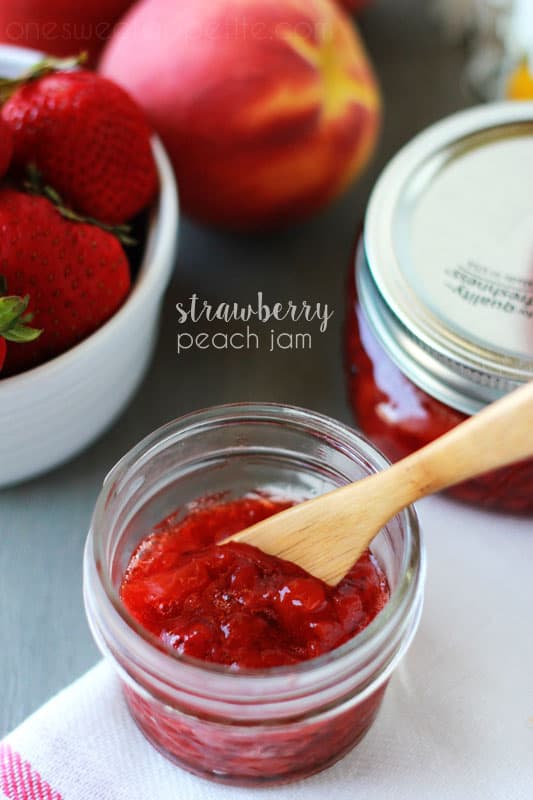 For some reason I have had that song from Madagascar (you know the one) stuck in my head ever since I made this recipe. We (my six year old and I) also jammed out to it while we were cooking this up. The truth is, I like my jams chunky so it was only fitting. I feel like getting a nice bite of that fresh fruit is part of the fun.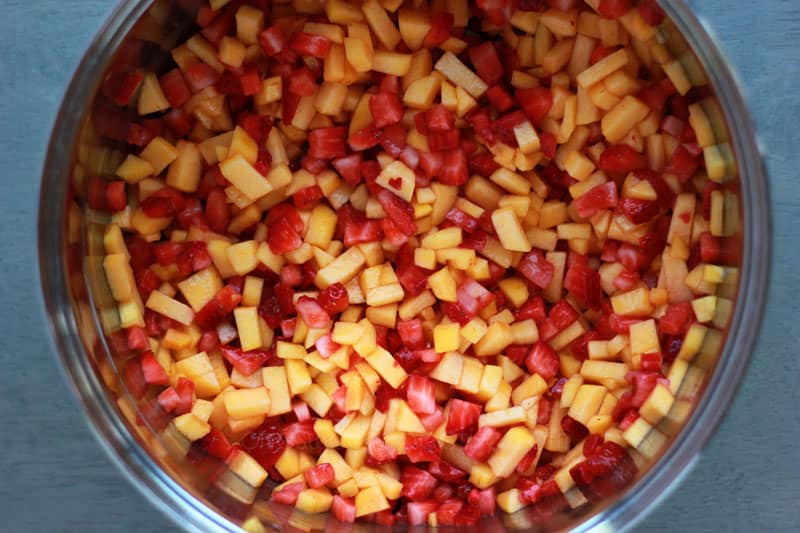 Also, peaches and strawberries were made for each other. The proof is in the above photo. If you look closely there is a bit of strawberry that formed a cute little heart right on one of the tiny peach chunks. True love, guys. True love. I have a feeling you'll see these two together again in a pie version sometime this fall, and probably in about a million of my Instagram posts since we have decided to top all of our sweet foods with this dynamic duo.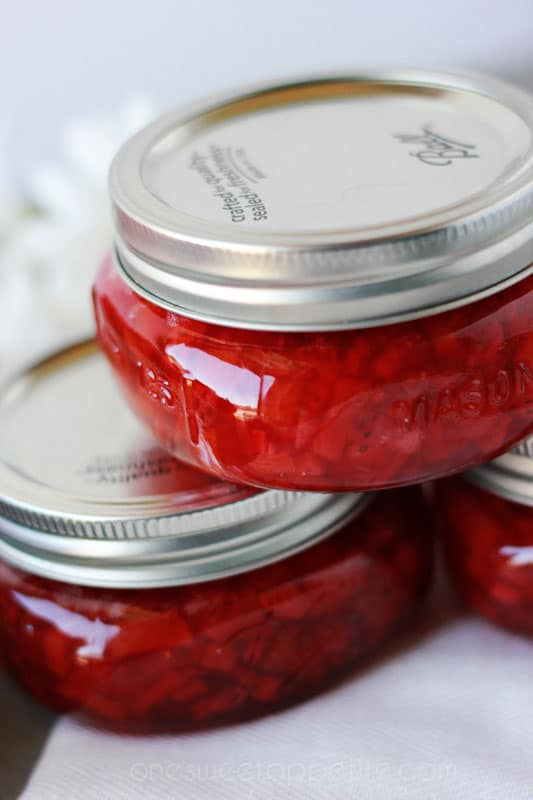 But let's get back to this recipe. I adore the entire canning process but also know how intimidating it can be. This recipe is great for beginners because it doesn't make too much (maybe three medium cans worth) and helps you dip your toes into the big world of food storage. While it's cooking down your entire home starts to smell delicious. Scented candles have nothing on strawberries and peaches simmering over your stove.
Another reason it is high on my list is the sugar amount. There is a lot, it IS a jam so you have to kind of expect that, but not as much as I have found in other recipes. The ingredient list is short too. With just five ingredients you are sure to be spreading this on warm buttered toast in no time. Easy peasy.
Strawberry Peach Jam
Prep Time: 1 hour Cook Time: 35 minutes Total Time: 1 hour, 35 minutes Yield: 5 cups
Ingredients
2 1/2

cups

peaches

peeled and finely diced

2

cups

strawberries

finely diced

1

cup

sugar

1/4

cup

lemon juice

3

tablespoons

dry pectin

warm sterilized jars
Instructions
Combine both fruits in a large pot. Heat to a boil over medium heat stirring consistently.

Reduce the heat and boil for 30 minutes, making sure to stir occasionally to keep the fruit from burning.

Stir in the sugar, lemon juice, and pectin. Bring to a boil and heat 5 minutes.

Remove from the heat and fill your jars leaving only 1/4 inch from the rim. Add lids and heat in a water bath for 10 minutes or until sealed.
Recipe only slightly adapted from food.com
(Visited 8,282 times, 1 visits today)
35