This shop has been compensated by Collective Bias, Inc. and its advertiser. All opinions are mine alone. #BakeMagicMoments #CollectiveBias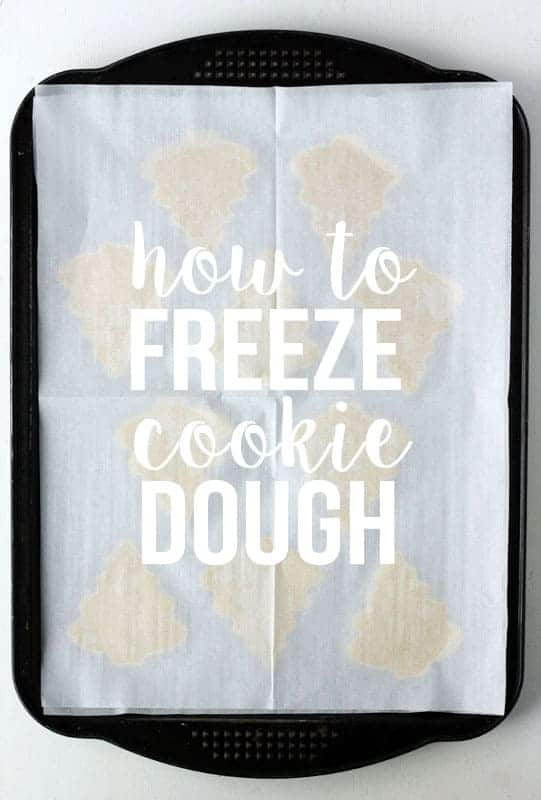 Who is ready to dive head first into baking season? Not me. I'm a "think ahead" kind of gal and this year that is EXACTLY what I'm doing. Today I'm sharing a little secret of mine (frozen cookie dough) AND my grandma's sugar cookie recipe. It's like a double dose of goodness all wrapped up into one beautiful holiday post.
So, freezing dough… It's not a super complicated process but there are three ways we can do this. Before we get started you'll need to gather supplies! By supplies I mean parchment paper. We snagged these handy Reynolds Cookie Baking Sheets from Walmart but I heard through the grapevine you can find them at a number of retailers nationwide. Now I know what you're thinking… "Aren't we FREEZING cookies, not baking?"
The answer to that is YES. Parchment paper is my secret to keeping your dough securely wrapped and safe from pesky freezer burn. Bonus? When you are ready to bake you'll have extra around to help cut down on the mess (gotta love that non-stick surface that helps the cookies glide right off the pan).
Let's get down to the nitty gritty. There are 3 ways I'm going to share on how YOU can freeze your dough:
The first is probably the most simple and requires almost zero work and comes to you straight from the Reynolds kitchen:
Make cookie dough and divide it into two or three equal portions. Shape portions into logs or discs then wrap each portion in a sheet of parchment paper. Refrigerate until chilled OR place wrapped dough in a freezer storage bag. Store dough in freezer for up to one month. When ready to bake, place the bag in refrigerator until dough is thawed. Then roll, cut-out and bake as usual.

Roll Dough between two sheets of lightly floured parchment paper for less mess and Lightly flour a 15×15-inch sheet of parchment paper and lightly flour it. Center dough on sheet and lightly flour the dough. Top with another sheet of parchment paper/Cookie Baking Sheet. Roll dough to desired thickness. Cut dough into shapes using cookie cutters. Place shapes 2 inches apart on parchment-lined cookie sheets and bake according to recipe directions.
The second method is used mostly for round shaped cookies (think chocolate chip or peanut butter). Place a sheet of parchment directly onto a large cookie sheet. Scoop and roll your batter into 1-2 inch balls. Place closely together on the pan and freeze for 20 minutes. Remove and place into a labeled freezer storage bag and return to the freezer until ready to use.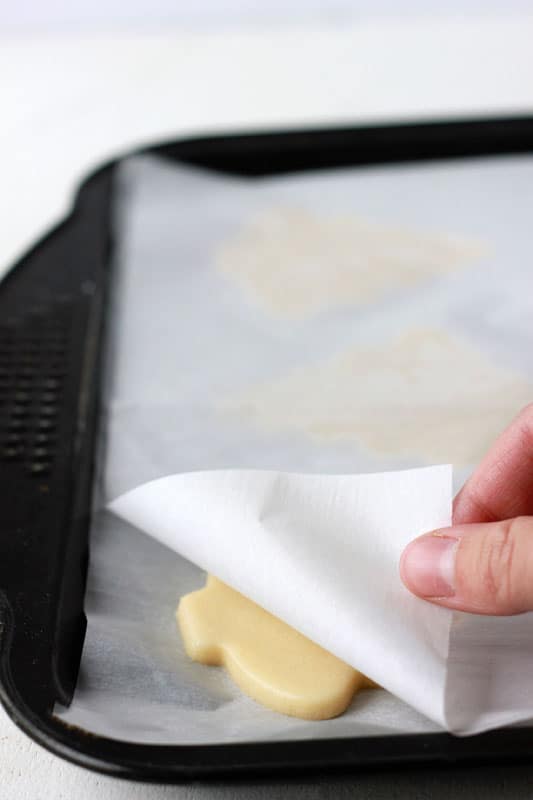 The last (and my personal favorite) way to freeze is to pre-cut your cookies. I made the recipe featured below, rolled it out, cut using my favorite holiday shapes, and placed each cookie on a cookie tray lined with a parchment Sheet. I stuck these directly in the freezer and left them alone for 20 minutes. While those were chilling I used the parchment to line the inside of a freezer storage container (not a bag). When your dough is chilled enough that it won't lose it's shape you carefully spread the cookies in your container in a single layer. Cover with a sheet of parchment and layer with more cookies repeating the process until the container is full. Freeze until you are ready to use.
Amazing, right? Frozen cookie dough lasts one month in the freezer so if you get started now you could have quite the collection when Christmas rolls around. You could make the recipe below or one of the many featured on the Reynolds Pinterest Page. I personally love this recipe because it's one I made with my grandma every year before the holidays. We would roll and cut cookies for hours, sprinkle them with colored sugar, and pack them away in the freezer for later. These are midway between a soft and crunchy cookie and nothing at all like the soft and chewy already on the site!
Crunchy Sugar Cookies
Ingredients
2-1/4

cups

all-purpose flour

2

teaspoons

baking powder

1/4

teaspoon

baking soda

1

cup

shortening

crisco or butter

1

cup

granulated sugar

2

large eggs

1

teaspoon

pure vanilla extract
Instructions
Preheat your oven to 350 degrees. Line a cookie pan with parchment paper and set aside.

Whisk together your flour, baking powder, and baking soda. Set aside.

In the bowl of an electric mixer combine the shortening and sugar. Beat until light and fluffy. Stir in the eggs one at a time followed by the vanilla. Stir until incorporated. Fold in the dry ingredients.

Roll the dough 1/2-1/4 inch thickness. Cut using your favorite cookie cutter, transfer to your prepared baking tray, and bake for 10 minutes or until the edges are slightly browned.

Enjoy as is or decorated with your favorite icing.
(Visited 5,182 times, 3 visits today)
20