It's the last day of 2015 so before we all start our healthy eating let's indulge in some Double Chocolate Cupcakes!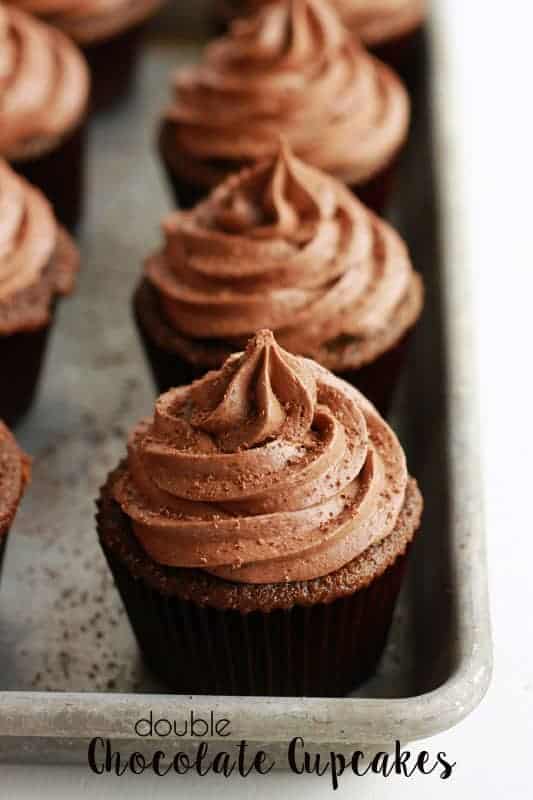 For real people… I loooooove me some desserts. January has to be the hardest month of the year for me. I try to keep up with the trends and stick to a more healthy display of recipes here on the site. A lot of my sweets patiently wait for February to roll around so they can make an appearance for Valentines day. I decided to try to sneak just one more treat in before everyone dives head first into their New Years resolutions.
When deciding what recipe to make I turned to my good old friend, Chocolate. You might know him. He's that delicious treat that always shows up when you need him. Always seeming to comforting you through emotional and happy times. Never judging when you eat one or two (or an entire case) of salted chocolate caramels. Not that I've ever done that….
THIS recipe has not one but TWO doses of the good stuff. It all starts with the super moist and rich cake and is topped with a smooth fudge frosting. Feel free to start drooling right now.
In case you want a quick how-to on the frosting design… I used a 1M tip. Just start from the edge and work your way to the middle. Beautiful frosted cupcakes are just a quick swirl of the wrist away.
Double Chocolate Cupcakes
Ingredients
CUPCAKES:
2-1/4 cup flour
2 teaspoons baking soda
½ teaspoon salt
½ cup butter
2 cups brown sugar
3 eggs
1-1/2 teaspoons vanilla extract
4 ounces unsweetened chocolate, melted
1 cup sour cream
1 cup hot coffee
FROSTING:
½ cup to butter, soft
¼ cup shortening
1/3 cup cocoa powder
2-1/2 cups powdered sugar
2 tablespoons heavy cream
1 cup hot fudge topping
2 teaspoons vanilla extract
Instructions
For the CAKE:
Preheat your oven to 350 degrees. Line two muffin tins with paper wrappers.
Whisk together the flour, baking soda, and salt in a small bowl.
In the bowl of an electric mixer cream the butter and brown sugar. Add the eggs, one at a time, followed by the vanilla and melted chocolate.
Stir in the dry ingredients and sour cream. Fold in the coffee.
Fill each cupcake liner 3/4 full. Bake 12-15 minutes or until a toothpick comes out clean.
For the FROSTING:
Whisk together the butter, shortening, cocoa, and powdered sugar. Stir in the cream, fudge topping, and vanilla extract. Whip until fluffy and spreading consistency.
https://onesweetappetite.com/2015/12/double-chocolate-cupcakes/
This post may contain affiliate links. I include these links to help you find specific products that are used in my recipes. If you purchase an item from the link on One Sweet Appetite, I will receive a small commission helping keep my recipes free for you.
One Sweet Appetite is a participant in the Amazon Services LLC Associates Program, an affiliate advertising program designed to provide a means for sites to earn advertising fees by advertising and linking to amazon.com
(Visited 1,951 times, 1 visits today)
2