This post is brought to you by USA Pears.
The countdown to holiday parties and entertaining has begun, and planning is in full swing which means you're on the hunt for quick and beautiful recipes. I'm excited to share today's super simple 4 ingredient snack that features the fruit of the month, pears! Thanks to the wonderful people at
USA Pears
I'm loaded with quick tips on the different varieties and how to choose the perfect pear.
<center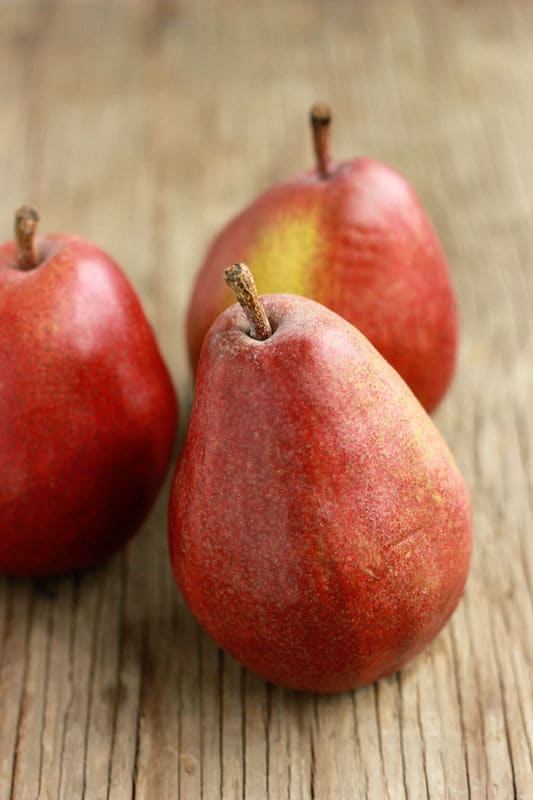 For this recipe I was looking to get that salty and sweet combination of flavors that everyone loves. The Red Anjou, with its sweet and slightly tangy flavor, compliments the salty cheese and prosciutto topping perfectly. Add a touch of mint and you've got a refreshingly delicious appetizer ready to serve in under 10 minutes.
Isn't that red color just gorgeous? Unfortunately, you can't depend on color to tell when a pear is ripe. You'll want to check around the neck (top portion), gently press it. If it yields under pressure you have found the perfectly ripe pear. For this recipe, I cut the pear directly in half to help get those perfect bite sized slices. Right away I knew that I'd need to remove the seeds without getting rid of too much of the flesh. Here's your next pear tip of the day: use a melon baller to neatly and easily remove the seedy center without wasting too much of the fruit.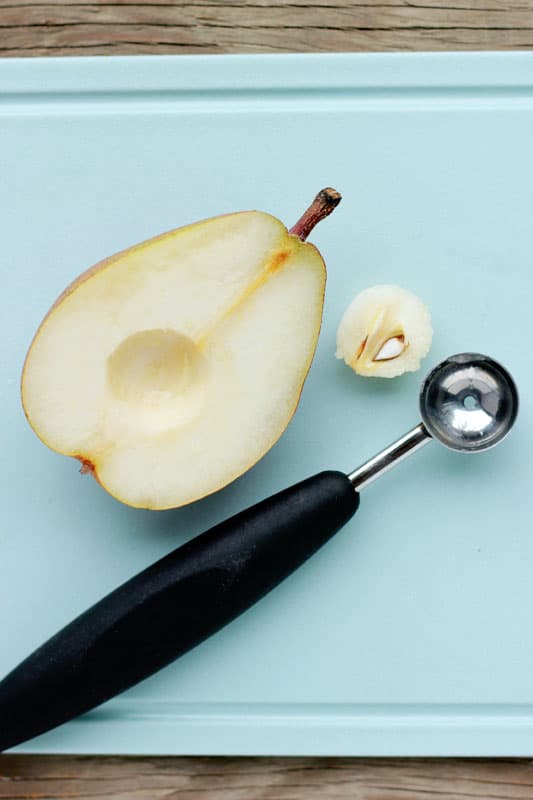 This Red Anjou is my personal favorite. The flavor was fairly similar to the Green Anjou, but the bold maroon exterior is what always catches my eye. It takes the presentation of this holiday inspired snack to the next level and adds a touch of festivity by combining the red with the green mint.
I want to give you a couple variations of this dish before we get right down to it. I did trial runs with a few different options and decided that these flavor combinations were our favorites:
Red Anjou + prosciutto + gruyere + mint
Red Anjou + prosciutto + gruyere + basil
Red Anjou + pancetta + gruyere + basil
Red Anjou + pancetta + soft white cheddar
Be sure to talk to your grocery store cheese monger for help experimenting with the cheeses. Most are happy to slice off a piece or two to taste test in the store, so if you aren't a fan of gruyere with the sweetness of pear they can offer more suggestions.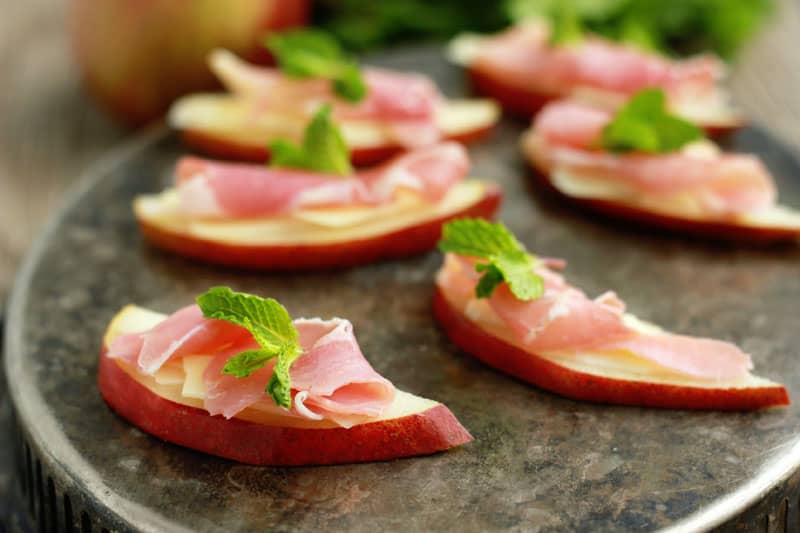 Ingredients
1 USA Pear Red Anjou
2 slices prosciutto or 4 slices cooked pancetta
12 slices thinly cut gruyere cheese
Fresh mint
Instructions
Slice the pear directly in half. Core each half removing the seeds.
Slice each pear half into 6-8 pieces. Layer with gruyere, prosciutto and mint. Serve as is
or hold together with a toothpick.
https://onesweetappetite.com/2015/12/pear-bites/
USA Pears is a nonprofit marketing organization that represents 1,600 pear growers of Oregon and Washington, who together produce approximately 84% of the fresh pears grown in the United States. Special thanks to them for sponsoring this post and providing me the opportunity to work with one of my favorite fruits!
This post may contain affiliate links. I include these links to help you find specific products that are used in my recipes. If you purchase an item from the link on One Sweet Appetite, I will receive a small commission helping keep my recipes free for you.
One Sweet Appetite is a participant in the Amazon Services LLC Associates Program, an affiliate advertising program designed to provide a means for sites to earn advertising fees by advertising and linking to amazon.com
(Visited 493 times, 1 visits today)
0