This Chocolate Whipped Cream Cake is a family birthday tradition that is simple and delicious.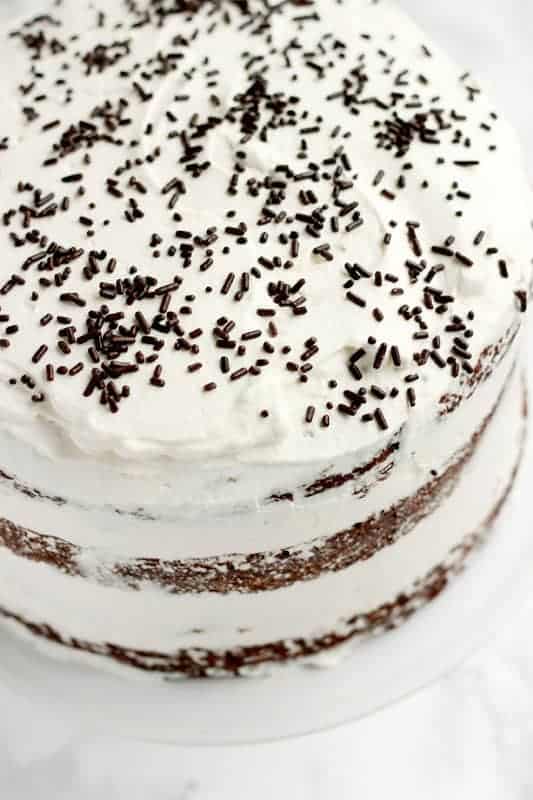 My grandma used to make this cake for us when we were growing up. I think there were two versions… chocolate and vanilla. Most of us chose the chocolate because… well… It is chocolate and covered in sprinkles. The only time I remember ever having the vanilla version was Easter. She would color the whipped cream into pretty pastels which paired nicely with the warm color of the vanilla cake.
I can't really put my finger on what exactly makes this cake so special. Maybe it is the chocolate or maybe the whipped cream. You serve it cold and it always tastes just a little bit better after a day or two in the fridge. My grandma would use a cake mix but I am proud to say I have graduated up to a homemade devils food. Bookmark this recipe if you only ever make the cake. It is the closest thing to perfection that you can get. Moist, chocolaty, and perfect topped with your favorite frosting.

While my cake may have changed my whipped cream is still the same old recipe my grandma taught me when I was little. It all starts with a carton of heavy whipping cream and a chilled bowl. I do recommend using a mixer for this part just because stirring by hand takes some serious muscle. You want stiff peeks to form giving you a good base to hold your cake layers in place. By chilling the bowl (and even the whisk attachment) you cut down your mixing time significantly but it isn't necessary. Just consider that my helpful kitchen trick to you.
You also can't skip the chocolate jimmies. Or sprinkles. Whatever you call them make sure you spread a generous portion over the top adding to this nostalgic favorite. I like to hand this part of the process over to my little guy who is delighted to help in the process. As you can see our sprinkles really bring the entire look together. I decided to go for a "naked" frosting (is that what it's called?) because the unfinished look is sort of trendy and as close as you can get to making whipped cream visually appealing when it's filled with chocolate crumbs.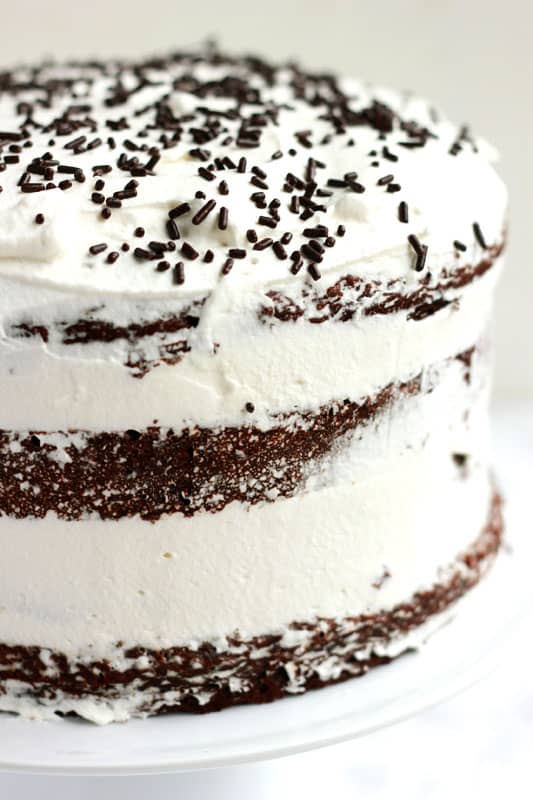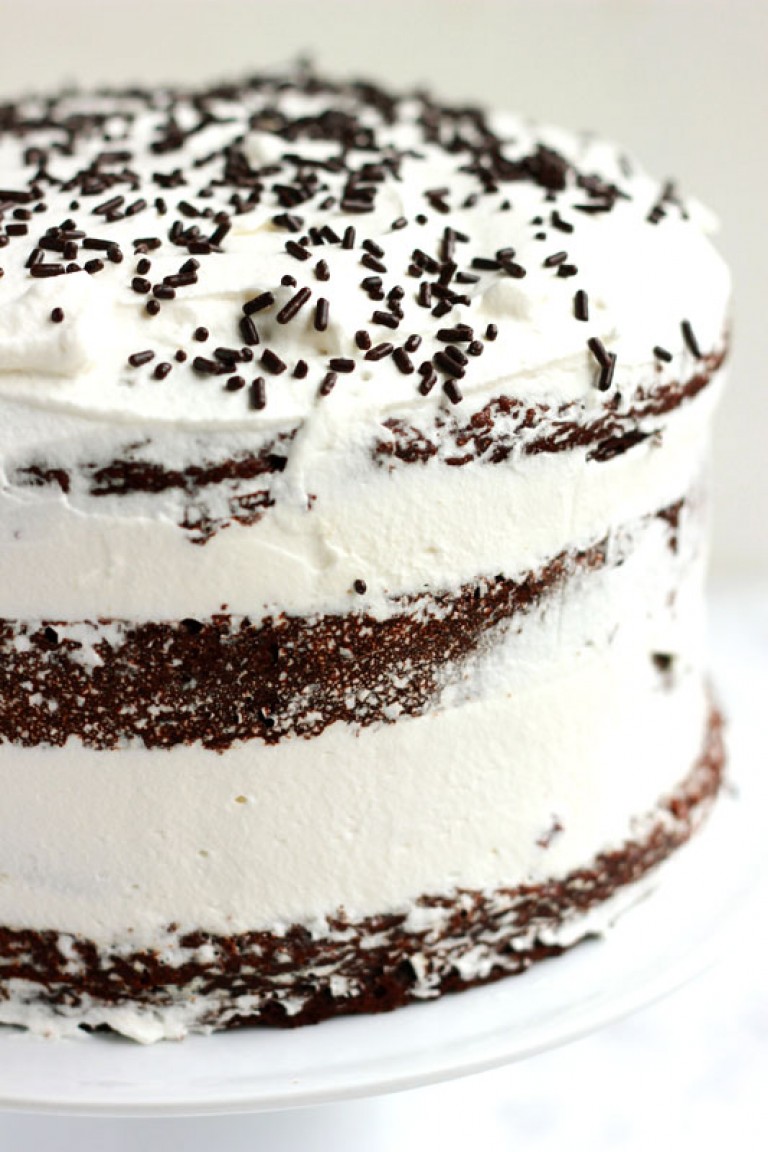 Chocolate Whipped Cream Cake
Ingredients
For the Cake:
½ cup butter
1 cups brown sugar
3 eggs
2 teaspoons vanilla extract
3 ounces unsweetened chocolate, melted
2 cups all-purpose flour
¼ cup cornstarch
1 teaspoon baking soda
½ teaspoon salt
½ teaspoon baking powder
1 cup sour cream
1 cup water
For the Whipped Cream:
2 cups heavy cream
1-1/2 teaspoon vanilla extract
2-4 tablespoons powdered sugar
Instructions
For the Cake: Preheat your oven to 350 degrees. Line two cake pans with flour or 2 muffin tins with paper liners.
Cream together the butter with the brown sugar. Add the eggs one at a time followed by the vanilla and melted chocolate.
Whisk together the flour, cornstarch, baking soda, salt, and baking powder. Stir into the wet ingredients with the sour cream and water. Divide between your prepared pans.
Bake 12-14 minutes for cupcakes, 25-30 for 8 inch cakes, or until a toothpick comes out clean.
Cool completely and slice each cake in half creating two circles each.
For the whipped cream: Place your mixing bowl in the freezer for 15 minutes.
Whip the cream in the chilled bowl until soft peaks form. Add the vanilla and powdered sugar. Continue to whisk until light and fluffy. Spread between your cake layers.
https://onesweetappetite.com/2016/01/chocolate-whipped-cream-cake/
This post may contain affiliate links. I include these links to help you find specific products that are used in my recipes. If you purchase an item from the link on One Sweet Appetite, I will receive a small commission helping keep my recipes free for you.
One Sweet Appetite is a participant in the Amazon Services LLC Associates Program, an affiliate advertising program designed to provide a means for sites to earn advertising fees by advertising and linking to amazon.com
(Visited 6,260 times, 5 visits today)
10