Summer is here and I can't think of another side dish that pairs so well with all of your summer eats like Classic Potato Salad!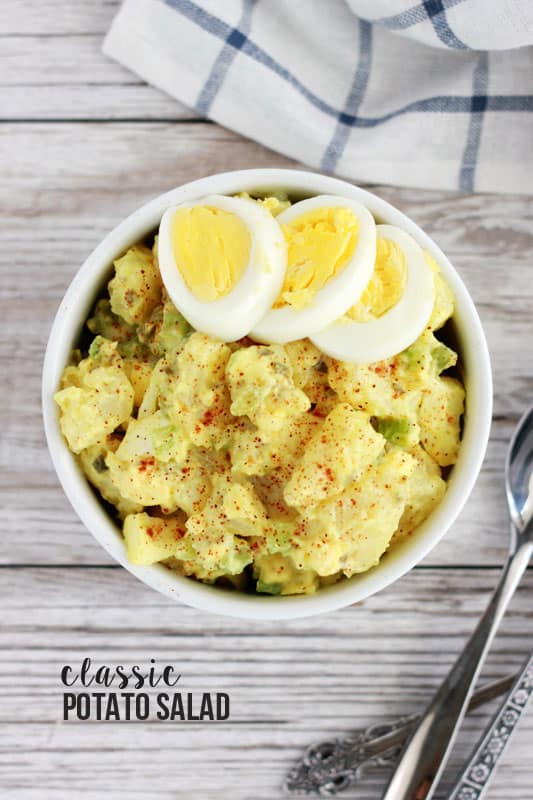 My grandma made the best potato salad. I'm sure that everyone says that about their grandparents (or parents). Something about adding this simple side to your burgers or grilled favorites just completes the entire meal and it tastes that much better when someone you love makes it for you. I remember when I was younger she would pull out this old rusty stool, tie a tea towel around my waist, and assign me the job of sous chef. I would watch in amazement as she just used her best judgement and added ingredients as needed turning potatoes into a side dish work of art!

The secret with this recipe is to make it in advance. It needs time to sit together and blend all of the flavors you toss into the mix. I suggest overnight but in a pinch you could swing 4 hours. We've made it a few times and even eaten it right away and it still tastes good but the next day it tasted great. I promise that extra time to blend things really adds that punch it needs.
Also, don't skip the bacon. I've even been guilty of stirring the bacon grease right in with all of the other ingredients resulting in a salty bacon flavor throughout the dish. I don't do this every time but occasionally when I'm feeling a little gutsy this is how I let loose.
Classic Potato Salad
Yield: 8
Ingredients
5

large potatoes

3

hard-boiled eggs

peeled and chopped

1/2

cup

celery

finely diced

1/3

cup

red onion

finely diced

1/2

cup

dill relish

4

heaping tablespoons Mayo or Miracle Whip

1

tablespoon

mustard

1/2

teaspoon

garlic salt

salt and pepper to taste

1/4

cup

bacon

finely diced (optional)
Instructions
Place your potatoes into a large pot. Cover with water and bring to a boil. Cook for 15 minutes or until fork tender. Drain the water and allow to cool just enough to handle. Peel and chop into fairly decent sized pieces.

Combine all of the ingredients in a large bowl and stir until fully combined. Cover and refrigerate overnight or at least 4 hours prior to serving.
Recipe Notes
Add Mayo or Miracle whip as needed.
PS, you migh like…
This post may contain affiliate links. I include these links to help you find specific products that are used in my recipes. If you purchase an item from the link on One Sweet Appetite, I will receive a small commission helping keep my recipes free for you.
One Sweet Appetite is a participant in the Amazon Services LLC Associates Program, an affiliate advertising program designed to provide a means for sites to earn advertising fees by advertising and linking to amazon.com
(Visited 7,706 times, 1 visits today)
6