This Cranberry Meringue Pie combines the perfect tart to sweet ratio bringing you the ultimate holiday pie.
I recently have started this massive collection of cookbooks. Someone please tell me I'm not the only one that has a hard time not picking up those gorgeous photo filled recipe keepers and promising myself I'll make at least 3 of the dishes from it before I purchase another. It's like a bad habit I just don't want to quit. Especially when Amazon helpfully suggests so many good ones and the shipping is free.
My obsession is where this beautiful pie's inspiration comes from. I found this book and new it needed to be mine. A quick flip through and I had marked about 30 different pies I needed to make. The only reason I landed on cranberry as my tester was because a giant sized bag of tart berries at Costco was only $2. Can't pass up that good of a deal, am I right??
That red color has me ready to put up Christmas decorations and indulge in a warm cup of cocoa while I string together popcorn. I grew up eating just the canned version (which I still totally believe is the best part of every meal) and never got to experience the true joys of fresh cranberries. The tart flavor is so amazing cooked down as this pie filling and the sweet meringue topping gives everything an elegant finish.
Oh, and did I mention I gave video another try? It's still a work in progress but I'm sure they'll get better the more I practice.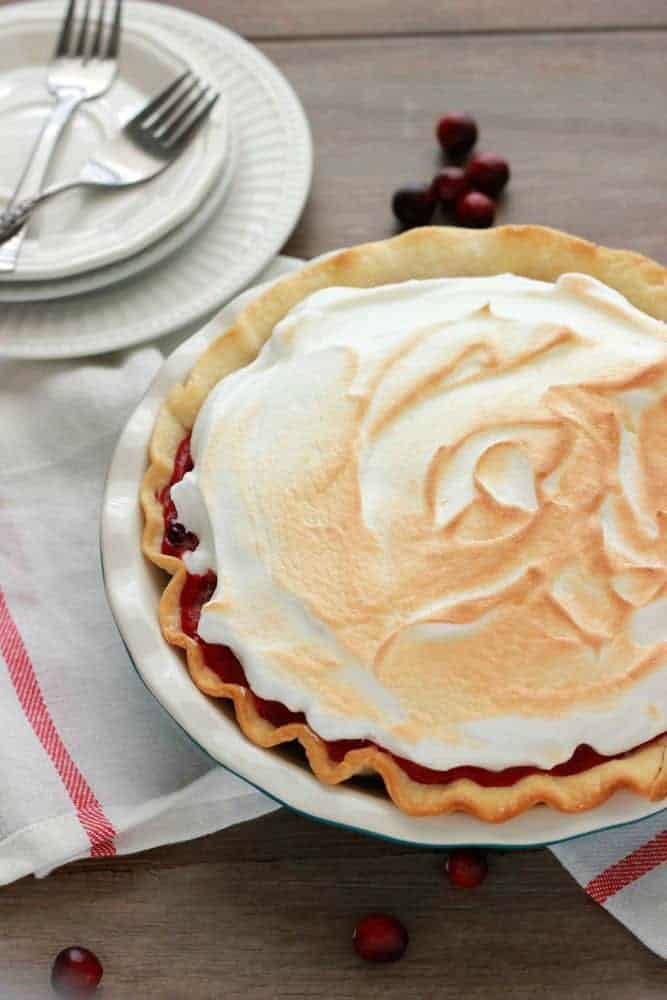 Cranberry Meringue Pie
Ingredients
1-1/4

cup

sugar

divided

1

cup

water

4

cups

fresh cranberries

washed and dried

1

tablespoon

orange liquor

optional

3

large eggs

divided

1

tablespoon

cornstarch

1/4

teaspoon

salt

1

teaspoon

vanilla extract

1

tablespoon

butter

1/4

teaspoon

cream of tartar

9

" pie crust

baked
Instructions
Combine the water and 1 cup of sugar in a heavy bottom saucepan and cook on high heat until the sugar is dissolved.

Stir in the cranberries and orange liquor. Lower the heat to medium and cook 10 minutes making sure to stir occasionally.

While your cranberries are cooking down, combine the egg yolks, cornstarch, and salt in a small bowl. Whisk until smooth. Stir in a small amount of the hot cranberry mixture making sure to mix quickly to temper the eggs.

Add the yolk mixture to the saucepan and simmer 5 minutes or until the filling has thickened.

Stir in the vanilla extract and butter and transfer to your pie crust.

In a mixing bowl whisk the egg yolks and cream of tartar until foamy. Add the sugar and continue to beat until stiff peaks form.

Spread over your pie and broil until the top is browned.
PS, you might like…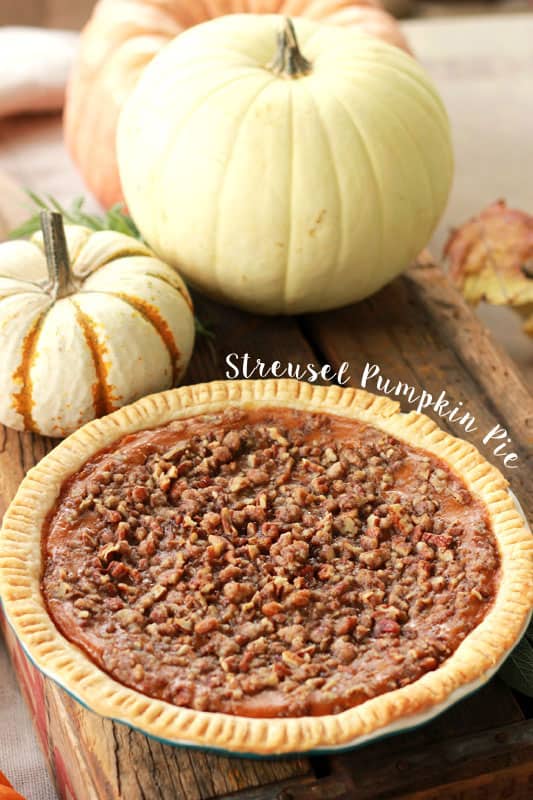 This post may contain affiliate links. I include these links to help you find specific products that are used in my recipes. If you purchase an item from the link on One Sweet Appetite, I will receive a small commission helping keep my recipes free for you.
One Sweet Appetite is a participant in the Amazon Services LLC Associates Program, an affiliate advertising program designed to provide a means for sites to earn advertising fees by advertising and linking to amazon.com
(Visited 827 times, 1 visits today)
4