This Gingerbread Latte combines holiday flavors to give you a wonderful drink to sip on all season!
Every season it seems like I become obsessed with different flavors and Christmas is no exception. Last year it was all about hot chocolate, the year before that was Fudge city, and THIS year it's gingerbread! True, I'm no stranger to the flavor (hello adorable gingerbread men) but my cravings had me feeling like there are so many other recipes out there begging to be made.
It wasn't until I was walking past a Starbucks that I noticed a sign for gingerbread latte's! You know I stopped right in my tracks and did a double take. It's like the culinary gods came together and decided to take two of my favorite flavors and combining them into one. It was at that very moment that I KNEW I needed to get in the kitchen and create a homemade version.
Just look at that drizzle! I have a soft spot in my heart for the moments I spend hanging out at local coffee shops sipping my favorite drinks and working away but my pocketbook has been telling me "don't do it" a lot more lately. Becoming a barista at home has saved me loads of $$ and it's surprisingly simple to recreate some of my favorite beverages. This one all starts with a simple syrup. Stir in some of those classic gingerbread spices and you are ready to get sippin'. This stuff lasts weeks so it's even a great gift to give to friends and family! Coffee drinkers will bow down to you and non-coffee peeps will adore this in their cocoa.
NOW, when it comes time to mix things up you have got two options. You can brave the espresso machine and pour 1 shot into your cup with a few tablespoons of syrup and top with warmed milk OR, if you are like me and rely on your hubby to work that contraption, you can stir it right into some extra strong coffee. Easy peasy. Top with a little whipped cream or dip in some biscotti.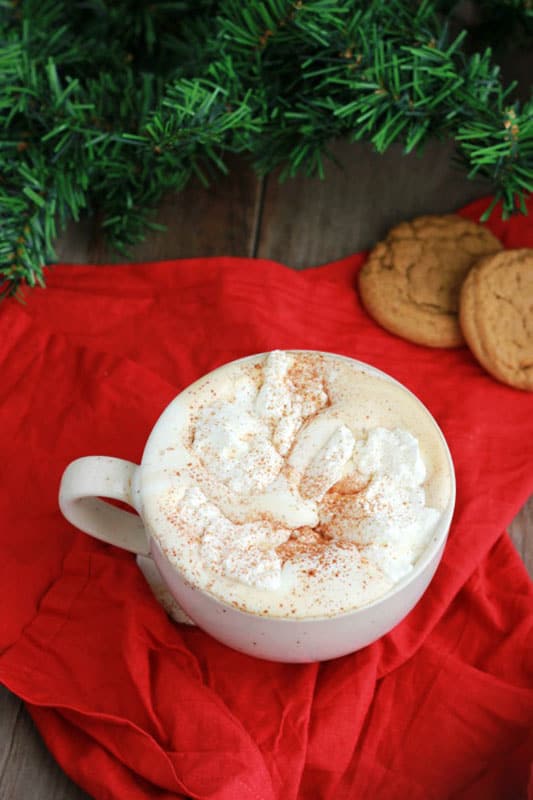 Gingerbread Latte Recipe
Ingredients
1

cup

granulated sugar

1

teaspoon

ground ginger

1

teaspoon

ground cinnamon

pinch

cloves

1

cup

water

1/2

teaspoon

pure vanilla extract

espresso or dark brewed coffee

warmed milk or cream
Instructions
Combine the sugar, ginger, cinnamon, and cloves in a saucepan. Whisk in the water. Heat to a boil and reduce the heat to simmer. Continue to cook on low for 10-15 minutes or until thickened.

Pour the syrup into a sealed container and keep refrigerated until ready to use.

When ready to create your latte combine espresso or coffee with 2-3 tablespoons of your gingerbread syrup. Top with milk or cream and enjoy!
PS, you might like…
This post may contain affiliate links. I include these links to help you find specific products that are used in my recipes. If you purchase an item from the link on One Sweet Appetite, I will receive a small commission helping keep my recipes free for you.
One Sweet Appetite is a participant in the Amazon Services LLC Associates Program, an affiliate advertising program designed to provide a means for sites to earn advertising fees by advertising and linking to amazon.com
(Visited 514 times, 1 visits today)
1