This Spring Salad & Lemon Garlic Vinaigrette is brought to you by Pompeian. #TrendingInTheKitchen
Things I am currently obsessed with:
1. Spring produce.
2. Sweet and savory combos.
3. Creative vinaigrette's.
ALL things that happen to be the star of today's post. This brightly colored salad was actually a happy accident. I was on a trip to my favorite bulk store when I wondered into the fresh produce section. I know better. I was actually even warned by my hubby not to let those brightly colored fruits and veggies distract me from my list. Something about them always scream "Buy me. Let's be healthy." Only I never am able to finish the massive amounts before they go bad. Fast forward an hour or two and I was enlisting the help of my two boys to create an assembly line and carry my haul into the kitchen. A quick glance (and several eye rolls) from my husband had me promising to create beautiful meals that combined each and every item.
Fast forward to today. We're 7 days in and I'm proud to announce that THIS salad helped me make it through all of our fresh and tasty finds. The secret is in the crazy delicious vinaigrette, This stuff is gold. I use it on salads, chicken, salmon, veggies… Basically everything I make. The fresh lemon mixed with Pompeian Organic Balsamic Vinegar is a duo you can't help but love. Toss in some garlic and fresh cracked pepper and you'll quickly fall in love with this spruced up condiment!
Whipping up the dressing is as easy as 1,2, 3. Add your ingredients to a blender, pulse until combined, and drizzle over your salad.
For the salad I have a few suggestions. Mix things up and add fresh berries, tart apples, soft cheese (goat cheese is especially delicious!). While the idea of garlic might seem off putting I promise this combination is dynamite. This quick side is ideal for family gatherings or even just a simple lunch!

Side note, since this does include fresh garlic the shelf time is reduced significantly. I don't recommend keeping this hanging out in the fridge longer than a day or so. If you liked this recipe be sure to check out my Apple Vinaigrette or Strawberry Champagne Vinaigrette!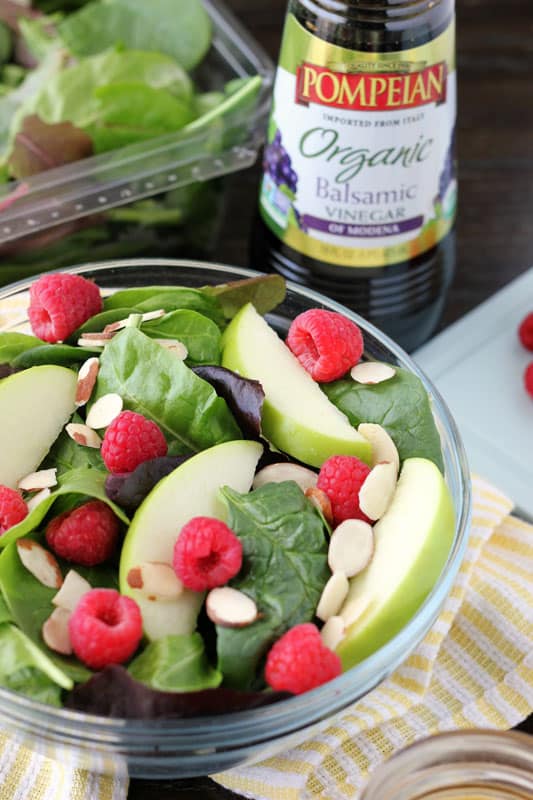 Lemon Garlic Vinaigrette
Ingredients
3

Tbsp

Pompeian Organic Balsamic Vinegar

2

Tbsp

fresh lemon juice

1-1/2

tsp

Dijon mustard

2

cloves

garlic

1-2

tsp

honey (optional)

1/2

cup

olive oil

salt and pepper to taste
Instructions
Combine the first 5 ingredients in a blender. Pulse until smooth. Slowly drizzle the olive oil in while continuing to pulse and until fully combined. Season with salt and pepper.
You might like:
Visit my friends Pompeian for more cooking inspiration and don't forget to follow them on Facebook + Twitter.
This post may contain affiliate links. I include these links to help you find specific products that are used in my recipes. If you purchase an item from the link on One Sweet Appetite, I will receive a small commission helping keep my recipes free for you.
One Sweet Appetite is a participant in the Amazon Services LLC Associates Program, an affiliate advertising program designed to provide a means for sites to earn advertising fees by advertising and linking to amazon.com
(Visited 195 times, 1 visits today)
2