9 Things To Do With Kids In San Francisco –  That they will actually LOVE!
San Francisco holds a special place in my heart. It is where I fell in love with my husband 11 years ago. We spent 4 months exploring Northern California and this city was by far our favorite. The people, the food, and the atmosphere is simply incredible.
We have always hoped to share our love with our son, which is why I was over the moon excited when he told me he wanted to visit! We spent a LOT of time visiting all of the "must-see" locations. These are a few of his faves.
Things to do with kids in San Francisco:
Photo credit pexels
Visit the Golden Gate Bridge.
This one seems obvious but the impact it has on little ones is unmatched. My son was amazed at the suspension features and sheer size. We found that Crissy Field gave us the best views, although the fog kept us from getting that well known snapshot. The park has food options, beaches, and walkways that take you up and down the coastline. Perfect for a day trip or hour long adventure.
2. Stroll through Pier 39.
One of my favorite memories from a childhood vacation to the city was browsing the shops on Pier 39. I wasn't sure how my son would enjoy the store lined dock, but turns out it was one of his favorite things we did on the trip! We gave him the option to purchase one souvenir and he was thrilled to browse the wide selection provided by the dozens of shops and kiosks. We were also able to enjoy a magic show, wine for the big kids, and incredible views of the city and Alcatraz.
Another well known part of the Pier 39 experience are the sea lions. During our trip (mid July) there weren't many on the floating docs. We were still lucky enough to see some of them snoozing and showing off to the spectators.
3. Stop by the Magowan's Infinite Mirror Maze.
My husband spotted this maze when we were on our way out of Pier 39. For $5 a person you can walk through a maze of mirrors and colors. The staff is incredibly friendly and they spaced out the visitors so you weren't too packed in. In all, we spent about half an hour inside which was well worth the small price tag.
4. Let them run through the Vaillancourt Fountain.
Just across the street from the Ferry Building, and outside of the Hyatt where we stayed, was the Vaillancourt fountain. This giant fountain is about 40 feet tall and made out of precast concrete stones. Children, and adults, are able to run through the back side of the fountain on a floating path making it extra fun for the entire family. There is also an outdoor summer market setup in the square to browse or the Ferry Building to grab a quick bite to eat.
5. Tour Alcatraz.
THIS was by far our favorite of things to do with kids in San Francisco. The tour is audio and self guided which gives you the chance to move at your own pace throughout the facility. I will suggest trying to get out on one of the earliest groups. It fills up quickly and you'll end up snuggled up to strangers while walking the cell blocks.
I'll have a more in depth post about our experience later, but wanted to share that the staff there is incredible. One ranger noticed we weren't following the self guided audio tour. He talked with my son for a moment and decided to take us on our very own personal tour throughout the bunks. My son doesn't do well with large crowds or headphones, so this was such a special moment for us. He taught us everything we would have learned with the audio plus more.
6. Take a drive (or walk) down Lombard Street.
Hop in your car, walk, or take a GoCar (next time we're doing these!) and cruise down Lombard street. The windy road takes about two minutes to drive but is a fun way to take in breathtaking views and experience a twisty road you won't see anywhere else.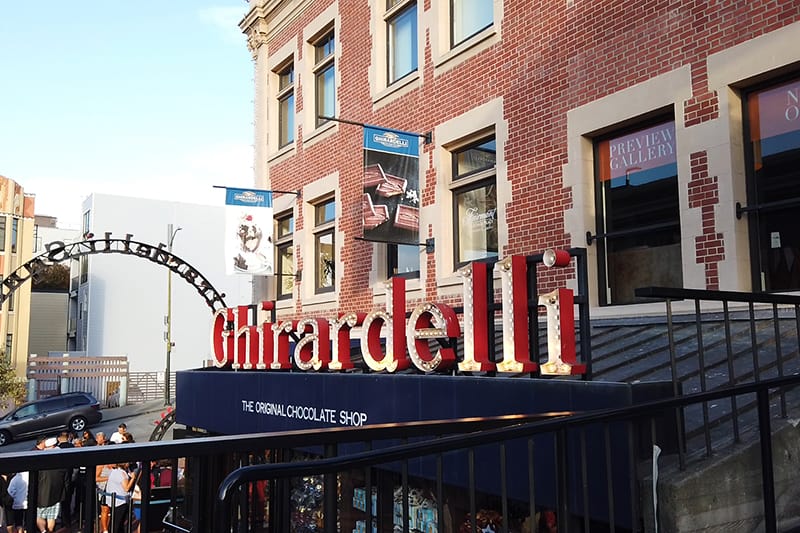 7. Sample treats at Ghirardelli Square.
We aren't big chocolate fans but surprisingly loved Ghirardelli square. Live music, multiple dinner options, and a waterfront park made this a fun spot for a meetup with family. We let the kids run crazy while we enjoyed the view of the city and ended the night with a brownie straight from the Ghirardelli store.
8. Cupid's Span.
If you have time to grab lunch at the Ferry Building (next on the list), consider walking the extra few feet to Cupid's Span. This outdoor sculpture is installed along the Embarcadero. Surrounded by a park and waterfront walkway, makes it the perfect place for little one's to run out some of that energy. We noticed a lot of people had picnic lunches which would have been a great idea had we thought of it.
9. Grab lunch at the Ferry Building.
There are SO many food options inside this building. It was right across the street from our hotel which made it a convenient stop whenever we needed a quick bite. We got coffee, treats, burgers, wine, and even some random foodie items for me to take home. Our favorite? The Gott's burgers and cheese fries. My son might say it was the Gott's ice cream counter… We'll call it a tie.
This was our first trip to the city with our little guy. Be sure to leave comments below with any must-see places for the next time we are in town!
Like this post? You will love my: