This Banana Cream Cheesecake is loaded with flavor. Made on a vanilla wafer crust with a creamy and rich cheesecake topping! It is the perfect twist on classic cheesecake.
I made you guys a cheesecake.
But not just ANY cheesecake. This version is made with over ripe bananas. When paired with cream cheese, heavy cream, and a dash of cornstarch you have the most creamy and decadent dessert recipe.
Originally inspired by the Banana Cream Pie Cheesecake at Cheesecake Factory – This dessert recipe is a winner!
Banana Cheesecake Recipe
The crust… I was torn on if I should stick with the traditional graham cracker or break the mold and go with a vanilla wafers.
I ultimately decided to use what I had on hand and out came the grahams. While it was delicious, next time I am going to give the wafers a try.
I think they will give it a more traditional flavor profile to banana pudding, which is what I was really hoping to achieve.
What kind of cookies should I use in my cheesecake crust?
I love this question and get it frequently. You can really use any crunchy cookie for a crust base. Here are a few of our favorites:
Oreo's or any other chocolate wafer cookie
Graham crackers
Vanilla Wafer Cookies
Gingersnaps
Animal crackers
Cereal
Pretzels
Ice cream cones
Notes before you get started…
This takes a loooooong time to cook. Be prepared.
It takes even longer to chill.
You will have zero self control when it comes to stopping yourself after one slice.
Tips for making perfect cheesecake:
Always make sure you use room temperature ingredients. This is one of my top suggestions for almost any dessert recipe. Room temperature ingredients blend together with less mixing which is ideal for cheesecake.
Do not over mix your batter.
Use a spring form pan. This will help make sure you can easily remove your cheesecake and have a beautiful dessert!
Use a water bath.
How to bake a cheesecake in a water bath:
Prepare your cheesecake batter as directed. Pour into a spring form pan.
Wrap the bottom of the pan with a double layer of foil making sure to go up the sides at least 3 inches but ideally to the top.
Place in a roasting pan.
Pour hot water into the roasting pan, around the cheesecake, until it reaches 2 inches.
Bake as directed.
Why did my cheesecake crack?
The biggest cause of cracks in a cheesecake is over mixing the batter. Mixing too much allows extra air to enter your cheesecake batter. This forces the cake to rise while baking. When it starts to cool it will lower slightly and crack the center of your cake.
Try to be sure you do not mix too much. It also helps to run a knife around the edge of the pan as soon as it has finished cooking and before it cools.
Like this recipe? You will love my:
Banana Cream Cheesecake
This Banana Cream Cheesecake is loaded with flavor. Made on a vanilla wafer crust with a creamy and rich cheesecake topping! It is the perfect twist on classic cheesecake.
Ingredients
Crust:
1½ cups crushed vanilla wafers or graham crackers
1/3 cup granulated sugar
6 tablespoons butter melted
1/2 teaspoon cinnamon
Cheesecake:
24 ounces cream cheese softened
2/3 cup granulated sugar
2 tablespoons cornstarch
3 large eggs
4 medium bananas smashed
1/2 cup heavy cream
2 teaspoons pure vanilla extract
Instructions
For the crust, mix together all of the ingredients until a crumble is formed. Press into a lightly greased 9″ spring form pan. Bake at 375 degrees for 5-7 minutes or until fragrant.

Add the cream cheese, granulated sugar, and corn starch in the bowl of an electric mixer. Beat until incorporated. Add the eggs one at a time. Stir in the bananas, cream, and vanilla until combined. Pour into your prepared crust.

Bake at 350 degrees for 20 minutes. Reduce the temperature to 200 degrees and continue to cook 90 minutes or until the almost set.

Allow to cool in the oven completely. Remove from the pan and chill 3-4 hours.

Top with crumbled cookies or whipped cream.
Nutrition
Serving: 1Servings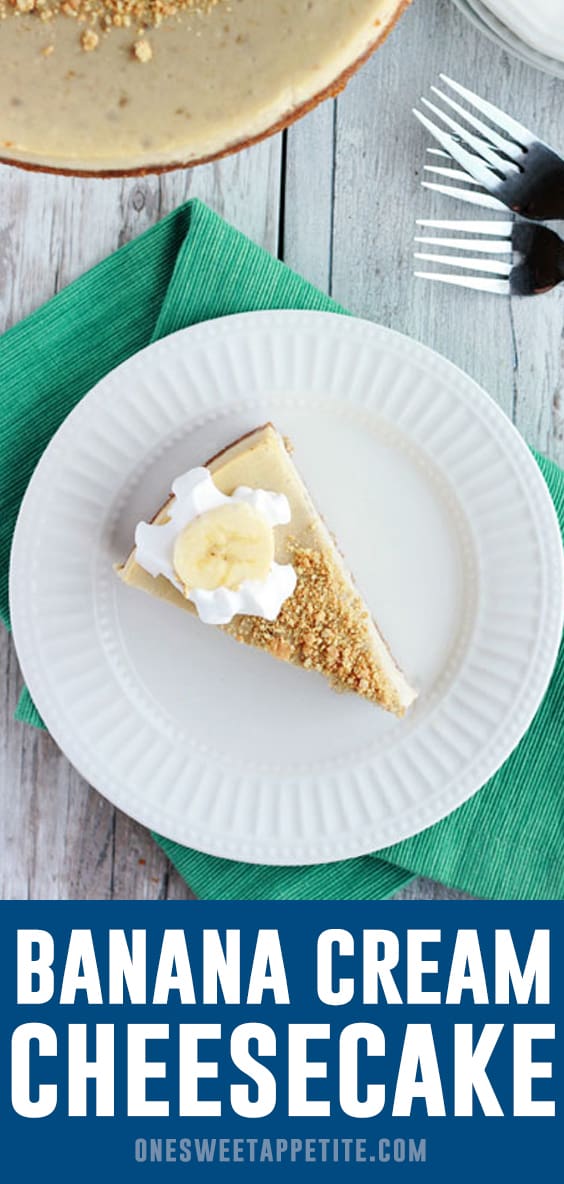 Still hungry? Follow One Sweet Appetite on Facebook, Instagram and Pinterest for more great recipe ideas!
Reader Interactions