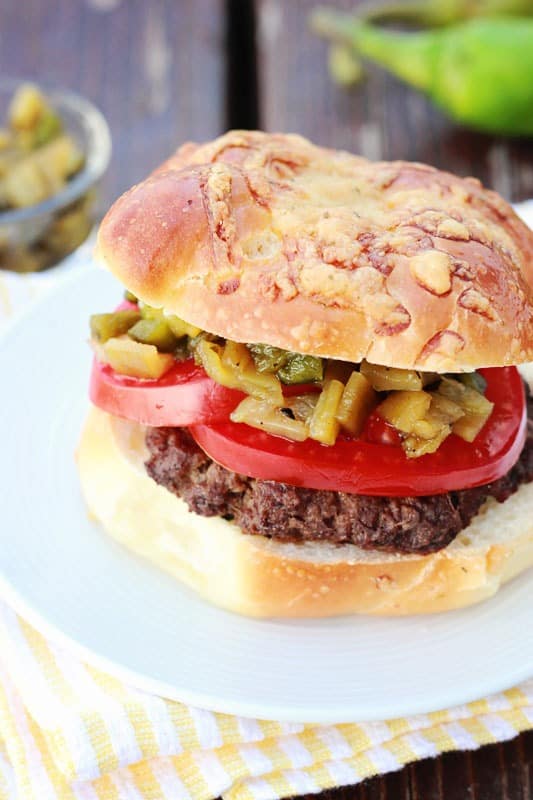 It's hatch chile season. I was overjoyed when I heard that Harmons was going to be roasting them outside of their store and selling them by the bushel full! I have about a million recipes I've been wanting to try out and these cheesy stuffed burgers with hatch chile relish were at the top of my list! After all, who doesn't love a good burger?!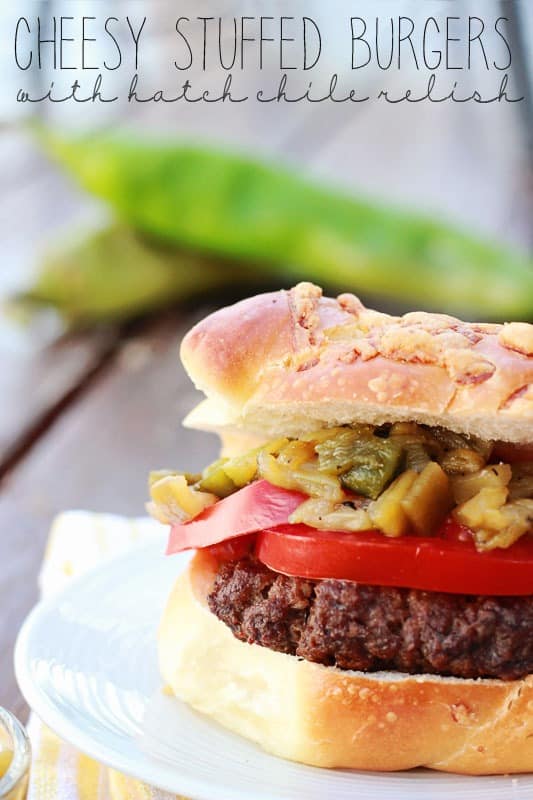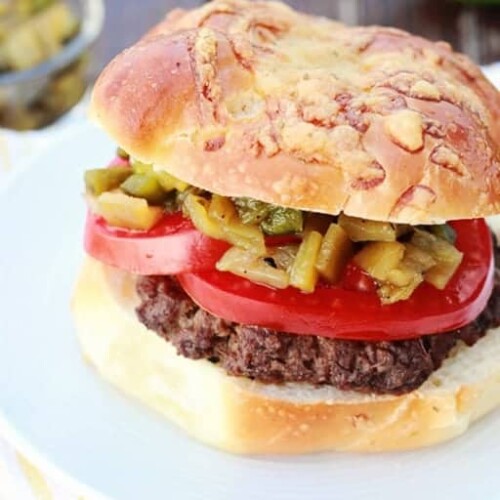 Cheesy Stuffed Burgers with Hatch Chile Relish
Ingredients
2 pounds ground beef
1 teaspoon salt
1 teaspoon pepper
4 slices of your favorite cheese. I used Tillamook sharp cheddar
three cheese buns found in the Harmons bakery
Chile relish recipe follows
Preferred toppings
Instructions
Form your hamburger meat into 8 patties. Place one patty onto your work area and cover the center with cheese. Use another patty to cover the cheese and seal the edges. Continue with the remaining 6 until you have 4 burgers ready for the grill. Sprinkle with salt and pepper.

Heat you a large pan or griddle over medium heat. Add a bit of oil and the burgers. Cook until both sides are golden brown. This should take about 8-9 minutes.

Place the burgers onto your buns, top with the chile relish and any preferred toppings like tomato, onion, and lettuce.
Nutrition
Serving: 1Servings
1 medium pablano chile, roasted, peeled, and sliced
2 Hatch chilies, roasted, peeled, and sliced
2 tablespoons red wine vinegar
1 tablespoon honey
Salt and Pepper to taste
Combine all ingredients in a small air tight container. Refrigerate until you are ready to use.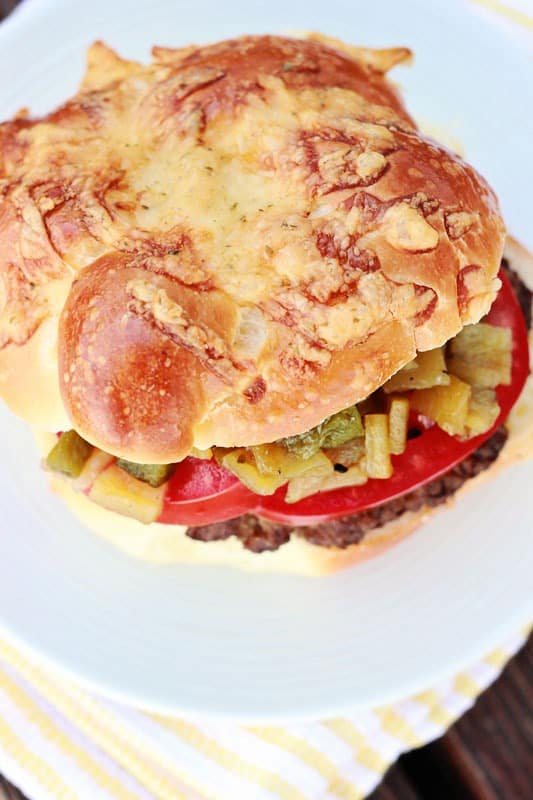 Depending on the spice level you get your chiles will depend on the spice level. We made two different containers of the relish with both mild and medium. The mild was great for the little ones and the medium was just delicious for the adults. Spicy but not burn your mouth of hot. The cheesy center of the burger is a happy surprise for everyone and just adds to the goodness!
Looking for something different to serve this summer? Try my Lemon Pepper Tuna Burgers!
In case you are local and want to get some of those chiles from Harmons, here is the schedule:
7th Street (7755 S 700 E) – Fri 4pm-8pm, Sat 10am-6pm, Sun 11am-5pm
Ogden (145 Harrisville Rd) – Fri 4pm-8pm, Sat 10am-6pm, Sun 11am-5pm
Orem (870 East 800 North) – Fri 4pm-8pm, Sat 10am-6pm, Mon 4pm-8pm
South Jordan (10507 S Redwood Rd) – Fri 4pm-8pm, Sat 10am-6pm, Mon 4pm-8pm
West (3955 W 3500 S) – Fri 4pm-8pm, Sat 10am-6pm, Sun 11am-5pm
Check their website for great tips on how to roast your own and how to freeze any leftovers you might have.
Reader Interactions