Taco Tuesday is a day of the week that we take very seriously here in the One Sweet Appetite home. My seven year old, who actually strongly dislikes classic tacos, makes it a point to remind me every morning that Taco Tuesday is the day we eat tacos. Period. No exceptions. In an effort to help him understand how deep my love runs I've created a few different twists on the classic recipe to help him enjoy the meal a little more. This Chicken Taco Salad ranks high on our list of favorites. Why? Mostly because it's a slow cooker meal (yay for easy prep) and is packed with flavor.
This recipe all started when I saw a video on Facebook where they took salsa chicken and kicked it up a notch with some taco seasoning. I'm not a big fan of the taco seasoning packets you find in the store so with just a few tweaks to their version we had our chicken base ready. I put all of the ingredients into our slow cooker and set it on low before heading out the door to work. All of the hard work was done and that left me with the easy task of prepping salad toppings and lettuce when we got home.
The chicken was moist and made it to where you really didn't need additional dressing but I'm a ranch girl and decided to top mine with some homemade
cilantro lime ranch
. Can I just say, YUM!? Add some sliced tomato, avocado, olives, and maybe even some chopped onion and you have got a dinner worthy of the day. Even my little guy gobbled up a bowl and declared it delicious!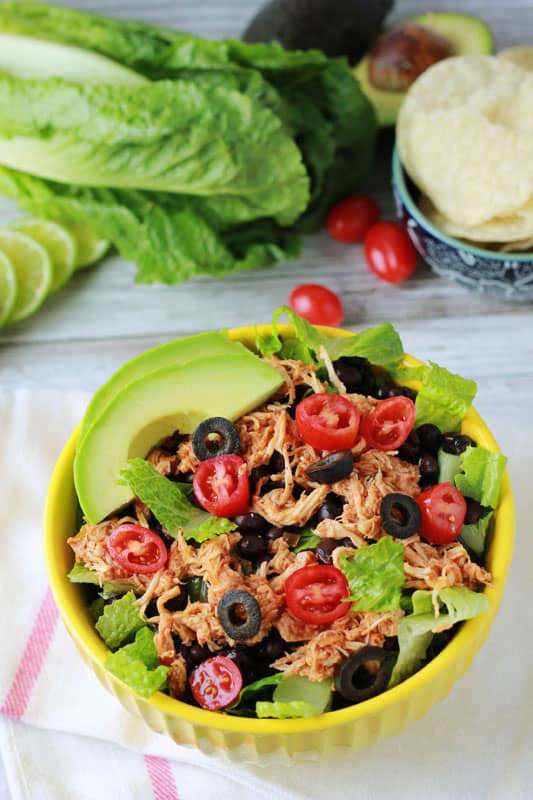 Next time I'm thinking we might add some Pepper Jack Cheese or green chilies. That's the beauty of this easy dinner. You really can add any topping to give it a fun new flavor!
Ingredients
1 lb chicken breast
Juice of 1 lime
1/4 teaspoon cumin
1/4 teaspoon chili powder
pinch of garlic powder
1-1/2 cups salsa
Lettuce
Tomatoes
Olives
Avocado
ranch dressing
Instructions
Combine the chicken, lime juice, cumin, chili powder, garlic powder, and salsa in a slow cooker. Cook on low heat for 4 hours. Shred and set aside.
Chop the lettuce. Top with chicken, tomatoes, olives, avocado and any other topping you might enjoy.
Serve with ranch dressing or cilantro lime ranch.
https://onesweetappetite.com/chicken-taco-salad/
PS, you might like…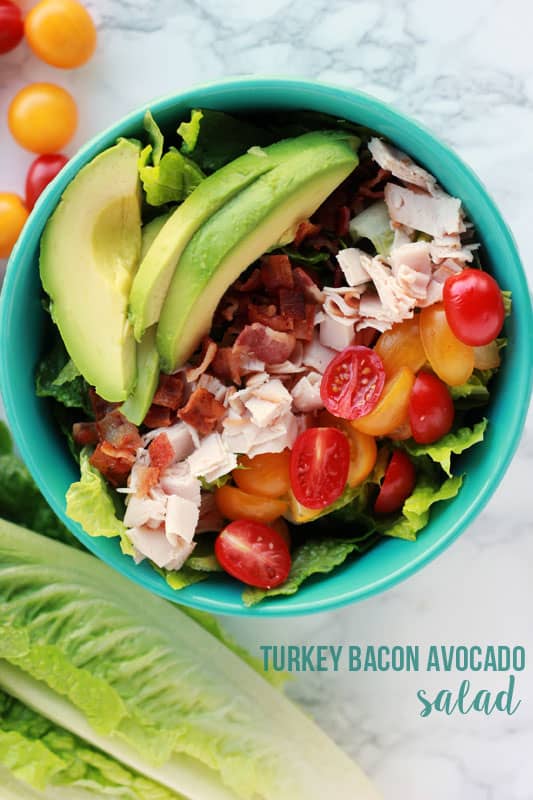 This post may contain affiliate links. I include these links to help you find specific products that are used in my recipes. If you purchase an item from the link on One Sweet Appetite, I will receive a small commission helping keep my recipes free for you.
One Sweet Appetite is a participant in the Amazon Services LLC Associates Program, an affiliate advertising program designed to provide a means for sites to earn advertising fees by advertising and linking to amazon.com
(Visited 411 times, 1 visits today)
0