This post was updated on by Jesseca
Easy Seasoned Dinner Rolls. Using frozen dinner roll dough, butter, and McCormick's Salad Supreme you can have crowd pleasing dinner rolls in no time!
Carbs. They are the one thing no dinner can be without, am I right? At least that is the conclusion I have come to since marrying my husband. He loves bread searved with almost every meal.
The bad news? I am terrible at homemade bread recipes.
The good news? I have found a quick and easy solution!
Easy Seasoned Dinner Rolls!
With just THREE INGREDIENTS you can have tasty, fluffy, delicious rolls and it takes you only a few minutes to prep!
Let's troubleshoot a few issues that I have come across while making this recipe. Even though frozen dough should be as easy as rise and bake, you can occasionally run into problems baking this bread.
Why didn't my rolls rise?
Great question. This has happened to me multiple times. Mostly, this is caused by the room being too cool. If this is the case I try to place the rolls under a damp cloth (or cooking sprayed plastic wrap) in a warmer part of the room. On top of the refrigerator tends to be the winning location for me. The other option is to give them a little more time. Even if the room is chilly your rolls will rise if they have enough time.
My rolls are dense, what now?
Most likely you did not give them enough time to rise. Make sure you follow the directions on the package closely.
My dough sank in the middle before baking!
They had too much rise time. Next time try checking them 20-30 minutes sooner.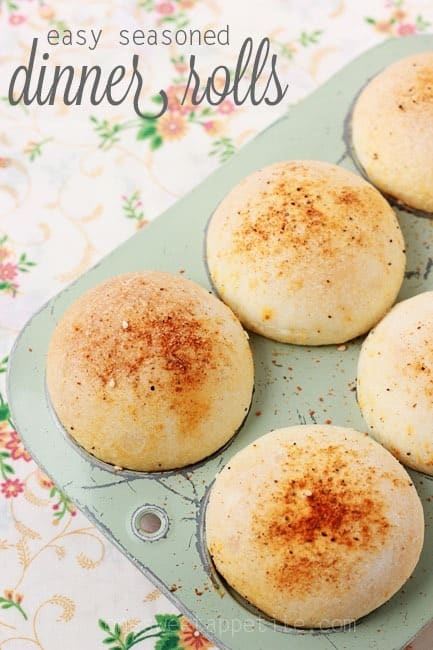 Like this recipe? You will love my Simple Flat Bread, Olive Oil Drop Biscuits, and Classic Dinner Rolls!
Are you ready for my last, and favorite, homemade roll tip?
How to keep rolls warm:
The answer to this is so easy. You will need one crucial tool; a slow cooker.
Line your slow cooker with a clean towel. Place your rolls inside and set to the warm setting.
When ready to eat pull out a roll and enjoy warm!
Seasoned Dinner Rolls
Ingredients
1

package frozen roll dough

1/2

cup

melted butter, slightly cooled

Salad Supreme Seasoning
Instructions
Mist a large cookie sheet or baking tray with non-stick cooking spray.

Place 12-24* frozen rolls onto your prepared sheet. Cover with plastic wrap and allow to double in size.

Preheat your oven to 350 degrees.

Brush each roll with melted butter. Sprinkle with salad supreme seasoning.

Bake 15-20 minutes or until golden brown.
Recipe Notes
This recipe includes enough butter for 24 rolls. 
(Visited 226 times, 1 visits today)
1