Plan your visit to the Grand Canyon with a stay at the North Rim Campground! More remote, less busy, and offers views that can't be beat.
We love to travel. Anything we can do together as a family to experience a new place and culture is a priority. Especially when it includes a national landmark like the Grand Canyon.
This trip was so spontaneous. We originally planned to visit Zion National Park but after a failed attempt at finding a campsite, and a disagreement between who was responsible for reserving, we opted for continuing our drive.
My husband was determined to spend the weekend somewhere awesome and knew that I had the Grand Canyon on my must-see list. SO, another long stretch of driving later- we arrived.
I am so incredibly glad we kept driving.
We found it easier to travel to the North Rim. If you didn't know, the Grand Canyon is huge. It has many points of viewing, camping, and hikes. I can imagine that each location is equally as amazing and breathtaking in views.
The North Rim is located on the north side of Arizona close to Utah. Since we were traveling from the Salt Lake area it seemed like the logical choice.
The North Rim Campground:
This is ranked high on our favorite campsites. My husband puts it as a solid 3. What made it so comfortable beyond the amazing scenery?
They offer both tent and RV camping. We are tent campers so having a solid spot to set up is important! The staff was super friendly and helpfully suggested a few of their favorite areas.
The restrooms FLUSH and are incredibly clean. Not a necessity, but definitely a good addition for this girly girl.
Group sites are available. We love the idea of going back with a group of our favorite people.
Pets are welcome. We have a furry friend and making sure he is able to join us on our adventures is a big deal. We love how friendly they were towards our schnauzer.
Fees are $18-$25 per site per night. A maximum of 2 vehicles, 6 people, 3 tents are allowed per site. Group sites are $50.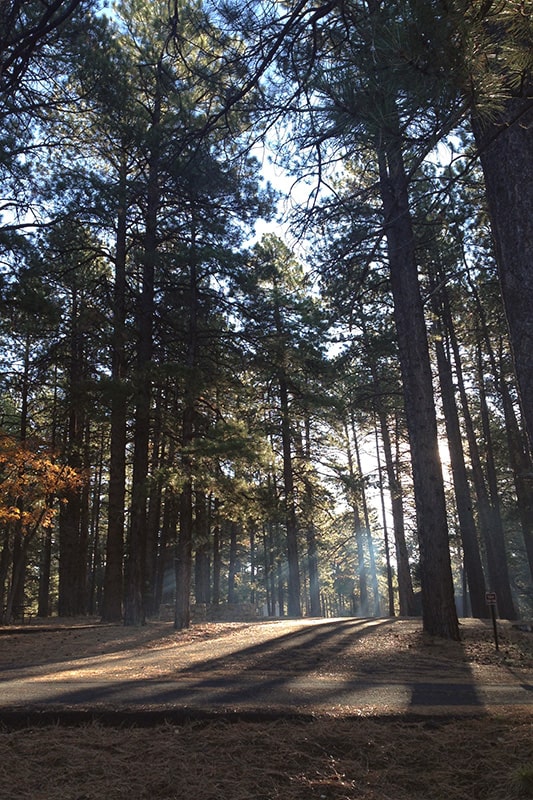 When is the North Rim of the Grand Canyon open?
Lodging and restaurants at the North Rim are open May 15 through October 15. They are closed during the winter due to heavy snowfall. The North Rim entrance is about two hours south of Kanab, Utah. It is $30 per vehicle for 7 days. While I recommend at least 3 days, you could get away with just a day trip.
Which rim of the Grand Canyon is the best?
By popular vote, the South Rim is the best closely followed by the west, east, and then north.
The south rim is the one you most likely have seen in magazines and on TV. It provides the most visitor services and is open year round. This makes it ideal for first time visitors and anyone who is looking to fly in.
Our opinion? You can't go wrong with any location you decide to visit.
Side note, Grand Canyon West has the skywalk and is super close to Las Vegas. This one is still on our travel list to visit and looks incredible. Can you imagine walking out in a loop and seeing the base of the canyon below your feet?
What is the best time of year to visit the North Rim of the Grand Canyon?
I feel like there really isn't a bad time to visit the North Rim. Keep in mind that Lodging and restaurants at the North Rim are open May 15 through October 15. They also get a large snowfall during the winter.
We visited in early October and when we go back we will visit this same time. Fall colors were vibrant, the crowd was minimal, and the weather was fantastic. We had pick of the campsites with only three other families in the campground. The hikes were more private and the wildlife was active. My little guy was in heaven and loved the entire experience.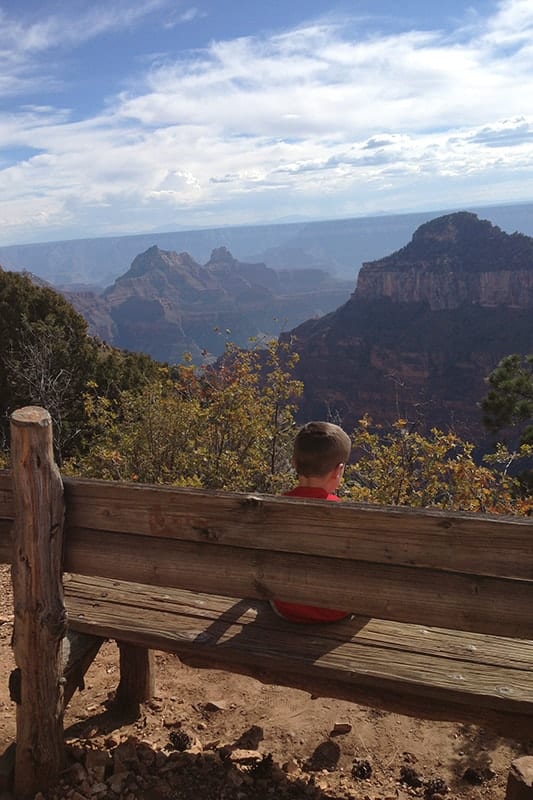 6 Reasons to visit the Grand Canyon:
The North Rim of the Grand Canyon is only visited by 10% of the travelers. That means you will have a less crowded and more enjoyable experience!
Offers incredibly day hikes and incredible views.
Clean and family friendly campground.
Enjoy a mule ride in the canyon!
Slow down and cruise one of the many scenic drives.
Close to Zion National Park and Bryce Canyon National Park making it easy to extend your trip.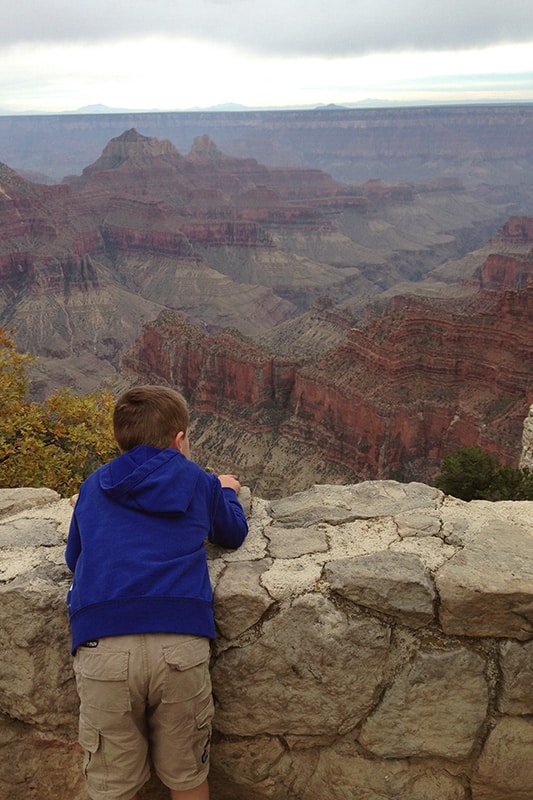 Like this post? You will love my:
9 Things to do with Kids in San Francisco
Follow One Sweet Appetite on Facebook, Instagram and Pinterest for more great travel ideas!