This post was updated on by Jesseca
Homemade Pumpkin Pie Spice is easier than you would think. Just mix a few ingredients you already have in your pantry and you are ready for some serious fall baking!

 It's fall baking season round these parts. Who else has already jumped onto the pumpkin bandwagon? I whipped up a Pumpkin Spice Latte over on Periscope (if you aren't following you should be) and had someone email and ask for a homemade pumpkin pie spice. I'll be honest… I've never actually made this recipe until I got the request. I'm super lazy and have always gone to the store to pick up the pre-made seasoning. I feel kind of lame now that I know how simple it really is to whip up your own.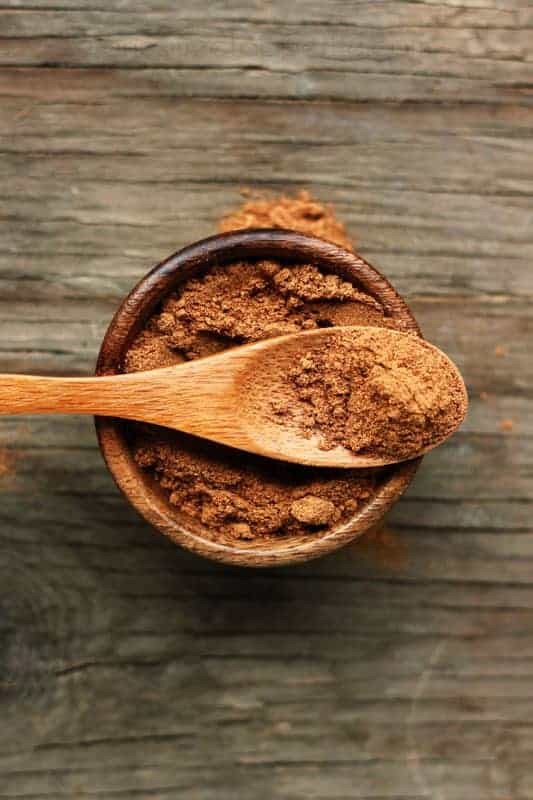 This recipe has only four ingredients and you literally just stir it together. Let's walk through the instructions really quick… Measure + stir. That's it. Two steps. Kind of makes me want to kick myself that one time I decided to drive to the store in the middle of a snowstorm to pick up the spice. All of that stress could have been avoided if I would have just opened the pantry. I super love that all of the ingredients are most likely already in your fall baking stash.
If you want to adjust the amounts you are more than welcome. This is a pretty forgiving recipe. I'm not a big fan of a super strong clove taste so I kept that amount pretty low. I know a few people prefer a more pronounced flavor and increase the cloves to 1/2 a teaspoon. I'll leave that decision up to you and your specific tastes!
Homemade Pumpkin Pie Spice
Ingredients
2

teaspoons

ground cinnamon

1

teaspoon

ground ginger

1/4

teaspoon

ground cloves

1/4

teaspoon

nutmeg
Instructions
Combine all of the ingredients in a small dish. Stir until fully incorporated. Store in an air tight container.

**Make sure you check out the YouTube video below to watch me whip up this recipe in under a minute!**
(Visited 591 times, 1 visits today)