Two years ago I posted this recipe for lasagna stuffed shells. Honestly, my mind was blown at how popular it has been. The photos were terrible and the writing didn't do it justice, but you keep coming back and keep gushing over how delish the meal is. I don't blame you. To this day it's still my favorite thing to make. The flavor is out of this world and it couldn't get any easier. Today I'm sharing a few adjustments we've made to keep assembly just a tad simpler.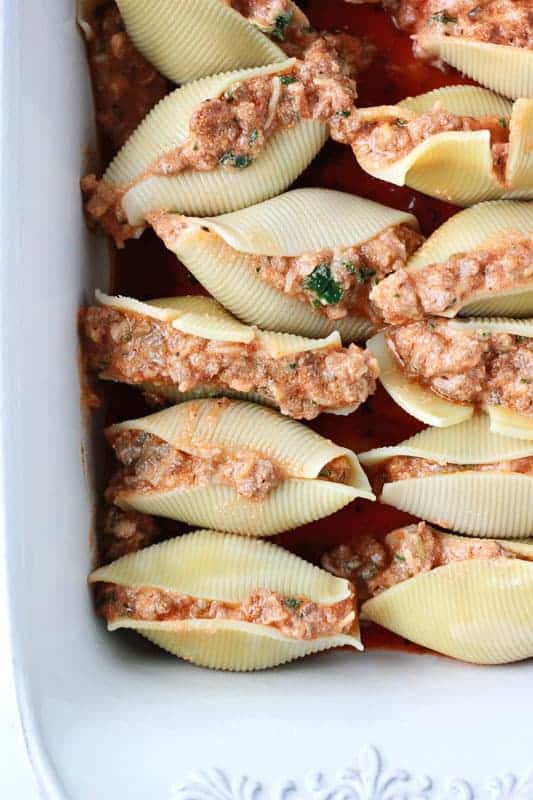 Before I dive right in I want to share some fun facts…
1. It's freezer friendly. Yep, you can whip up a batch and toss it into the freezer before you bake it. Amazing, right? When you are struggling to decide what's on the menu you can just pull it out and toss it into the oven. Dinners ready in a snap!
2. Serve it to a crowd. Make this the day before you are having guests over and store it in the refrigerator overnight. Saves on prep time and keeps your party day stress free.
3. Mix things up. Try making it with ground beef or even ground chicken. Those simple changes add a different flavor and are just as delicious!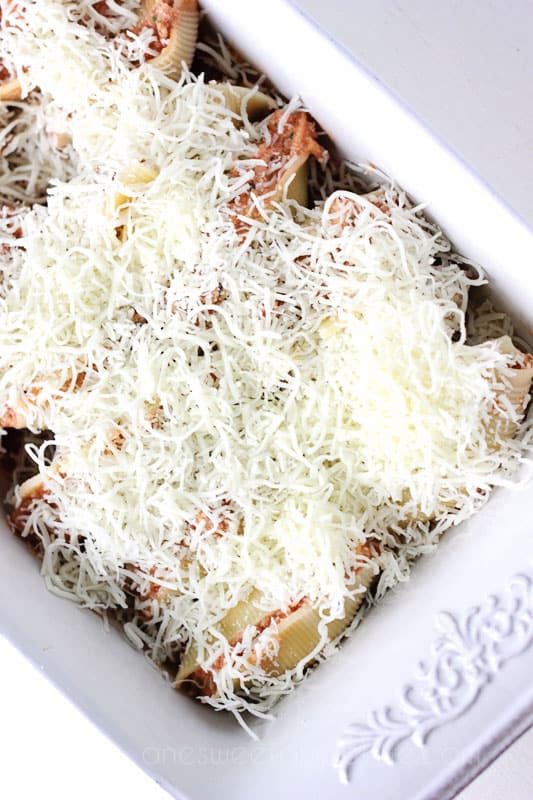 Make sure that you use fresh grated cheese. The pre-shredded stuff doesn't melt quite as well. You want a nice ooey- gooey melted mess when you dish up. I know it feels like an extra step but I promise it is totally worth it. There is nothing quite like fresh mozzarella. If you live close to a Harmons just ask the girl at the cheese counter for some of their fresh pulled mozzarella. It's one of my all time favorite products that they make. I'm pretty sure they even have mozzarella pulling classes… You know, in case you want to get a true hands on experience and learn from the best.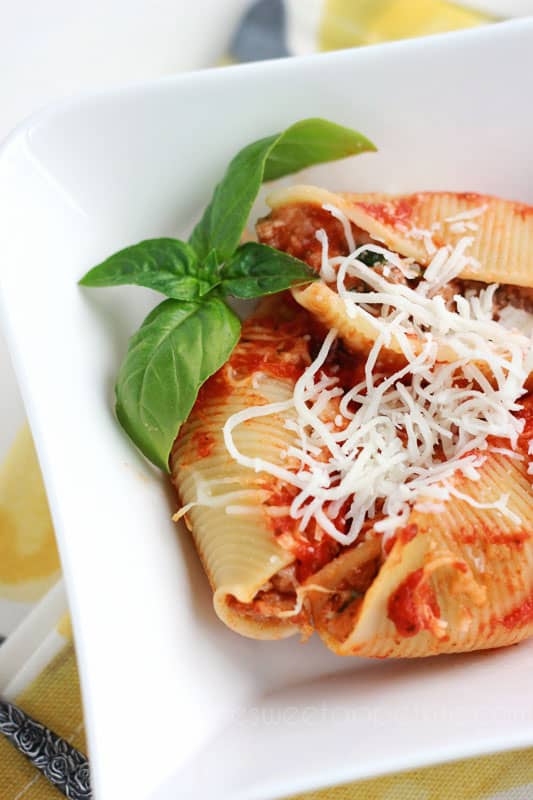 Lasagna Stuffed Shells
Ingredients
20

jumbo shells

3/4

cup

ricotta cheese

1

cup

mozzarella cheese

1/4

cup

Parmesan cheese

1

egg

1/4

cup

frozen spinach

roughly chopped

2

cups

of your favorite tomato sauce

1

lb.

Italian sausage
Instructions
Boil a large pot of water and add your pasta. Cook according to the package directions. Drain the noodles and set aside.

Preheat your oven to 350 degrees. Spread 1/2 cup of your tomato sauce in the bottom of a 9x13 dish.

Heat a large skillet over medium heat. Add the sausage and cook until browned. Stir in 1 cup of your tomato sauce and set aside.

In a small bowl stir together the ricotta, 1/2 a cup of mozzarella, Parmesan, egg, and spinach until fully combined. Mix the cheese directly in with your sausage.

Spoon a hearty amount of the filling into each shell. Place into your prepared baking dish and continue until all are filled. Smoother with the remaining 1/2 cup of sauce and generously sprinkle with mozzarella.

Cover with foil and bake for 20 minutes. Uncover and continue to bake for an additional ten minutes or until the cheese is melted and bubbly.
PS- Quick Lasagna Skillet, Cajun Chicken Pasta, Chicken Alfredo Stuffed Shells
*This post includes affiliate links. It's just my way of helping you find the items I love and use in each recipe. If you decide to purchase an item using a link from my site a small commission will help fund One Sweet Appetite! Thank you in advance for your contribution.
(Visited 2,979 times, 1 visits today)
1