This post was updated on by Jesseca
Cool off on warm summer days with this refreshing Strawberry Balsamic Spritzer recipe. Fresh strawberries paired with Pompeian balsamic vinegar and topped off with a squeeze of lime juice gives you the perfect drink recipe.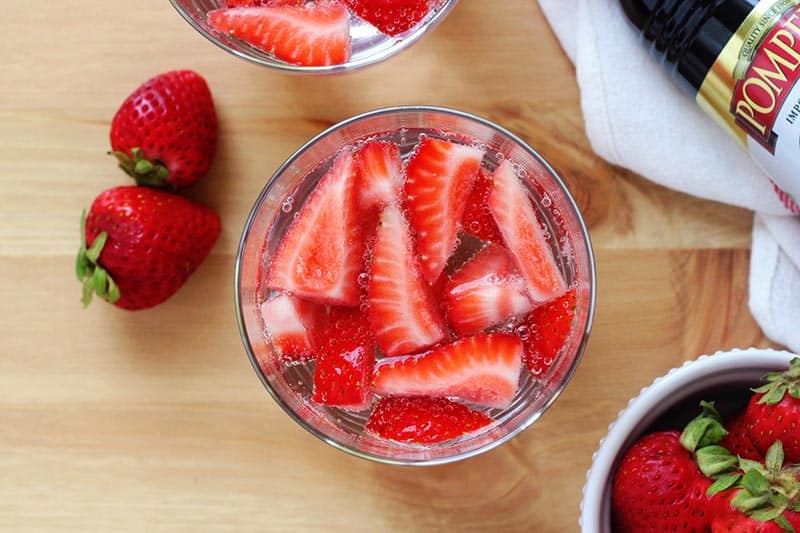 Thank you to my friends at pompeian for sponsoring this post. #trendinginthekitchen #ad

It is heating up here in Utah. That means I am reaching for our favorite refreshing drinks (heeeeello mint limeade) and diving head first into new flavors. While we adore mint in almost every beverage, I knew it was time to venture out and try something new. After whipping up the most insanely delicious balsamic strawberry dessert, I decided I was going to have to try that flavor profile in a beverage. Fast forward a few failed attempts and I give you this refreshing:
Strawberry Balsamic Spritzer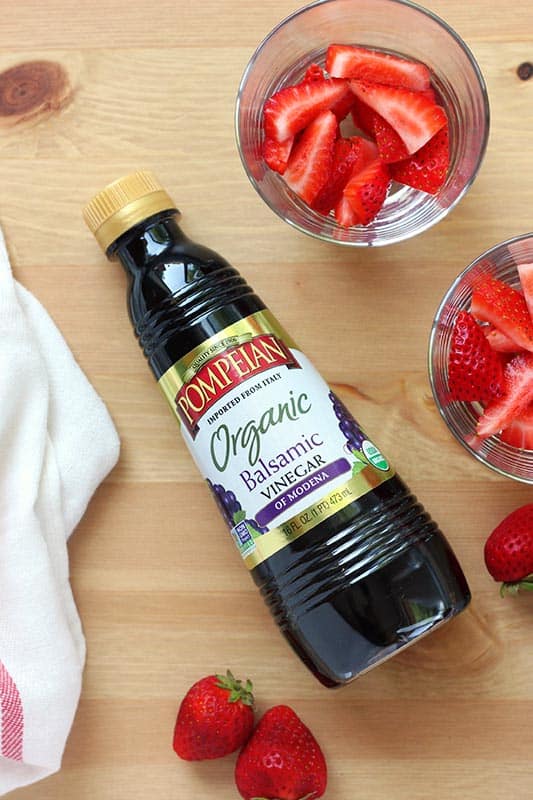 The secret to this drink is definitely the Pompeian Organic Balsamic Vinegar and fresh berries. Pompeian Organic Balsamic Vinegar is made from select, organically grown grapes from Modena, Italy, and harvested at the ripest moment to ensure the highest level of flavor. We always reach for it for marinades, drizzle it on veggies, but it is surprisingly perfect for sweet dishes too!
How to make the perfect mocktail:
It's easy as 1 -2 -3.
Pick your flavors. We love to pair a sweet fruit with a little citrus. Lemons and limes are always a good choice, but don't be afraid to mix it up with grapefruit or orange juice!
Simple syrup is your best friend. Add equal parts water and sugar to a small saucepan. Heat until the sugar is dissolved. Cool completely. This tiny recipe will be a life savor when you have a drink that is a little too tart or in need of a little sweetening. Add a teaspoon or two just before serving.
Top things off with chilled club soda. We have also been known to use flavored sparkling waters but good ol' club soda works with almost any flavor profile.
Like this recipe? You will love my Balsamic Strawberries, Grapefruit + Apple Cider, and Mango Green Tea Lemonade! 
Strawberry Balsamic Spritzer
Ingredients
2

large

strawberries, hulled

2

lime wedges

1

Tbsp

simple syrup*

1/2

tsp

Pompeian Organic Balsamic Vinegar

1/4

cup

club soda

2-3

mint or basil leaves (optional)
Instructions
Fill a tall glass half full with ice.

Add your strawberry, lime wedge, and basil if using. Muddle with a spoon until the berry is crushed and the lime juices are mixed into the drink.

Stir in your simple syrup and balsamic vinegar.
Recipe Notes
* For the simple syrup: Combine 1/2 cup water and 1/2 cup sugar in a small saucepan. Heat until the sugar is fully dissolved.
* Looking for a more adult beverage? Add 1 oz of your favorite vodka to each glass before serving. 
(Visited 507 times, 1 visits today)
3