Want to jump into my world for a day? How about once a week? There are so many fun activities I get to enjoy with my family that I want to share, but let's face it… I'm a cooking blog! 99% of you come for my recipes, and the 1% that doesn't most likely is family. I decided that on Sunday's I'm going to share a little piece of my life with all of you. Mainly through pictures.
It's my lowest traffic day, so I'm crossing my fingers that you won't be mad. Isn't it fun to see the human side of a website? You can actually see that I am a real live person with a family that enjoys life. :0)
This week I'm sharing my favorite summer/fall activity that we like to experience. The SLC Farmer's Market.
They always have the most amazing arrangement of flowers. The first thing my little guy does is pick out two bright arrangements for his grandparents. I'm not really sure where he picked up on this habit, but it's one that is unbelievably cute and that I can't help but support.
The bright colors of the fruit and veggies seem to take over the booth lined park. I seem to find something new to try every time we visit. It's also fun to chat with the farmers and learn a little about how they grow the produce, where they are coming from, and their personal backstories. My son is fascinated with the idea of life on a farm. Me… not so much. This is about as close as we will get.
Did I mention that there are about a hand full of bakeries that set up fresh breads, pastries, and other treats? Besides flowers, this is our only other paying stop. We each pick one savory and one sweet. How could you pass it up with all of the amazing smells of yeast breads and frostings?
You really never know what you'll see. Some days we wonder through the trinket booths to browse and others we spend learning fun facts about wild animals and cooking techniques.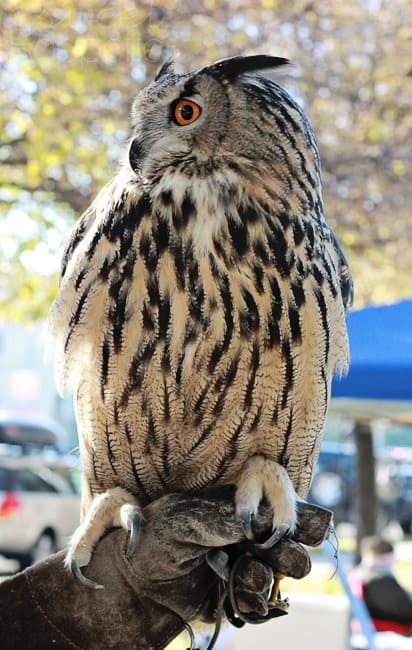 Yesterday was the last day of the Saturday outdoor market, but I'm crossing my fingers that they decide to move things in doors for the winter. It's just nice to get out and walk through the set up with no obligation to purchase anything. I like to take in the atmosphere and introduce my little guy to new produce and reward him with a treat if he is well behaved.
We are such a thrifty family. I hope that you'll be able to read my Sunday Snippets and enjoy some of our outings and adventures. Most of which are free or low cost and great to keep in mind for you and your family. Occasionally I might even post about hidden restaurant gems that we stumble into ( one of our favorite things to do on date night is pick a crazy place to eat)!
So don't be shy! Comment and share the love. Let me know if there is something you think we should check out for the week, or a place we should eat. I love suggestions!