Happy St. Patrick's Day! I know you all are just thrilled to have me FINALLY sharing these whiskey packed Irish Car Bomb Cupcakes! Pay no attention to the totally NOT Irish coins on the top. That was a minor oversight in the decorating department. It was around midnight when I finished these up and the lack of sleep mixed with the low lighting lead to me not paying close enough attention. My bad… my bad…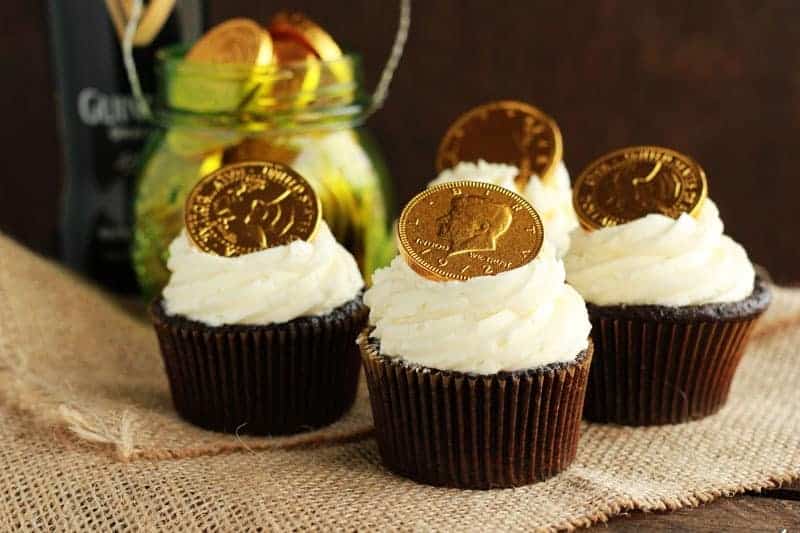 Before we go any further I want to give a big shout out to my middle sister! Twenty four years ago that blond curly haired girl came into our lives and almost immediately started stealing my toys and being a little miss bossy pants. True story, I refused to be mean to her until we were pre-teen aged. I was four when she was born and absolutely smitten with the idea of a younger sibling. I was not, however, prepared for the stubborn and spoiled adorable thing that came to be. Every time she would take away a toy or push me down I'd run in to my mom and tattle like you couldn't believe. The good news is she finally DID grow out of that phase. She's loving, sweet, kind, beautiful inside and out, and one of my favorite people.
These cupcakes are for you, Jackie!
Ok, ok… so the recipe is. I ate all of the cupcakes. You snooze you lose.
For those of you not familiar with an Irish Car Bomb… It's a drink I have never been brave enough to try but have heard that it is almost as good as ice cream. If you can drink it fast enough. It all starts with a glass of Guinness, drop in a shot mixed half of Bailey's Irish cream and half whiskey, and chug. Fast. Seriously, if you don't it curdles and tastes terrible from what I hear. It only seemed fitting that I'd whip together a dessert to represent the fun traditional drink on this festive day.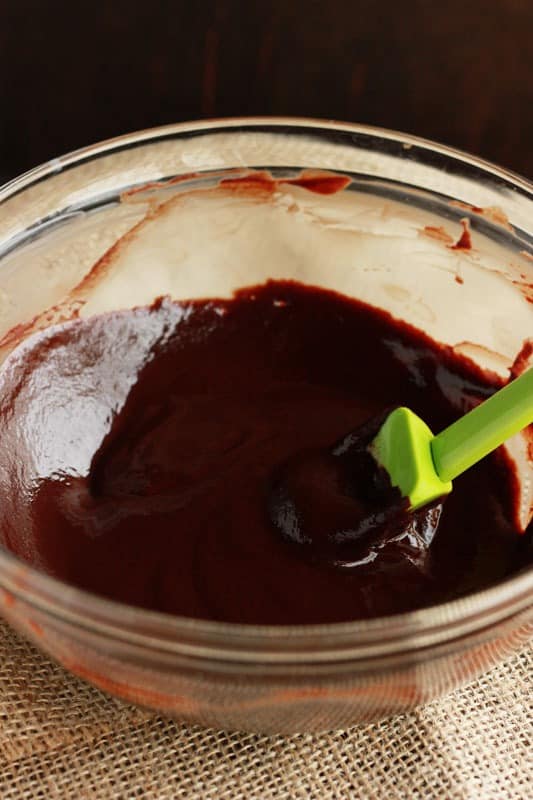 To tone down the whiskey flavor I decided to mix it in with a little chocolate. You can never go wrong with a chocolate ganache, and this filling turned out wonderful. I added only a teaspoon of Jameson, but you could probably get away with a little more. If you are brave, that is.
So bust out your cupcake liners and get into the kitchen. These treats are a must have today or any other day. Just make sure you don't get too carried away with the whiskey before you get started!
Irish Car Bomb Cupcakes
Ingredients
Guinness Cupcakes
1

cup

Guinness

1

cup

butter

softened

3/4

cup

dark cocoa

2

cups

flour

2

cups

sugar

1-1/2

teaspoons

baking soda

1

teaspoon

salt

1

teaspoon

vanilla extract

2

eggs

2/3

cup

plain yogurt
Whiskey Ganache
3/4

cup

bittersweet chocolate pieces

I like to use chips

1/3

cup

heavy whipping cream

1-3

teaspoons

Irish Whiskey
Irish Cream Frosting:
1

cup

butter

soft

4

cups

powdered sugar

4-5

tablespoons

Bailey's Irsih Cream Coffee Creamer
Instructions
Guinness Cupcakes
Preheat your oven to 350 degrees. Line two muffin tins with paper liners and set aside.

Heat together the guinness and butter in a small sauce pan until the butter is melted. Whisk in the cocoa powder and stir until smooth. Remove from the heat.

Whisk together the flour, sugar, baking soda and salt in a small bowl. Set aside.

Combine the eggs, vanilla, and yogurt in the bowl of your electric mixer and stir until fully incorporated. Add the chocolate beer mixture and continue to stir until combined. Slowly fold in the dry ingredients. Fill your cupcake liners 3/4 full and bake 15 minutes or until a toothpick comes out clean. Cool completely.
Whiskey Ganache
Place your chocolates into a small glass bowl and set aside.

Heat the heavy whipping cream until just boiling. Pour over your chocolates and let sit for two minutes. Stir until melted, add the whiskey, and continue to mix until smooth.
Irish Cream Frosting:
Whip the butter until fluffy. Add the powdered sugar one cup at a time. Mix in the coffee creamer one tablespoon at a time until your desired consistency is reached.
(Visited 805 times, 1 visits today)
1