Welcome to One Sweet Appetite!
My name is Jesseca and I could not be more excited to have you join me in my kitchen! I am a self-taught home chef with a passion for food.
Everyday easy recipes are my specialty, which means you will find so many fast, quick, and delicious recipes throughout my site. My goal is to create go-to recipes using simple ingredients and pantry staples. These are real-life eats that you can see yourself making on busy weeknights, weekends, and when impressing a crowd.
We call them anytime recipes. Not too fancy but just enough flare to spice up your menu!

My love for food started when I attempted to "wow" my husband (then boyfriend) with some simple cookies. I was so confident in my skills that I started tossing ingredients into a bowl and ended up with a giant batch of tasteless rocks.
Watching him take that first bite was bad but it was in that moment that I knew there was an art to cooking/baking that I wanted to dive deeper into.
Fast forward a few years and One Sweet Appetite was born.
Creating meals has become my full time job and I couldn't be happier. I have been lucky enough to be featured on multiple radio stations, TV segments, and even commercials for major grocery stores!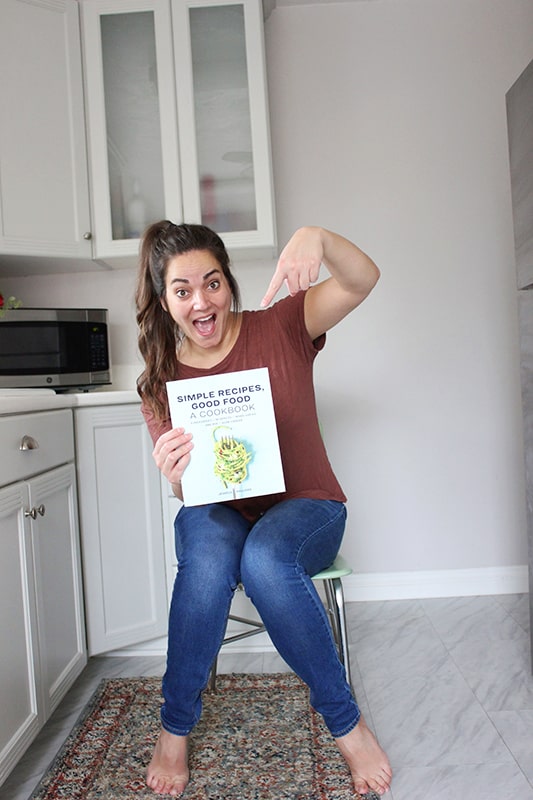 Oh, and did I mention I have FOUR published cookbooks?!
The newest, Simple Recipes Good Food, will be released early October 2020. It is packed with some of our all-time favorite family recipes. Everything from breakfast to dessert and ALL super simple.
You can browse all of my books on my Amazon Author Page, or find them in most book retailers!

Now for a little Q&A! These are my most frequently asked questions:
What is your favorite recipe from the site?
Guys, you would never believe how hard it is for me to pick just ONE recipe that is my all time favorite… So I picked three!
All three have been made repeatedly and remain the most used in our home. You just can't go wrong with any of these options.
What is the most popular recipe on your site?
The most popular recipes change week by week, but there are three that remain in the top 10. My Iced Vanilla Latte, Vanilla Granola, and Cookies and Cream Cupcakes!
Where does your recipe inspiration come from?
Family, friends, eating out… Sometimes in the middle of a conversation with my husband I will pause and scribble notes with ideas that just pop into my head. It's become a bit of an obsession to try to decide what the next "it" thing will be.
I substituted >every single ingredient< in this recipe and it tasted bad! What went wrong??
I couldn't tell you. I used the ingredients I used because they work. I have no control or idea what goes wrong once you start experimenting. However, I love when your experiments go right! Leave a comment so I can test out your changes.
I saw that a post was sponsored. What does that mean?
That is how I make money to keep my site going. Brands approach me with products they want me to use and I create a unique recipe using that product. I promise all sponsored posts are genuine and honest. I will never promote a product that does not meet my standards.
What camera equipment do you use?
I use a Canon Rebel T2i and a 50mm lens. Nothing fancy but it gets the job done.
Take a look around and browse through all of my recipes. If you have any requests or questions shoot me an email at:
I am always happy to help troubleshoot recipes or help create something new!