These Lemon Coconut cupcakes have a moist and light lemon cake, filled with lemon curd, and topped with a sweet coconut frosting. The perfect spring cupcake flavor.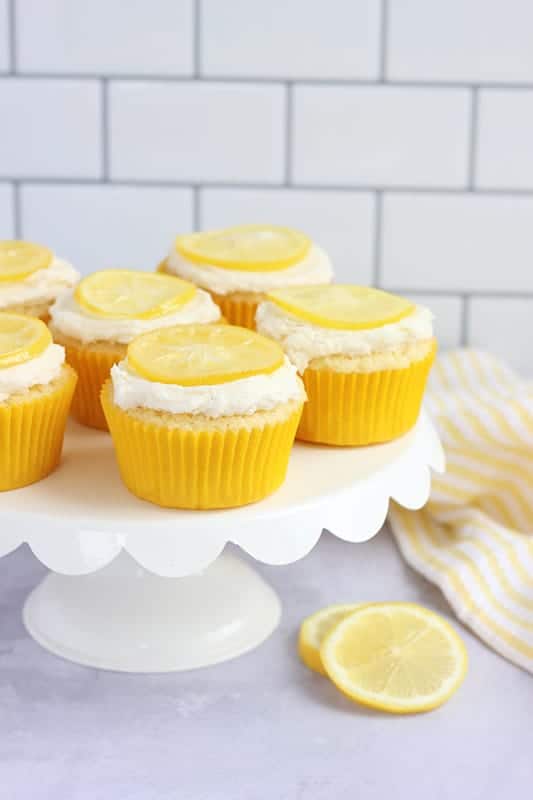 Lemon Coconut Cupcake Recipe
This cupcake…
Citrus has always had a special place in my heart, but this recipe takes the cake! Or, er, cupcake.
It is filled with bold lemon flavor and complimented by a sweet and silky coconut buttercream frosting. It is not even a stretch to say that we fought over the last one. My husband physically shoved me away from the plate and claimed the remaining small cake as his precious.
It was weird, creepy, and one of the many many reasons I love that man.
It's also true. This cake is worth fighting for. The spring flavor combination is wonderful and even kid approved! My nine year old gives it five stars and two thumbs way up!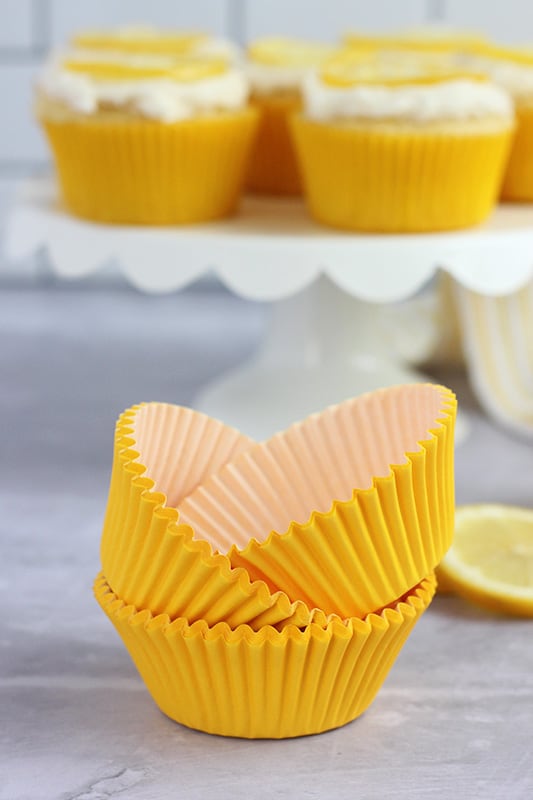 Before I release you to bake these sweet bites of perfection, I want to leave you with a few tips. If you follow these cupcake baking suggestions you will be left with a super light and moist sponge like cake and smooth vanilla bean specked frosting!
Tips for perfect cupcakes:
I always suggest starting with quality room temperature ingredients. When I say quality, what I mean is this… Use real vanilla extract, get a decent coconut milk (none of this reduced fat version), and fresh eggs. Making sure that the ingredients are at room temperature ensures that they will incorporate evenly giving you a smooth batter that is beautiful when baked.
Mix it low and slow. While it may be tempting to turn the mixer speed up, try to keep it on the slower speeds. This will help keep just the right amount of air in your batter and produce that light and fluffy cake we are hoping for.
Let them cool completely before you add filling and frosting.
Do NOT refrigerate the cupcakes. This will pull all of the moisture from the cake and leave them dry.
No time for cupcakes? Try my lemon coconut sweet bread. Same great flavor but loaf style.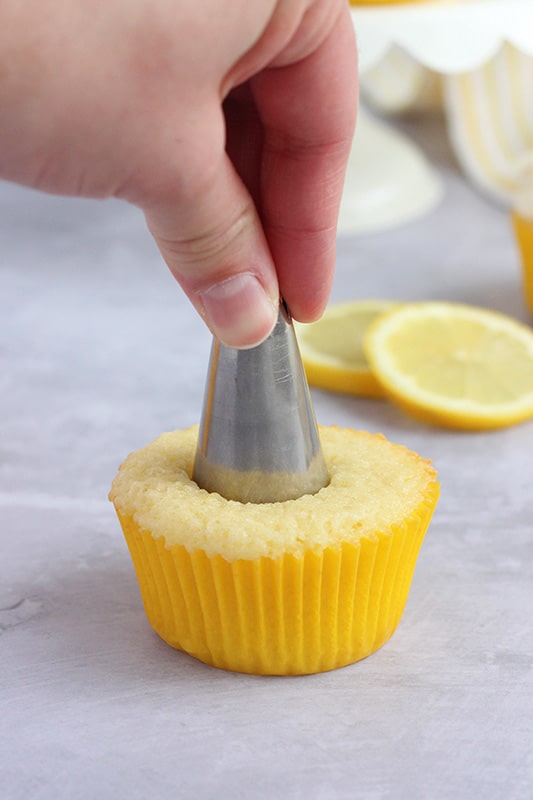 The lemon curd filling is what ties the cupcake and frosting together. DO NOT SKIP IT. While it might sound intimidating, there is a quick and easy way to fill your cupcakes that will take less than five minutes!
How to fill a cupcake:
I used an Ateco 825 which has a large base.
THAT is what you are going to want. The bigger the better. That will determine the size of our cupcake center giving you lots of room for fillings.
Place the back of the tip onto your cupcake and twist it down until you think you are at the middle.
Twist back up and you should end up with the center of the cupcake pulling right out.
Use a spoon to fill your cupcake with whatever filing you desire.
Place the top back on and gently press down.
For a full step by step tutorial with images visit this post.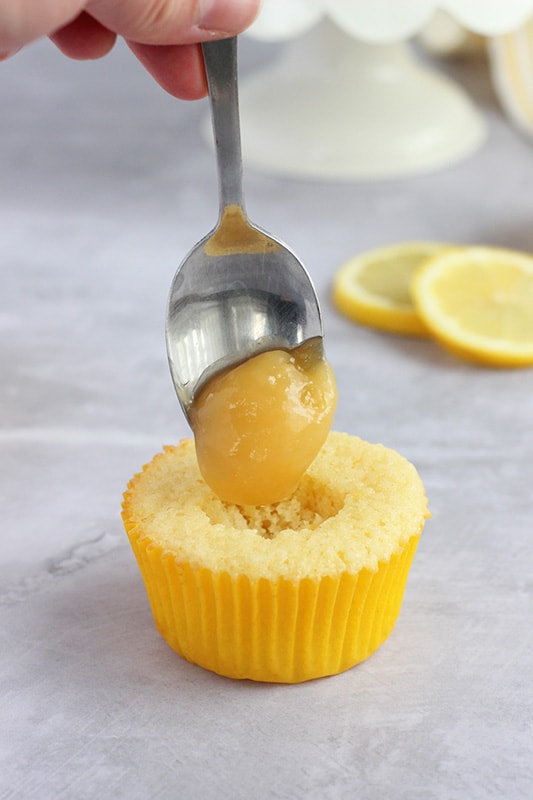 I found a store bought lemon curd but you could easily make your own. Either way you will love the end results of this lemon cake recipe!
The star of the frosting is the coconut. I did not want to use an extract, which made it a little tricky to achieve a bold flavor. The fix? Reducing coconut milk to enhance the flavor!
How to reduce coconut milk:
Place your coconut milk in a small pot.
Bring to a boil.
Lower the heat to a simmer and cook for 15-20 minutes or until the milk has reduced by half.
Make sure you mix it throughout the process to avoid burning.
Like this recipe? You will love my:
How to make lemon coconut cupcakes:
Lemon Coconut Cupcakes
These Lemon Coconut cupcakes have a moist and light lemon cake, filled with lemon curd, and topped with a sweet coconut frosting. The perfect spring cupcake flavor.
Ingredients
For the cupcakes:
1-1/2 cups all-purpose flour
2 teaspoons baking powder
1/4 teaspoon salt
1/2 cup soft butter
1 cups granulated sugar
2 large eggs
1/2 teaspoon vanilla extract
1 tablespoon lemon zest
1 tablespoons lemon juice
1/2 cup coconut milk
Lemon Curd
For the frosting:
1 cup unsalted butter
2 1/2 cups powdered sugar
1/3 cup coconut milk *reduced
1 teaspoon vanilla bean paste or pure vanilla extract
Instructions
For the cupcakes:
Line one muffin tin with paper liners. Preheat the oven to 350 degrees. 

Whisk the flour, baking powder, and salt in a small measuring cup. Set aside.

Combine the butter and sugar in the bowl of an electric mixer. Cream with the paddle attachment for 2-3 minutes or until fluffy. Add the eggs, one at a time. Stir in the vanilla extract, lemon zest, and lemon juice. 

Add the dry ingredients alternating with the coconut milk. Mix on low until fully incorporated. 

Divide the batter between the 12 prepared cupcake liners, about 3/4 full. Bake 15-17 minutes or until a toothpick comes out clean. 

Allow to cool completely. 

Remove the middle of your cupcake using a pairing knife or back of a piping tip. Fill with 1-2 teaspoons of lemon curd.  Replace the removed cupcake middle and gently press down. 
For the frosting:
Pour the coconut milk into a medium sized pot. Heat to a boil. Reduce to low heat. Cook for about 25-30 minutes, or until your milk has reduced to about half. Place in the refrigerator to cool.

Cream together the butter and powdered sugar in the bowl of an electric mixer using the whisk attachment. 

Scrape the vanilla bean, or add the vanilla extract along with the reduced coconut milk. Whip until your desired consistency has formed.

Frost cupcakes.
Nutrition
Serving: 12Cupcakes
Pin for later:
Still hungry? Follow One Sweet Appetite on Facebook, Instagram and Pinterest for more great recipe ideas!
Reader Interactions