Brace yourself for a bite-sized burst of tangy delight with these simple mini lime cheesecakes. These little treats might be small in size, but they're huge on flavor, making them the ultimate dessert companions for your sweet escapades. Whether you're indulging in a solo dessert affair or sharing the lime-light with friends, these cheesecakes are about to become your new citrusy obsession.
Serving a crowd? Try making Cheesecake Bars or Key Lime Pie Cupcakes! Another quick no-fail treat that is ideal for parties.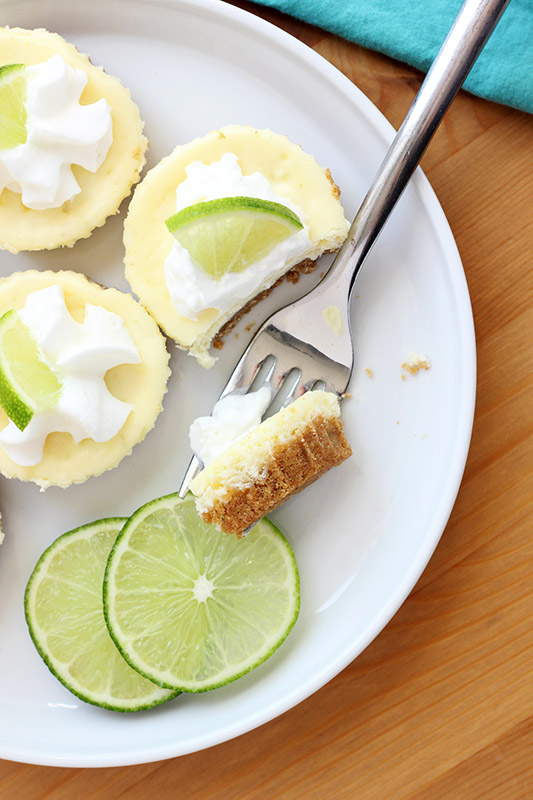 Why You'll Love This Lime Cheesecake
Beginner Recipe: These cheesecakes are no-fail making them perfect for beginner or expert bakers!
30-Minute Dessert Recipe: Cheesecake in 30 minutes? Yes, please!
Bold Citrus Flavor: These are loaded with citrus and easily one of our families favorite treats.
These lime cheesecake bites are ADDICTING. The best way to describe this treat would be key lime pie in the form of cheesecake. Baking them in a cupcake tin gives you the perfect single serve size and they are FREEZER FRIENDLY!
Lime cheesecake takes the classic velvety richness of cheesecake and introduces a zesty twist that's like a burst of sunshine on a cloudy day. With each luscious forkful, you'll experience the smooth, creamy texture of cheesecake, punctuated by the vibrant and tangy notes of freshly squeezed lime juice. It's a balance between sweet and tart that's bound to make your palate do a happy little cha-cha.
Lime Cheesecake Ingredients
There isn't a large list of ingredients, but the key is to make sure they are all at room temperature. This will ensure everything mixes together smoothly. Especially if you are using a hand mixer.
Cream Cheese: Could you use low fat? Technically, yes. Should you? It depends. The flavor will be more rich if you stick with the classic.
Sugar: Regular white, or granulated, sugar is what works best. It blends well with the citrus and allows it to shine.
Eggs: Large eggs at room temperature. This helps keep you from over mixing the batter.
Cornstarch: Just a touch to thicken the batter. You can use flour in a pinch.
Lime Juice: Key lime juice is our favorite. Using key lime juice is key for that bold flavor. Key limes are slightly smaller in size and have a more intense and aromatic taste. In a pinch, you can use regular limes too. It will have just a slightly more subtle taste.
Graham Crackers: Buttery classic grahams. Stay away from cinnamon grahams.
Butter: Salted butter. It adds that perfect amount of salt to the buttery cookies that makes all the difference. If you use unsalted, add a pinch of salt to the crust.
Whipped Cream, optional
What Is The Difference Between Limes and Key Limes?
Wondering what the difference between a key lime and lime is? You aren't alone. Until recently, I had no idea there was really a difference. Turns out, the two types of limes have wildly different flavor.
Mini Key Lime Cheesecake Recipe
We love to serve these with a dollop of whipped cream. It gives the cheesecakes a wonderful freshness and pairs amazingly well with the lime flavor.
CRUST: The crust for these is SUPER simple to make. Crushed grahams plus melted butter. That's it! The key is to really crush the graham crackers. I run mine through a food processor or blender to get a nice powder. This helps to make the crust more stable and hold up well when picked up.
BATTER: The batter is equally as simple. Mix with a hand mixer, or by hand, for the best non-cracker results.
BAKE: Bake the cheesecakes until the center is set. Allow to cool completely, chill, and serve!
Two notes:
Because these are so small they are going to cook quick. Keep a close eye to make sure they don't burn.
Start with room temperature ingredients. This helps the batter come together quickly and avoids over mixing, which causes cracking.
Helpful Tools
Recipe Notes:
Can I use bottled lime juice instead of fresh limes?
While fresh is zesty best, bottled lime juice can work in a pinch. Just make sure it's 100% pure for that tangy kick. You can pick up bottled key lime juice at most grocery stores (check the baking aisle) or online.
How do I prevent my mini cheesecakes from cracking on top?
The crack-free secret? A gentle cooling process! Gradually cool your mini marvels outside the oven to avoid sudden temperature changes.
Help, my cheesecakes are sticking to the pan! What now?
No panic, just patience. Give those babies a chill in the fridge and gently slide a knife along the edges to release. They'll pop out like lime-scented gems. OR you can use cupcake liners!
How long can I store these mini cheesecakes?
These tangy delights can hang out in your fridge for around 3-4 days, giving you plenty of time to savor the limey love.
Can I freeze mini lime cheesecakes for later?
Freeze away, my friend! Just wrap 'em tightly in plastic wrap and foil before the deep freeze dance. Thaw in the fridge and enjoy your make-ahead marvels.
Still Hungry? Follow One Sweet Appetite on Instagram, Pinterest, and Facebook!
Mini Key Lime Cheesecakes
Easily my favorite summer recipe, these mini Key Lime Cheesecake are sweet, creamy and loaded with citrus flavor. No-fail cheesecake that is quick and easy to make, thanks to the use of a muffin pan!
Ingredients
16 ounces cream cheese soft (two bricks)
1/2 cup granulated sugar
2 large eggs
1 ½ teaspoons cornstarch
1 ½ teaspoons lime zest
1/3 cup key lime juice
3/4 cup crushed graham crackers
3 tablespoons melted butter
whipped cream
Instructions
Cupcake Pan Instructions
Preheat the oven to 325 degrees. Line two muffin pans with paper liners or mist with cooking spray.

In a medium mixing bowl, stir together the graham crackers and butter.

Place 1-1/2 tablespoons of the mixture into each mini cup. Use the back of the teaspoon to push down lightly. Set aside.

Add the cream cheese and sugar to the bowl of an electric mixer. Mix with the paddle attachment for 5 minutes, scraping the sides, or until smooth.

Stir in the eggs, one at a time, until incorporated into the batter.

Mix the cornstarch and lime zest into the cream cheese and stir until incorporated.

Gently fold in the lime juice with a spatula. Try not to mix too much.

Add 2 to 3 tablespoons of batter directly on top of the graham crust or until it just almost reaches the edge.

Bake for 18 to 20 minutes. Cool completely and top with whipped cream.
Notes
Because these are so small they are going to cook quick. Keep a close eye to make sure they don't burn.
Mini Cupcake Tin Instructions: 
Use 1 teaspoon of crumbs for each mini cup. 
Bake one to two tablespoons of batter per cup for roughly 15 minutes, or until set. 
Nutrition
Serving: 1Servings | Calories: 175kcal | Carbohydrates: 13g | Protein: 3g | Fat: 13g | Saturated Fat: 7g | Polyunsaturated Fat: 4g | Cholesterol: 58mg | Sodium: 134mg | Fiber: 1g | Sugar: 9g
More Recipes You might Like
Reader Interactions