Cool down with this sweet Iced Vanilla Latte all summer. It is a refreshing way to get your daily cup of Joe and easier than you would think to whip up!
I have dozens of coffee recipes on the site that are all delicious! If you are a fan of copycat recipes, be sure to try my Mocha Frappe Recipe, Irish Cream Cold Brew and Oreo Frappuccino.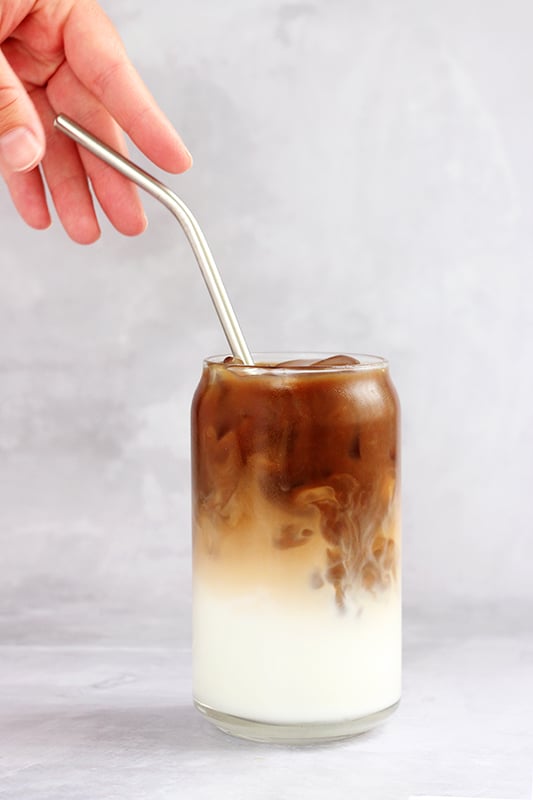 Recipe Features:
Quick and Easy: This recipe is ready in ten minutes! That is less time than getting in your car and driving to Starbucks!
Minimal Ingredients: You only need 3 ingredients. Most shelf stable for weeks.
Budget Friendly: You will save big bucks by ditching the coffee shop drive thru.
I have been known to visit our local Starbucks on the regular. This girl LOVES coffee.
When I realized I almost always order the same drink, I figured it was time for me to get my barista on. After a few tried and failed attempts, I have managed to make the very BEST: Iced Vanilla Latte Recipe! The beauty is that you only need THREE ingredients and about five minutes!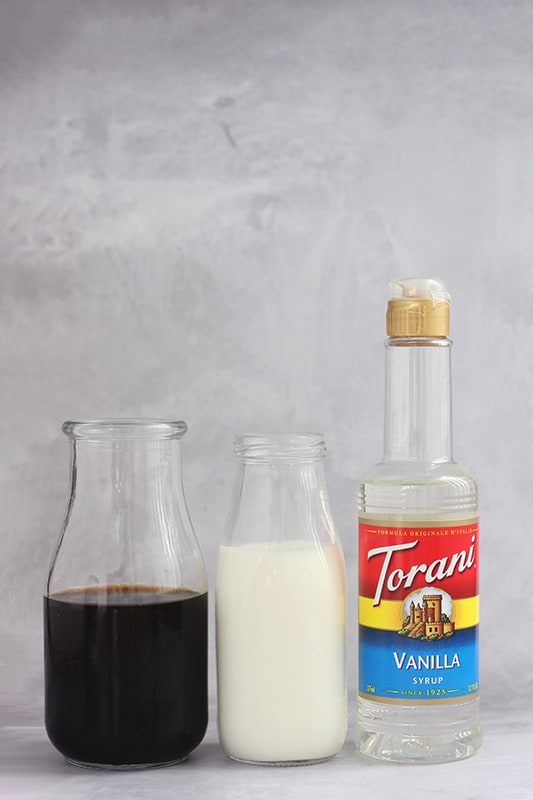 What You'll Need:
After making this recipe I decided I should be a barista. Or really, anyone could be a barista. Not that I am super amazing at making coffee beverages but THIS latte is so so simple. You really cannot go wrong when you only have a few basic ingredients and this tastes EXACTLY like the Starbucks vanilla latte recipe.
Coffee: Or Espresso. We've made it using both and it tastes delicious. Try French Pressed (affiliate) or, for a stronger taste not using espresso, Cold Brew Coffee (<< My recipe. It's so easy!)!
Milk: Or cream.
Vanilla SYRUP: You can find it on Amazon here (affiliate). They even have a sugar free version.
TIP: Make sure you have a quality strong brewed coffee would be my only tip and you will be golden!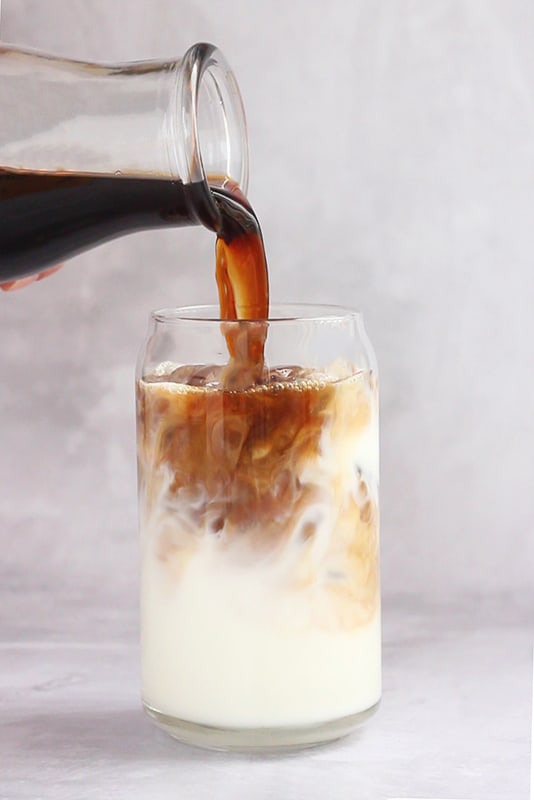 Step By Step Instructions:
Start with QUALITY ingredients. This is where you will get most of your flavor.
Decide if you want to use strong brewed coffee or espresso. We have gone both ways but I personally prefer coffee.
Mix all of your ingredients and enjoy!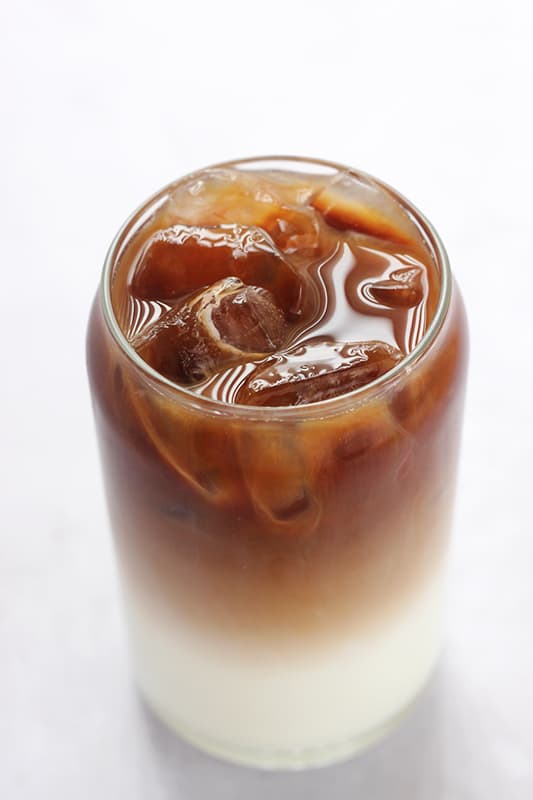 Tips and FAQ's:
What is in an iced latte?
This is a question I am asked constantly. A vanilla iced latte is espresso or strong brewed coffee that is chilled over ice and sweetened with a touch of cream and vanilla syrup.
How do you make an iced latte at home?
There are only a handful of basic ingredients in this recipe; coffee, milk, and flavored syrup. I have mentioned twice that quality is key. So what do I mean by quality ingredients?
– Ideally, you want to grind your own coffee beans. This will give you the freshest flavor. However, it's not necessary in a pinch.
– Purchase coffee other than Folgers. I'm not bashing them by any means, I just prefer the taste of Peet's, Gevalia, or Green Mountain if I'm using ready to brew coffee.
– Use whole milk or cream.
– Freeze coffee in an ice tray to use in place of ice. This will help keep your drink from watering down.

Can you make an iced latte with coffee instead of espresso?
Yes! You can use a strong cup of brewed coffee, or even cold brew, in place of the espresso in this recipe. The end result will be equally delicious. The only suggestion I have is to make sure you add a little less syrup if substituting with a less bold flavor coffee.
Is cold brew iced coffee?
No, cold brew can be much stronger than iced coffee and tends to lasts longer before becoming acidic. It is made by combining water and coffee grounds and letting sit overnight at room temperature. However, cold brew can be used in an iced coffee recipe, especially if you are looking for a stronger bold taste.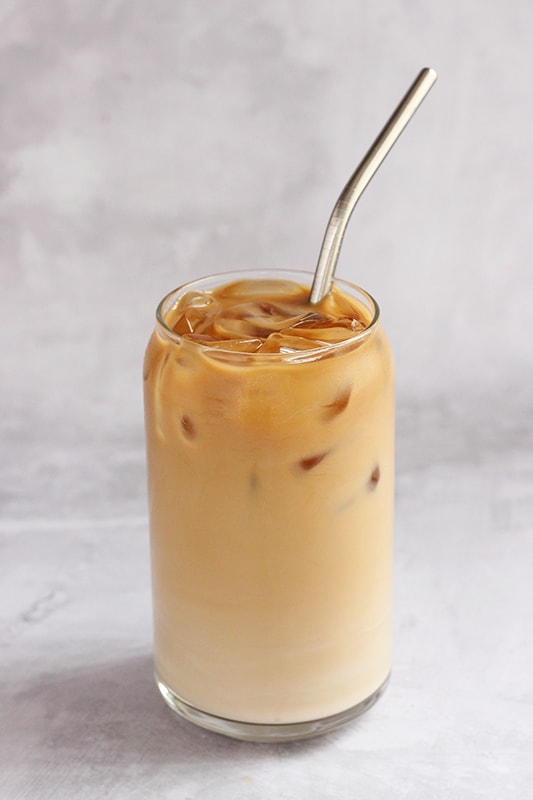 Related Recipes:
Still hungry? Follow One Sweet Appetite on Facebook, Instagram and Pinterest for more great recipe ideas!
More Favorites from One Sweet Appetite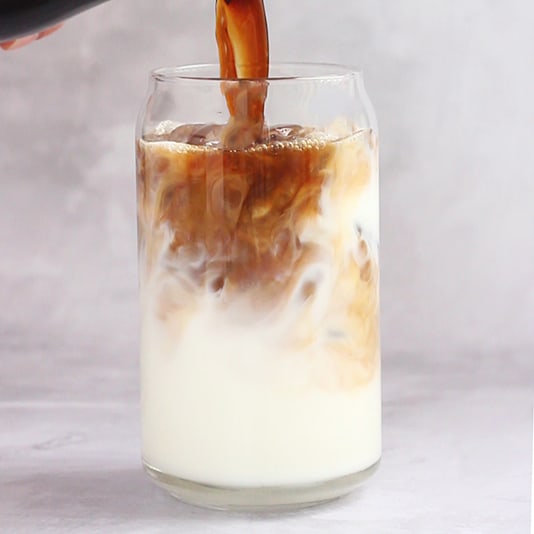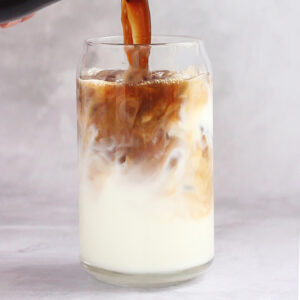 Iced Vanilla Latte
Cool down with this sweet Iced Vanilla Latte all summer. It is a refreshing way to get your daily cup of Joe and easier than you would think to whip up!
Ingredients
ice
2 to 4 tablespoons vanilla syrup more or less to taste
1 cup milk or cream
1/2 cup strong brewed coffee or two shots of espresso
Instructions
Fill two tall cups with ice.

Add 1-2 tablespoons of vanilla syrup to each of the cups.

Divide the milk between the two glasses, pouring over the ice and syrup.

Top with coffee or espresso, mix, and enjoy.
Notes
Add more or less syrup per your tastes. I like 1-2 tablespoons, but also like a more bold coffee flavor. My sister, on the other hand, likes the full 1/2 a cup. Start with a small amount and add additional as needed.
Want a stronger drink? Use a little less milk and more coffee/two shots of espresso per cup.
Nutrition
Serving: 1cup | Calories: 235kcal | Carbohydrates: 82g | Protein: 5g | Fat: 8g | Saturated Fat: 5g | Polyunsaturated Fat: 2g | Cholesterol: 27mg | Sodium: 76mg | Sugar: 75g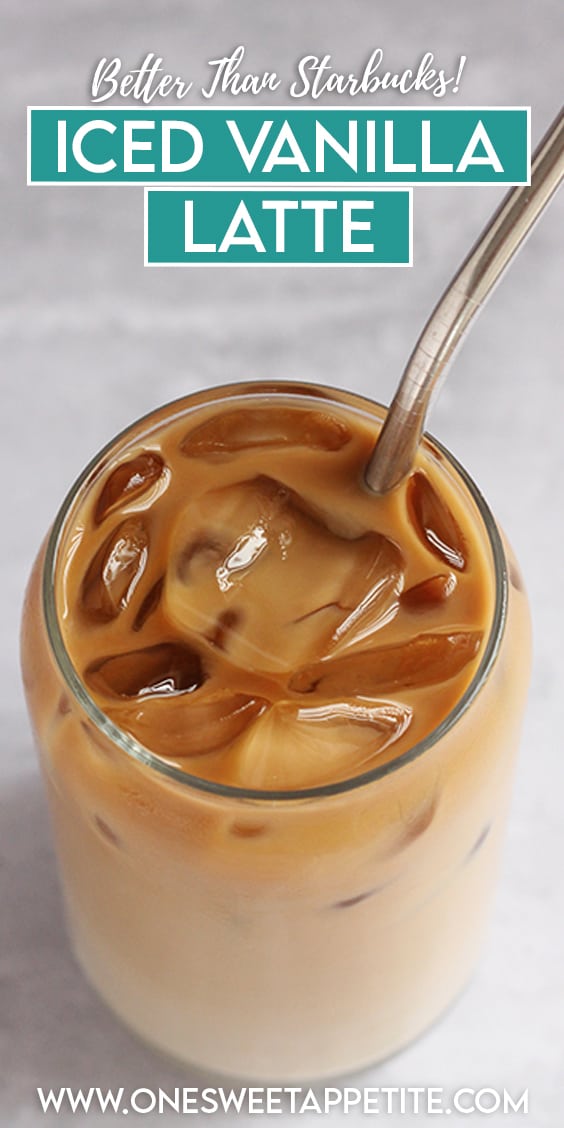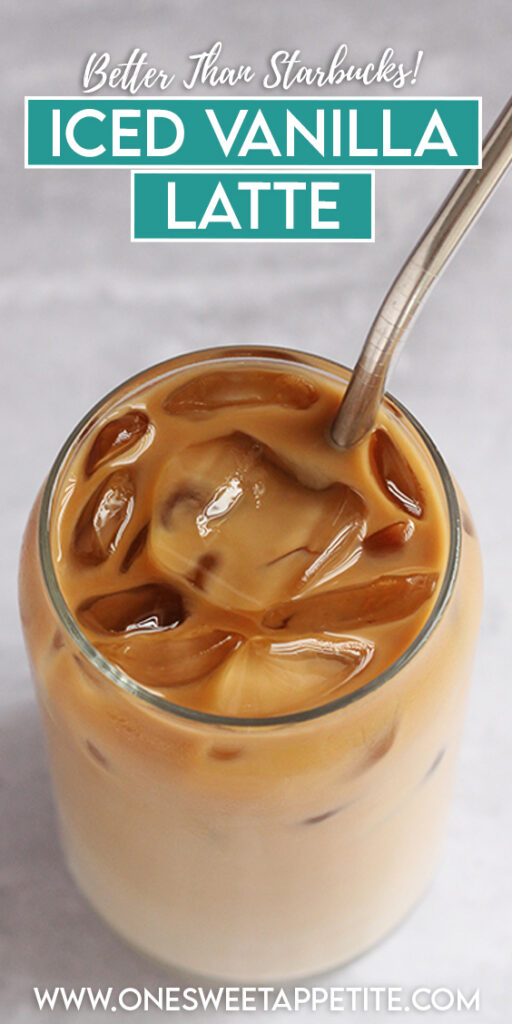 This post was originally published June 2016. It has since been updated to include clear instructions and images.
Reader Interactions