Whip up an entire pan of these homemade Cherry Pie Bars in under 30 minutes! A buttery shortbread crust is topped with sweet cherry pie filling and baked to perfection. Easy to make and always a hit.
Be sure to check out some of our other popular fruity desserts! You cannot go wrong with my Lemon Pie Bars, Cherry Dump Cake, and Mini Key Lime Cheesecakes!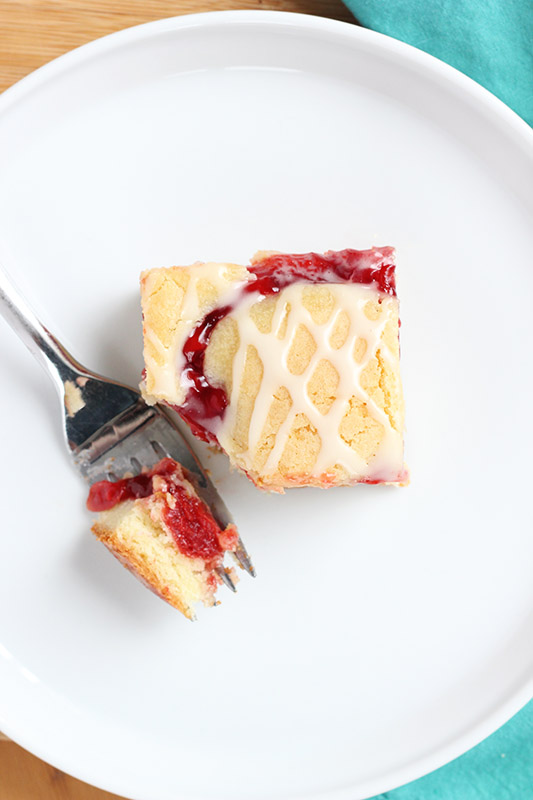 Why You'll Love These Cherry Bars
Quick and Easy: You will have these bars ready for the oven in under 10 minutes, thanks to the use of canned pie filling.
Easy to Customize: Not a cherry fan? Want to switch things up? Try any other pie filling.
Party Perfect: Handheld cherry pie? Yes, please! This recipe makes enough for a crowd.
I am a huge fan of cherry pie. It is so simple and yet so full of flavor. I have been playing around with the idea of making cherry pie cookie bars, and this recipe is a winner!
They are soft, chewy, full of cherry flavor, and finished with the most incredibly delicious drizzle of icing. It is like biting into cherry pie with an incredibly buttery shortbread crust. Great on their own or served with a scoop of vanilla ice cream!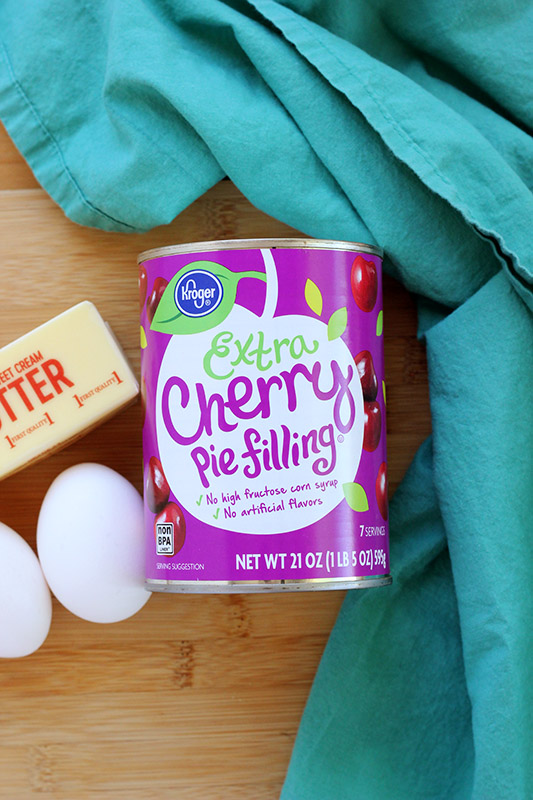 Cherry Pie Bar Ingredients
So, I've talked you into making these delicious cherry pie filling bars, but what exactly do you need? Turns out, not much. The ingredient list is fairly basic, and most likely things you already have on hand! Here is a quick breakdown.
Butter: Ok, I know a lot of people are fans of unsalted butter. Salted butter is my go-to. It adds a little extra flavor boost that is delicious.
Sugar, Flour, Salt: The crust is made from a buttery shortbread cookie base made from combining butter, sugar, flour, salt and eggs.
Eggs: Large eggs at room temperature. Starting with ingredients that are not chilled helps them to blend together quickly without the potential of overmixing.
Extracts: Vanilla AND Almond extract. While the almond is optional, it adds a depth of flavor that really kicks things up a notch.
Cherry Pie Filling: I used canned cherry pie filling vs making my own. Here's the thing… I'm going to admit that my all-time favorite pie filling is actually Market Pantry, from Target.
Powdered Sugar and Milk: The two main ingredients to the sweet glaze.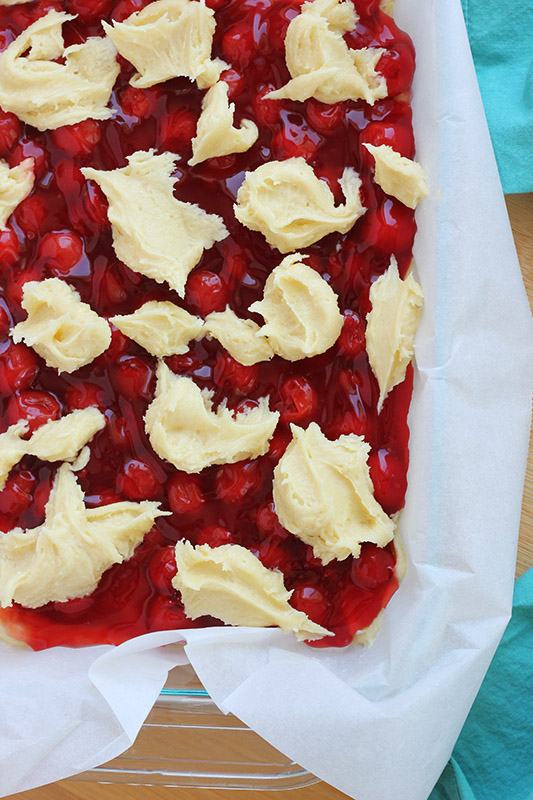 Cherry Pie Bars With Shortbread Crust
PREP: Read through the recipe and measure out all of the ingredients. This is my number one tip. It makes it so things run smoothly and you don't miss an ingredient accidentally.
ASSEMBLE: Build the dough crust, press into the pan, top with pie filling. From here, you are going to take some of that crust dough, that we saved, and drop it in small pieces right on top of the cherries.
BAKE: Bake the bars for 30-ish minutes, or a little longer if you notice it's not quite browning.
DRIZZLE: Let the bars cool. Whisk together powdered sugar, extracts, and milk to form your sweet icing drizzle. Use a spoon to pour or drizzle over the bars.
ENJOY: Slice and enjoy!
Helpful Tools
Jelly Roll Pan: I love my OXO pans (affiliate). They are perfect for almost any baking endeavor and have outlasted even my most expensive bakeware.
Silicone Baking Mat: So you have three options for this recipe. 1: Grease the pan and hope things come out. 2: Line the pan with parchment paper. 3: Use a reusable silicone baking mat (affiliate) on the bottom and watch the magic of an easy removal!
Hand Mixer: While I LOVE my stand mixer, my hand mixer (affiliate) gets much more use. It's lightweight, mixes well, and is so much easier to store and clean.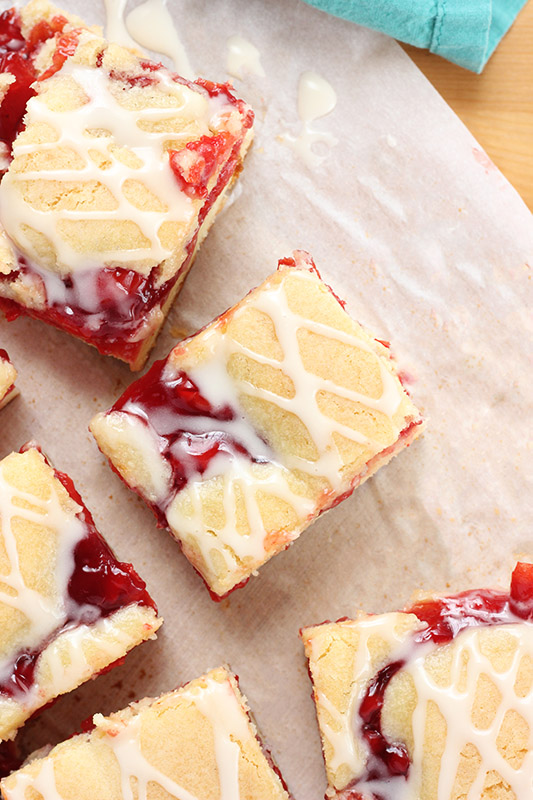 Recipe Notes:
Can I use any pie filling?
Yes! In fact, some of my favorite variations are peach, apple, blueberry, and strawberry! You could even use a homemade version if you are feeling adventurous.
Can this recipe be doubled?
Yes. Double the recipe ingredients. Use a larger (10×15) pan and bake four 40 ish minutes, or until golden brown.
What pan should I use?
For the best results, make these cherry pie bars for a crowd in an 11×7 baking pan. If doubling, use a 10x15x1 jelly roll pan for an even bake.
How long do these pie bars last?
These cherry bars will stay fresh stored covered at room temperature for roughly 2 to 3 days. Be sure to use a quality airtight container. If storing stacked, line with wax or parchment between each layer.
Can you freeze this recipe?
Yes! Once the bars have cooled completely, and before you have frosted, slice the bars into squares. Place in a single layer onto a baking tray and freeze for 1 hour. Transfer to a freezer container, or zip top bag, and freeze for 3-6 months. Frost when ready to enjoy.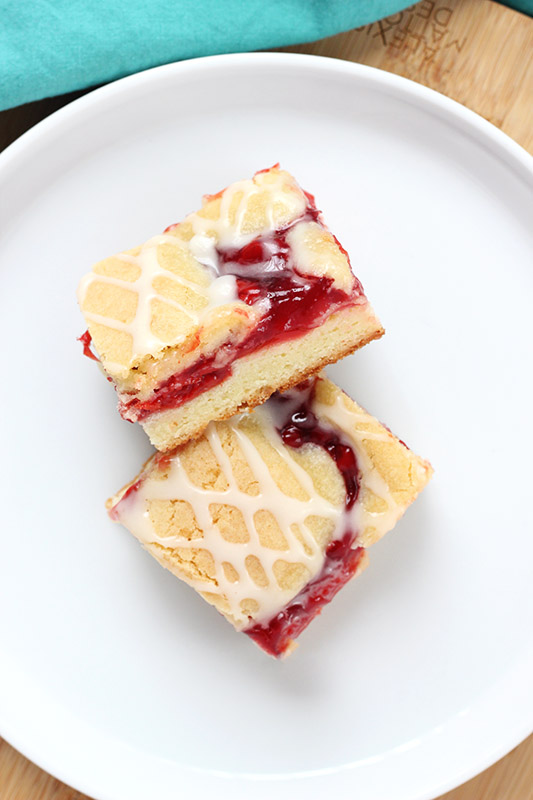 More Cherry Recipes You'll Love
Still Hungry? Follow One Sweet Appetite on Instagram, Pinterest, and Facebook!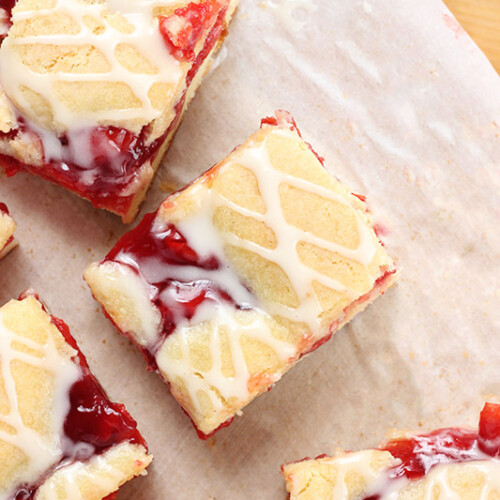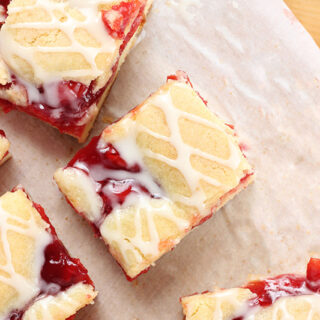 Easy Cherry Pie Bars
Whip up an entire pan of these homemade Cherry Pie Bars in under 30 minutes! A buttery shortbread crust is topped with sweet cherry pie filling and baked to perfection. Easy to make and always a hit.
Ingredients
Bars:
1/2 cup butter softened
1 cup sugar
2 large eggs
1/2 teaspoon vanilla extract
1½ cups all-purpose flour
1/2 teaspoon salt
1 21 oz can cherry pie filling
Glaze
1/2 cup powdered sugar
1/4 teaspoon vanilla extract
1-2 Tablespoons milk
Instructions
THE BARS
Preheat the oven to 350 degrees.

Line a 7×11 pan with parchment, or grease with baking spray. Set aside.

Combine the butter and sugar in a large mixing bowl. Beat with the paddle attachment of a stand mixer, or a hand mixer, until the sugar has combined with the butter and is light and fluffy, about 2 minutes.

Add the eggs, one at a time, followed by the extract.

Stir in the flour and salt to form the dough.

Pour 1-1/2 cups into the prepared pan and spread to an even layer.

Spoon the cherry pie filling over the top, spreading carefully to cover the dough.

Drop spoonfuls of the remaining dough over the top of the cherry filling, making sure not to stir.

Bake the bars for 40 minutes, or until the top is golden brown.
THE GLAZE:
Combine the powdered sugar, vanilla, and 1 tablespoon of milk in a small mixing bowl.

Whisk with a fork until smooth and combined fully, adding additional milk if needed.

Drizzle over the top of your bars once they have cooled completely.
Notes
This post was adapted from Taste From Home Try any other fruit filling in these bars for a fun twist!
Nutrition
Serving: 1g | Calories: 371kcal | Carbohydrates: 59g | Protein: 5g | Fat: 13g | Saturated Fat: 8g | Polyunsaturated Fat: 4g | Cholesterol: 77mg | Sodium: 246mg | Fiber: 1g | Sugar: 32g
More Must Try Pie Recipes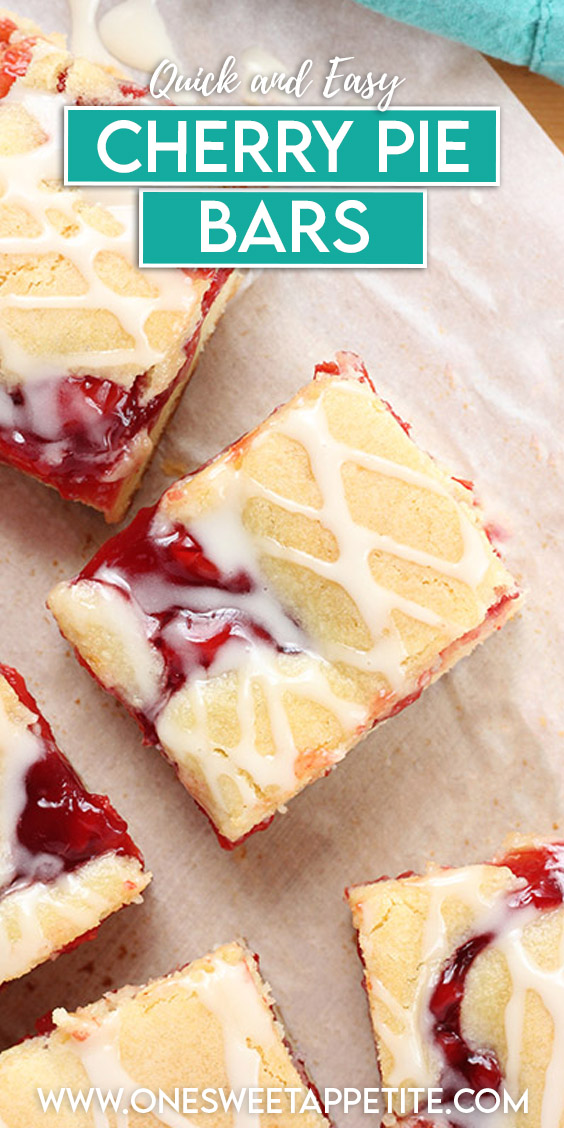 Reader Interactions