This fragrant Vanilla Granola is my go-to for a quick breakfast or snack. Enjoy it as-is or use it to top ice cream, yogurt, smoothies, or as a starting point for your favorite add-in's! 
 When I first made this recipe it was sort of a mess but tasted so amazing. My entire house was filled with an amazing aroma but it was almost impossible to get things to stick together, literally. I wanted big clumps of goodness that would be ideal for on-the-go snacking or replacing cereal. That is the way I feel like granola SHOULD be, am I right? Good news is I've made a couple of adjustments and have perfected the mix!
The first thing I did was swap out coconut oil in place of canola. I've been obsessed with the stuff ever since I used it in a stir fry a few months back. It is a much better swap for butter and oils, in my opinion, and helps all of the granola goodness stick together a little bit better.  I also reduced the sugar, added a touch of salt, and ditched the extra agave. If you made this recipe in the past you probably noticed that on top of brown sugar and honey it called for a measly teaspoon of agave… ONE TEASPOON. It's not missed and things still taste dreamy.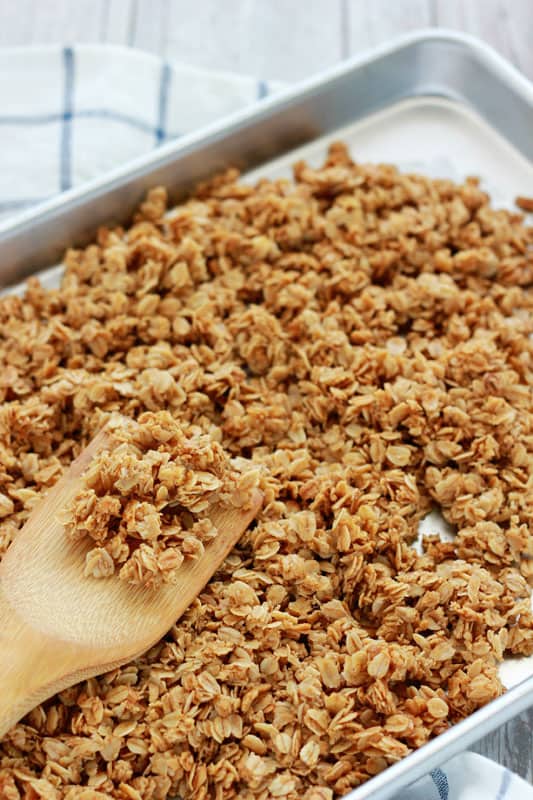 I do suggest taste testing as you go. I put about 1/4 cup of sugar and honey but my husband likes it with a little less (around 2-3 tablespoons). Also be liberal with your add-in's. I like it plain Jane because I use it with a ton of fruit on Greek yogurt but have big plans to create some outstanding flavor combo's for you.
Vanilla Granola
Ingredients
3

cups

rolled oats

1/4

cup

brown sugar

1/2

teaspoon

salt

1/4

teaspoon

ground cinnamon

1/3

cup

coconut oil

1/3

cup

honey

4

tablespoons

pure vanilla extract
Instructions
Preheat your oven to 300 degrees. Line a cookie sheet with a silicone mat or parchment and set aside.

Combine the oats, brown sugar, salt, and cinnamon in a medium bowl and set aside.

Whisk the coconut oil and honey in a saucepan. Heat until fully just warmed and the oil is completely liquidated. Remove from the heat and stir in the Vanilla.

Stir together the oats with the vanilla liquid until coated. Spread onto your prepared sheet and bake for 30 minutes stirring once halfway through.

Granola is done when golden brown and fragrant.
Recipe Notes
*Add in your favorite dried fruits for an extra punch of flavor.
This post may contain affiliate links. I include these links to help you find specific products that are used in my recipes. If you purchase an item from the link on One Sweet Appetite, I will receive a small commission helping keep my recipes free for you.
One Sweet Appetite is a participant in the Amazon Services LLC Associates Program, an affiliate advertising program designed to provide a means for sites to earn advertising fees by advertising and linking to amazon.com
(Visited 8,080 times, 15 visits today)
35