It's no secret that I dread camping season. I love a good outdoor experience but I am not a no-shower kind of girl. Something about crawling into a sleeping bag after a day of dirt filled crazy is not my cup of tea. However, I do love out door activities, the chance to hang with family and friends, and smores. This summer we have an amazing patio/deck area that was just begging to be party central. With the help of World Market I was able to bring a few of my favorite camping things home with this Apartment Glamping Party!
I think "technically" you have to buy a retro RV and give it a crazy makeover to be considered glamping… Or maybe I just assume that's what glamping is all about. To me it's about experiencing the fun of the outdoors without leaving the comfort of home. I headed into our local World Market to pick up some of their amazing chocolates and ended up leaving with a little more. And by little I mean a lot. Let's be honest for a second, does anyone EVER get out of there with just the one thing??
First on the list were items for smore's. You can't camp without these overly sweet treats. And I had to put my Jesseca flair on things. I grabbed some of the World Market brand chocolate bars in some crazy flavors like Red Velvet, Strawberry Champaign, Dark Sea Salt, and Chili Lime. Oh, and regular ol' chocolate for the boring people. Check out the red of that red velvet!
I also picked up a few of their amazing jams. If you have never smeared a little jam onto your graham cracker before adding the toasted marshmallow… You are missing out. It adds a flavor punch that is out of this world, and was a great way for us to create some wild and crazy concoctions.
Originally I planned to grab one of these adorable brightly colored mini grills, but apparently there is a "fire safety issue" with using these on third floor balconies. I didn't skip a beat and jumped right into plan B. Sterno. Toasty marshmallows in a few minutes without the fear of burning down our home.
After some crazy group outdoor games it was time for refreshments. That's where these sparkling fruit juices came in handy.
Kids and adults enjoyed them over ice, but I decided to use the blood orange soda for a special drink to top off our night of fun! I muddled some raspberries with a little sugar, tossed in some spirits, and topped with a little chilled soda. You end up with the most amazing fizzy summer drink. I'm thinking I need to try a few more of their flavors to switch things up throughout the summer. So yummy!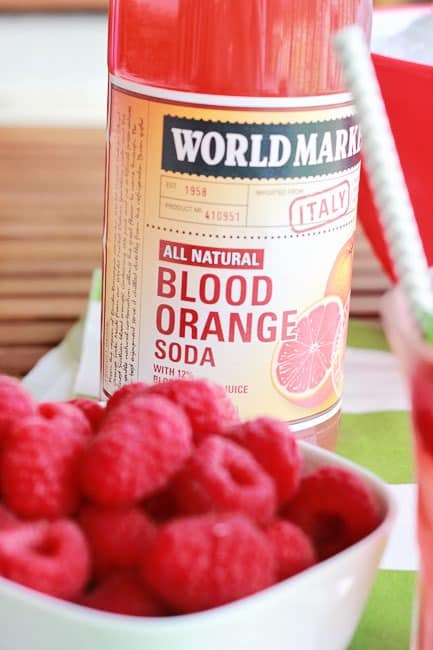 Here are a few more World Market items that would help make your glamping party awesome: