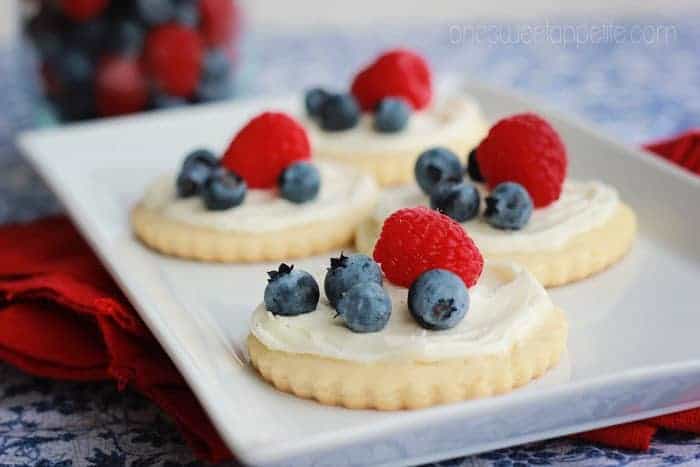 I'm feeling the red white and blue desserts. They seem to be taking over every blog lately which is great if you are a planner and getting ready for the 4th! I threw these patriotic sugar cookies with my five year old and fell in love with the combo. Blueberries + cream cheese frosting = AMAZING. Why have I not tried this before? Well… Probably because I ate six of them within 10 minutes. Ok, ok… 5 minutes.
*You can get my recipe for cream cheese frosting here.
Side track for a second, who came up with the term fruit pizza? I'm sure there is a healthier recipe floating somewhere out on the web, but lately the cookie version has been all the buzz. I've seen them at parties, baby showers, birthday's… Genius idea. My hat is off to the person that originally tossed this one out.
You could probably even substitute the raspberries with strawberries. If you don't want to eat like a million of these in a 24 hour period you should probably pack them up and send them on their way. It's a great way to share some love with your friends and neighbors.
Looking for more ways to decorate? These could be adorable with a water color look!
More Patriotic Recipes
Patriotic Sugar Cookies or Fruit Pizzas
Ingredients
3-1/2 cup flour
1 teaspoon baking soda
1/2 teaspoon salt
1/4 cup butter, softened
1/4 cup shortening
1 cup sugar
1 egg
1-1/2 teaspoon lemon extract
1/2 cup sour cream
cream cheese frosting*
red and blue berries
Instructions
Preheat your oven to 375 degrees. Line two baking sheets with parchment and set aside.
Whisk together the flour, baking soda, and salt in a small bowl. Set aside.
Cream the butter, shortening, and sugar until light. Stir in the egg, extract, sour cream, and dry ingredients.
Turn the dough onto a lightly floured surface and roll 1/4 inch thick. Cut using your desired shape. Place on the baking tray and cook for ten minutes or until the edges are just lightly browning.
Cool completely. Top with cream cheese frosting and fresh berries.