These homemade peanut butter cups are as close to the real thing as you can get! You'll watch them get gobbled up in no time!
Be sure to try some other incredibly indulgent peanut butter desserts like my Loaded Reese's Brownies!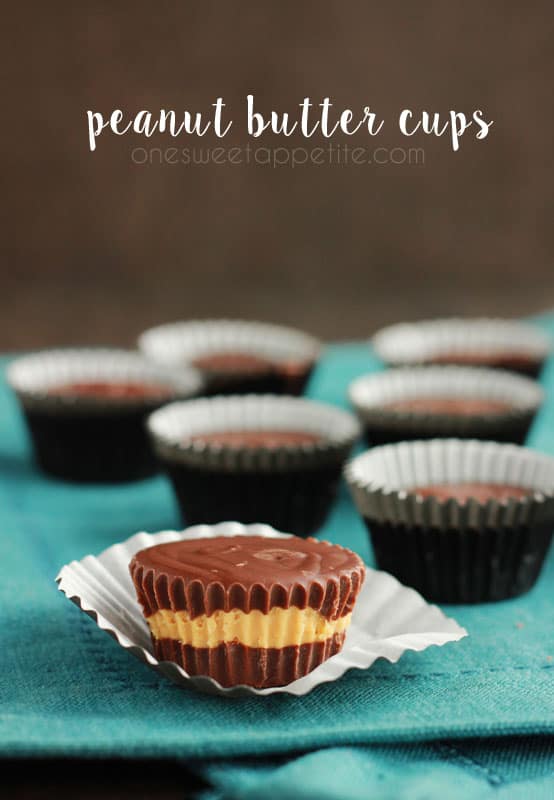 Apparently desserts are on the brain lately. A lot of what you have seen is on the sweeter side and today's post is no different. Waaaaaaay back in 8th grade we had an English class assignment to write a "How To" essay explaining how to make or do something. As we read our papers to the class the teacher would attempt to follow the directions and the end results were hilarious. We had so many hilarious papers submitted. Everything from "How to make a PB&J" to "How to tie your shoes" and my absolute favorite "How to make a peanut butter cup."
Ever since I watched our teacher fumble through the process of recreating the classic candy I have had it on my list of must-make recipes. The chocolate peanut butter combination is so popular and one you have probably seen time and time again on my site. I made this yummy peanut butter chocolate smoothie (not too unhealthy), peanut butter chocolate cookies, and even a 2 ingredient peanut butter chocolate fudge!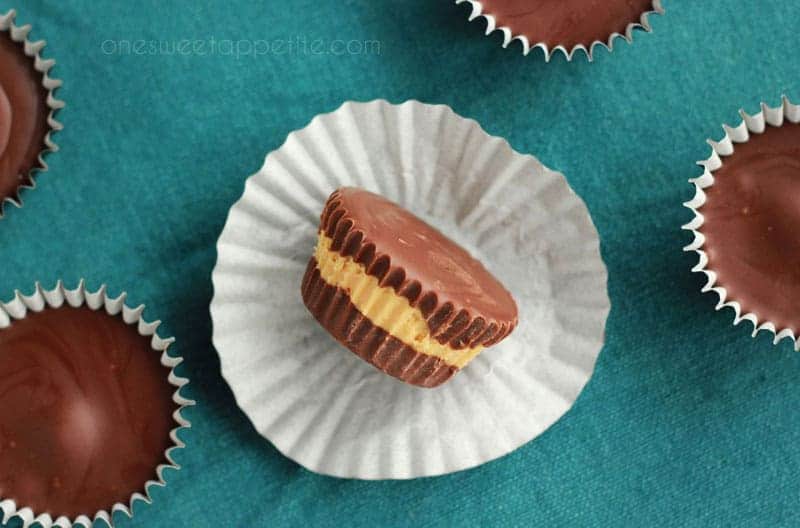 These candies are surprisingly simple to recreate. You just need a few simple ingredients and your favorite mini cupcake liners. I chose to use black so that the chocolate color would be represented a little more closely but you can get a little crazy and pick any design your heart chooses. These are perfect for any Halloween or holiday party you might be attending.
Try making these with your own homemade peanut butter for a super delicious treat!
Related Recipes:
Peanut Butter Cups
Yield: 30-48 candies depending on the size
Ingredients
3/4 cup creamy peanut butter
¼ cup butter
½ cup powdered sugar
1 cup semi sweet chocolate chips
½ cup milk chocolate chips
Instructions
ine two mini muffin tins with paper liners.

Whisk ½ cup peanut butter with the butter and powdered sugar with the paddle attachment of an electric mixer. Set aside once combined.

Melt the two chocolates with the remaining peanut butter in a microwave, stirring every 20 seconds.

Spoon 1 teaspoon of melted chocolate into the bottom of each cup. Gently tap the pan to smooth out. Place in the refrigerator while we move on to the next step.

Roll the peanut butter mixture into ½ teaspoon sized balls. Pull the pans from the refrigerator and drop one ball into the middle of each cup. Top with 2 teaspoons of chocolate and gently tap the pans to smooth out.

Refrigerate until set.
Nutrition
Serving: 1Servings
Reader Interactions