Toasted marshmallows and melted chocolate smooshed between two crunchy graham crackers. Many of us know this as the classic smore. No camping experience would be complete without making at least one of these sugar packed treats. What if I told you I found a way to make them even better? A few ways actually. All you need to do to create your own Gourmet Smore Bar is visit World Market for supplies.
Last time I was visiting I found an entire aisle full of chocolate bars. Along with the regular they have a mountain of crazy flavors like red velvet, strawberry Champaign, chili lime, and coffee. Insane, right? I pushed this information to the back of my mind until recently when we decided to throw a Glamping Party with a few friends!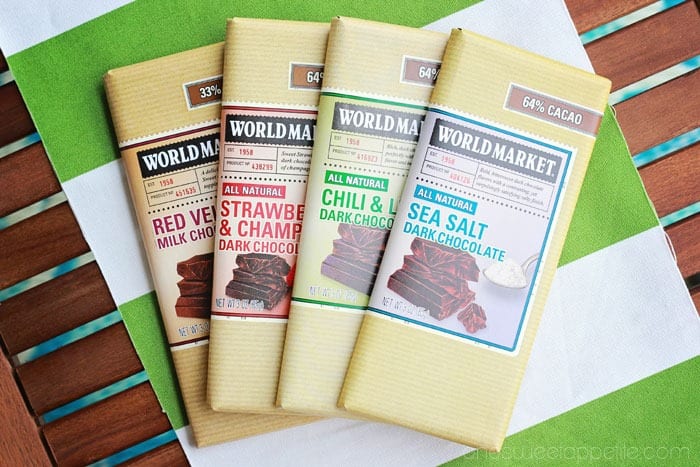 Putting this together couldn't be more simple. Just head into the store and pick up a few regular candy bars as well as some crazy flavors. Grab some giant marshmallows, graham crackers (or make your own chocolate grahams), and skewers while you are at it. Break up your bits of chocolate and place in individual bowls for easy servings.
The graham crackers can play an important role in this crazy scheme too. There are a few different flavors that can make these things out of this world crazy. You can go with your original graham, chocolate graham crackers, or even the cinnamon version. Give your guests some options!
Last thing to cover… If you don't have access to a fire pit or fire safe area you'll need an alternative option for getting your marshmallows nice and toasty. I explored a few different options and eventually ended up sticking with these sterno canisters. You can pick up a pack of two for a few bucks at Walmart. All you need to do is pop off the lid and use a long lighter to get things started.
And just like that you've got yourself a fun and different smore bar to impress your family and friends with!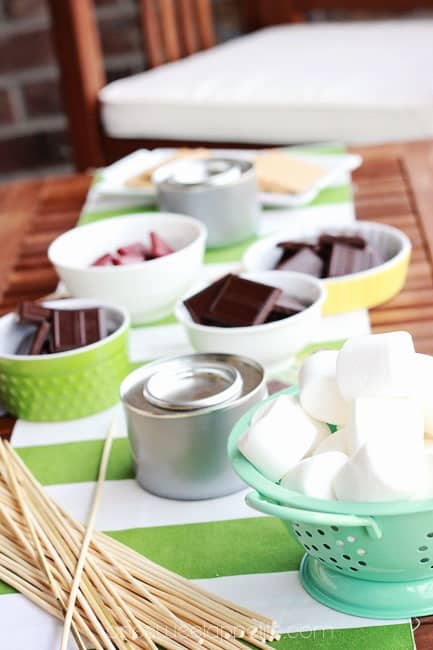 One last fun thing… You can add a bit of flavored jams to your smore to give it a fun flavor. We've come up with a few great combinations like raspberry jam with regular chocolate bars and strawberry with the chili lime chocolates. Be prepared for a little kick with those ones. So good. You should give them a try even if you think it sounds terrible. I mostly bought that one as a joke but ended up really loving the flavor.
How would you create your smore? Try them in an Air Fryer for a fun variation!