These White Chocolate Candy Cane pretzels are an easy holiday treat that are ready in minutes! Salty pretzels are coated with melted white chocolate and sprinkled with peppermint candy pieces for the perfect quick treat.
Searching for more easy candy recipes? Try my, Candy Cane Biscotti, Homemade Peppermint patties, Cake Batter Pretzels! and Cherry Lollipops!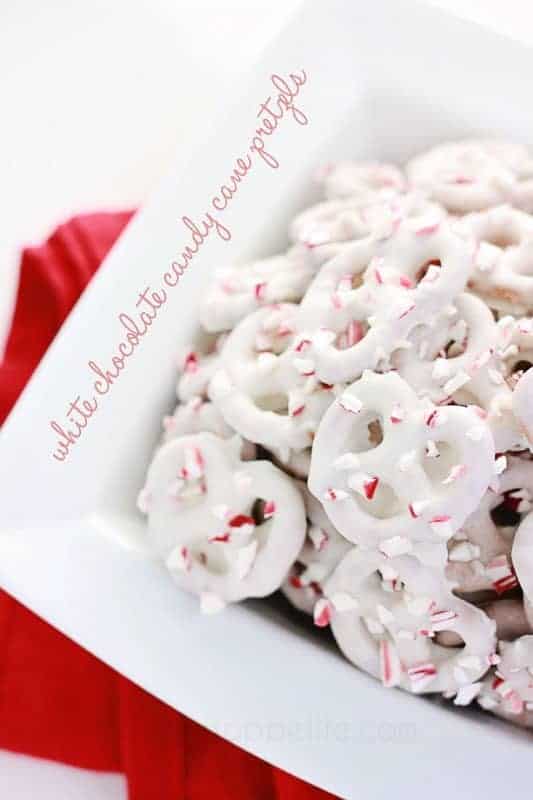 RECIPE FEATURES
Easy Candy Recipe: This has got to be one of the easiest holiday candy recipes. Melt the chocolate, dip the pretzels, sprinkle with peppermints. Easy peasy.
Perfect Balance of Sweet and Salty: Using salted pretzels gives you the most amazing sweet and salty flavor combination. It's hard to beat and irresistibly delicious.
Long Lasting: These will stay fresh for up to two weeks, making this a go-to make ahead dessert recipe.
Sometimes you just need a simple treat. Something sweet, maybe a little salty, and definitely covered in candy canes. Especially when it is December and the amount of candy canes filling your home is overwhelmingly large. That is where this recipe comes into play.
With just THREE INGREDIENTS you end up with a sweet treat that is hard to share.
The white chocolate and candy cane combination is amazing. Add a little salt with the mini pretzels and watch the salt emphasize the flavors! Fill some clear bags, tie with ribbon, and add a quick tag. Or you can even just add it into a mason jar and use a seasonal fabric to top things off. All that is left is to deliver to your family and friends and be prepared for lots of hugs.
INGREDIENTS FOR CANDY CANE PRETZELS
Add this to your list of easy dessert options. With only 3 basic ingredients you have an impressive treat that is share worthy! Here is what you need to get started:
Pretzels: I like to use mini pretzels. They are perfect sized for chocolate dipping and look impressive when packaged as a gift. You could also use pretzel rods for a pretty finish.
Chocolate: White chocolate or dark chocolate will work with this recipe. I have used both and love them equally. White chocolate does enhance the peppermint flavor which makes it the star of the show.
Candy Canes: Or peppermints. Crush them using a rolling pin or a meat hammer (the smooth side). The smaller the pieces, the better they will stick to the melted chocolate.
HOW TO MAKE WHITE CHOCOLATE PEPPERMINT PRETZELS
PREP: Prepare a work station by lining it with parchment paper or silicone baking mats. This helps to keep the pretzels from sticking to a pan once they have been dipped into chocolate and makes cleanup a breeze.
MELT: Melt the chocolate according to the package directions, adding a small spoonful of shortening if you find the chocolate is too thick for dipping. Shortening will help thin out the melted chocolate without causing it to seize. Never use butter.
DIP: Use a fork to help you dip each pretzel, fulling coating with chocolate. Tap of excess and place on the prepared parchment paper.
SPRINKLE: Immediately sprinkle with crushed candy canes and allow to set for 30 minutes, or until the chocolate is solid.
Want even more ways to add peppermint to your desserts? Try my Candy Cane Shaped Cookies!
HELPFUL TOOLS
Baking Trays: I am a big fan of my Nordic Ware pans (affiliate). I have both the half sheet and full pan sizes and they are amazingly easy to clean.
Silicone Baking Mats: Parchment paper is king in my kitchen, but only when both of my silicone baking mats (affiliate) are dirty. They are SO great for so many things and worth the $13 for a set of 3.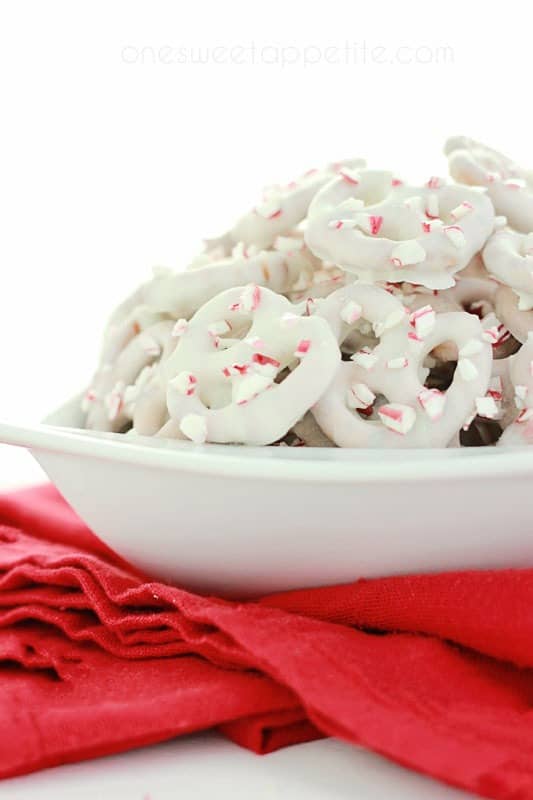 Recipe Notes:
How do you thin chocolate for dipping?
If you find that your chocolate is a little too thick, add a tablespoon or two of shortening into the chocolate. Stir until melted. This will thin out the chocolate making it perfect for dipping.
NEVER use butter. It will cause the chocolate to seize and be wasted.
How long do chocolate covered pretzels last?
Chocolate covered pretzels will last up to two weeks if stored in an airtight container at room temperature.
Can these be made with milk chocolate?
Yep! You can make this with white chocolate, milk chocolate, or semi sweet. Use your favorite variety and enjoy.
MORE MUST-TRY HOLIDAY FAVORITES
Still Hungry? Follow One Sweet Appetite on Instagram, Pinterest, and Facebook!
White chocolate candy cane pretzels
White Chocolate Candy Cane Pretzels. Salty pretzels are coated with melted white chocolate and sprinkled with candy cane pieces for the perfect Holiday treat recipe!
Ingredients
1 16oz bag mini pretzels
1 12 oz bag white or semi sweet chocolate chips
1/2 cup crushed candy canes
Instructions
Spread parchment paper across your work space.

Melt the chocolate according to the package directions. Dip one pretzel at a time until completely coated. Use a fork to tap off excess chocolate and place onto your wax paper. Immediately sprinkle with crushed candy canes.

Allow the chocolate to set and enjoy.
Notes
Line your workstation with parchment paper. This makes for super easy cleanup and the chocolate won't stick to the paper.
Chocolate too thick? Add a tablespoon or two of shortening (never butter). It will help thin out the mix and give you a smooth glossy finish.
Make sure to have all of your candy canes crushed and ready to go. You will want to work quickly before the chocolate starts to set.
Nutrition
Serving: 20pretzels | Calories: 50kcal | Carbohydrates: 11g | Fat: 1g | Saturated Fat: 1g | Sodium: 27mg | Sugar: 6g
Reader Interactions