This post was updated on by Jesseca
White Chocolate Candy Cane Pretzels. Salty pretzels are coated with melted white chocolate and sprinkled with candy cane pieces for the perfect Holiday treat recipe!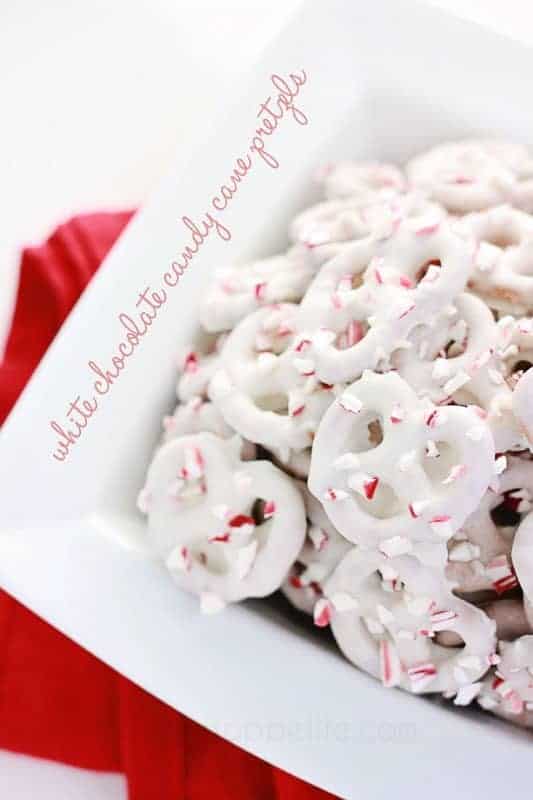 Sometimes you just need a simple treat.
Something sweet, maybe a little salty, and definitely covered in candy canes.
Especially when it is December and the amount of candy canes filling your home is overwhelmingly large.
When you get to that point you realize a couple of things. First, I may or may not have a candy cane buying addiction. Those red and white curved candies are just so darn festive.
Second, you will do ANYTHING to use up every last one to prove to your husband that your spending is NOT frivolous.
That is where this recipe comes into play.
White Chocolate Candy Cane Pretzels
With just THREE INGREDIENTS you end up with a sweet treat that is hard to share.
The white chocolate and candy cane combination is amazing. Add a little salt with the mini pretzels and watch the salt emphasize the flavors! Fill some clear bags, tie with ribbon, and add a quick tag. Or you can even just add it into a mason jar and use a seasonal fabric to top things off. All that is left is to deliver to your family and friends and be prepared for lots of hugs.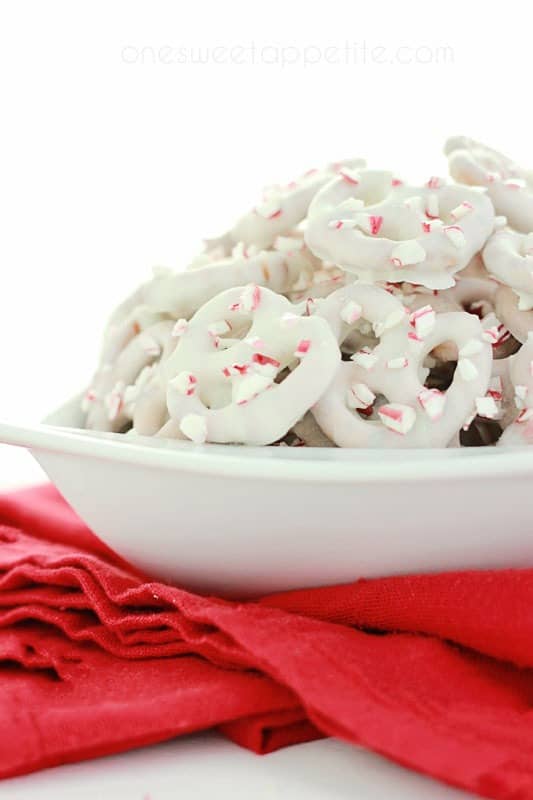 Like this recipe? You will love my Candy Cane Biscotti, Homemade Peppermint patties, and Cake Batter Pretzels!
White chocolate candy cane pretzels
Ingredients
1 bag mini pretzels
1 bag white or semi sweet chocolate chips
1/2 cup crushed candy canes
Instructions
Spread wax paper across your work space.
Melt the chocolate according to the package directions. Dip one pretzel at a time until completely coated. Use a fork to tap off excess chocolate and place onto your wax paper. Immediately sprinkle with crushed candy canes.
Allow the chocolate to set and enjoy.