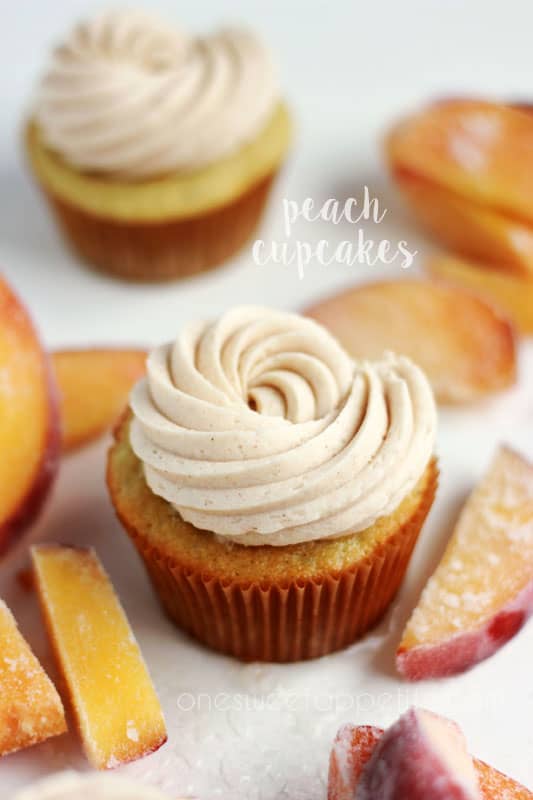 These Peach Cupcakes are topped with a cinnamon frosting and are like mini peach cobblers! Delicious and sure to disappear in seconds!
It's been a while since I've made a good cupcake. Luckily, I have a very vocal sister that put me in my place and let me know that I needed to get my $%*@ in gear and get her some delicious miniature cakes. I decided to go with peaches because they are going to be in season soon and I had a freezer full from last year.
Quick time out… Does anyone ever buy produce with the intention of freezing for smoothies and completely forget that you've stashed them away in the back of the freezer? No? Just me? Moving on…
So, that's where the idea for these came from. Peach season and my sister.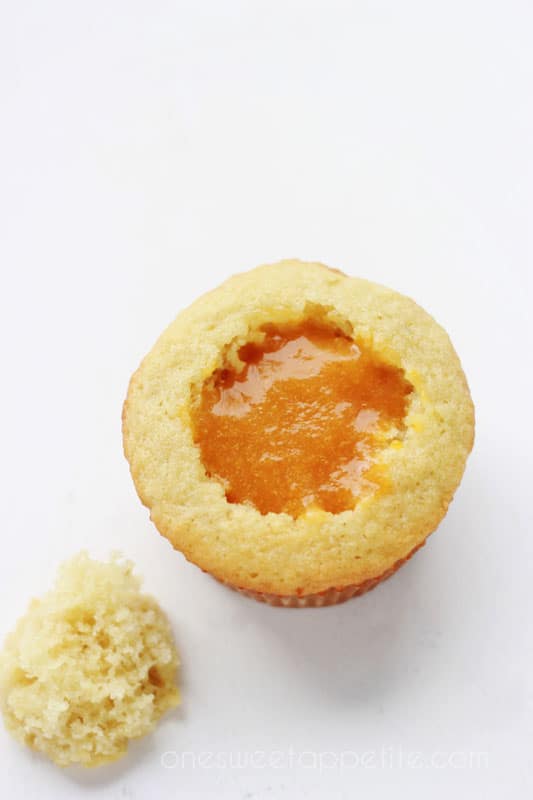 The cake itself is amazing. Moist, fluffy, and delicious but they didn't have the right amount of peach flavor I was searching for. I wanted a real punch of peach which is why I decided to use the peach puree center. When you fill a cupcake the puree kind of seeps into the sponge of the cake taking the flavor from an eight to a ten. It also really keeps the cupcakes from drying out after a few hours. I consider this a double win.
The only thing left is the frosting. You can go with traditional vanilla or you can give it a cobbler taste (which is what I did) with a cinnamon buttercream! You'll love the addition of spice mixed with the sweet flavor of peach. It really is like a bite of cobbler disguised as a cupcake!
Peach Cupcakes with Cinnamon Frosting
Prep Time: 20 minutes Cook Time: 15 minutes Total Time: 30 minutes Yield: 12 cupcakes Serving Size: 1 cupcake
Ingredients
Cupcakes:
1 1/3

cup

all purpose flour

1/2

teaspoon

baking powder

1/2

teaspoon

baking soda

1/4

teaspoon

salt

1

cup

granulated sugar

4

tablespoons

butter

soft

1

egg

1

teaspoon

vanilla extract

1

teaspoon

peach schnapps

3/4

cup

whole milk

1/4

cup

peach puree
Filling:
2

cups

fresh or frozen peaches

1

tablespoon

sugar

1

tablespoon

cornstarch

1

tablespoon

water
Frosting:
1

cup

butter

soft

3

cups

powdered sugar

1

teaspoon

vanilla extract

2-3

tablespoons

heavy cream

1

teaspoon

cinnamon
Instructions
Cupcakes:
Preheat your oven to 350 degrees. Line two muffin tins with paper liners and set aside.

Whisk together the flour, baking powder, baking soda, and salt in a medium sized bowl. Set aside.

Cream together the butter and sugar in the bowl of an electric mixer until light and fluffy. Add the egg, vanilla, and peach schnapps until fully combined. Slowly add the milk and puree and continue to stir until smooth. Fold in the dry ingredients.

Fill the liners 3/4 full. Bake 15-20 minutes or until a toothpick comes out clean. Cool on a wire rack.
Filling:
Puree the peaches in a blender until smooth. Pour into a saucepan with the sugar and bring to a boil.

Whisk together the water and cornstarch. Stir into the fruit mixture and continue to cook for 5 minutes or until slightly thickened. Let cool completely and fill cupcakes.*
Frosting:
Whip the butter with an electric mixer until light and fluffy. Slowly stir in the powdered sugar, vanilla, and cream. Whisk until light and fluffy and fully combined, making sure to scrape the sides of the bowl. Stir in the cinnamon.
*Click here for a tutorial on how to fill a cupcake.
Cupcake recipe adapted from Food Network frosting adapted from my vanilla cupcakes.
(Visited 5,817 times, 1 visits today)
5