Start your day with the most incredible Blueberry Cream Cheese Pancakes! These pancakes are super fluffy and soft and made with buttermilk, fresh blueberries, and cream cheese!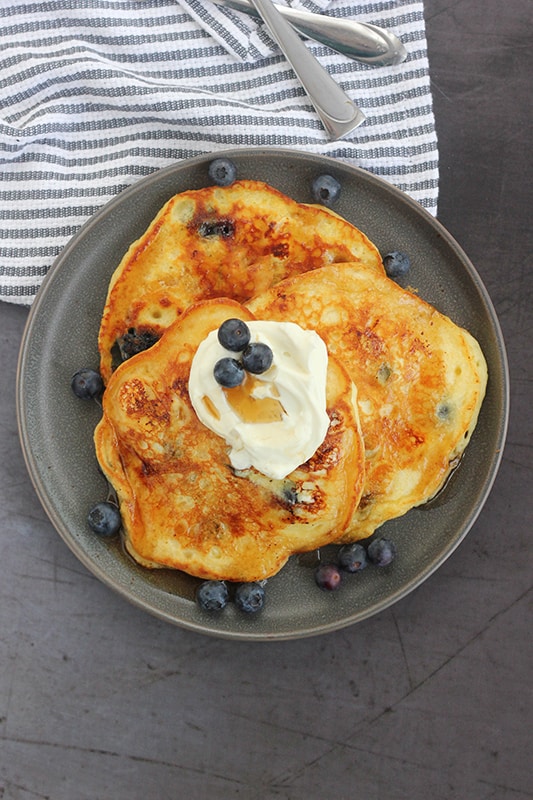 Pancake Sunday – You have probably heard me talk about it before… It is a tradition we started ages ago. Mostly because my child requested pancakes EVERY. SINGLE. DAY.
So now we enjoy pancakes on Sunday's. And Sunday only. Except after this blueberry and cream pancakes recipe I am seriously questioning my decision to limit to one day a week.
These are incredible. It is literally like you are eating blueberry cheesecake for breakfast. Which is always ok in my book. Made over 100 times by readers and the top of our Most Popular Breakfast Ideas!
Recipe Features: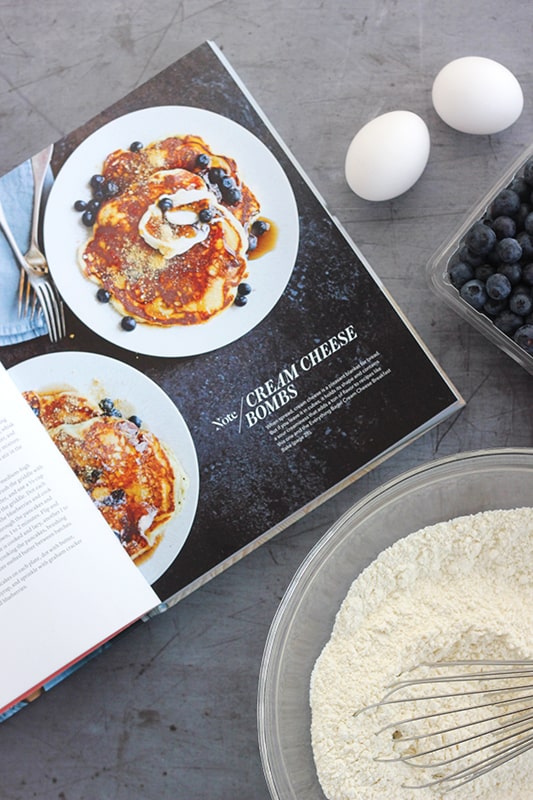 What You Need:
But I really expected nothing less from my girl Chrissy. I pretend we are friends because… Who wouldn't want to be in her life??
Anyway, I have started a massive cookbook collection and wanted to start sharing a few of my favorites. Both of hers are super high on my must-own list.
The recipes are nothing short of spectacular and always go over well with my family. I'd suggest starting with the original Cravings and moving on the Cravings, Hungry for More. They are filled with so many great recipes and the photos are stunning!
A full list of ingredients can be found below in the recipe card, but I'd like to go over a few key items.
Cream Cheese- For this recipe you can definitely use an off brand and save a little money if you want.
Buttermilk- Try not to substitute this. Buttermilk is what gives these pancakes their amazing texture.
Blueberries- Fresh is best!
Tips for perfect pancakes:
Back to the pancakes…
Like my mini pancakes, this recipe is super freezer friendly!
Use room temperature ingredients. This will help everything incorporate easily giving you a well balanced batter.
Mix by hand. Over mixing you batter can result in chewy pancakes instead of light and fluffy. You want to mix just until the wet and dry ingredients are blended.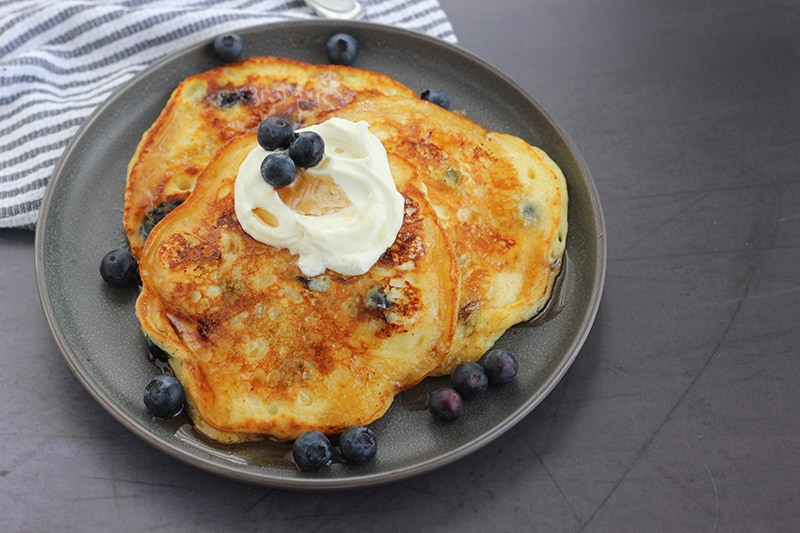 Can you use frozen blueberries in pancakes?
Yep. I use fresh blueberries whenever possible. However, I have been known to pick up a pack of frozen berries on occasion. This is especially useful when it is the off season and quality berries aren't available.
Can you freeze blueberry pancakes?
The beauty of this recipe is that it is 100% freezer friendly. We store ours stacked with a small sheet of wax paper between each pancake and in a zip top bag. Frozen pancakes taste the best if used within 1-2 months.
A few notes about this recipe:
Chrissy suggests topping with graham cracker crumbs. We did not have any available so I skipped this ingredient. That being said, most likely we will try them next time! I'm sure it adds to the cheesecake flavor this breakfast has.
Chop your cream cheese small-ish. It is a little time consuming but so worth it.
Wash your berries and make sure they are dry before sprinkling into your pancake batter.
Like this recipe? You will love my: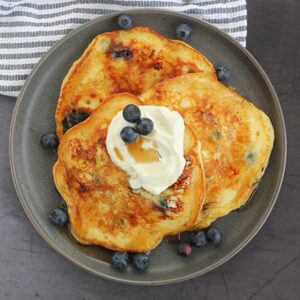 Blueberry Cream Cheese Pancakes
Start your day with the most incredible Blueberry Cream Cheese Pancakes! These pancakes are super fluffy and soft and made with buttermilk, fresh blueberries, and cream cheese!
Ingredients
8 oz cream cheese
2 cups all-purpose flour
5 tablespoons sugar
2 teaspoons baking powder
1 teaspoon baking soda
1/4 teaspoon salt
2⅓ cups buttermilk
2 large eggs
1/2 cup butter divided
1/4 teaspoon distilled white vinegar
1 cup blueberries
Instructions
Start by cutting the cream cheese into 1/4 inch cubes. Place in the freezer. 

Whisk together the all-purpose flour, sugar, baking powder, baking soda, and salt in a large bowl. 

Melt 1/4 cup of the butter (1/2 of a stick) in a small bowl. Cool slightly.

In a separate bowl, whisk together the buttermilk, eggs, and vinegar. Add the melted butter. 

Stir the wet ingredients into the flour mixture until just combined. Fold in the cream cheese cubes.

Heat a griddle or skillet over medium heat. Use the remaining butter to grease the pan. 

Pour 1/3 cup of the batter onto the pan. Sprinkle with blueberries. Cook until tiny bubbles appear in the pancake and the edges slightly curl. Flip and continue to cook 1-2 minutes or until golden brown. 

Serve the pancakes with crushed graham crackers, butter, syrup, or extra cream cheese! 
Nutrition
Serving: 6people | Calories: 548kcal | Carbohydrates: 54g | Protein: 13g | Fat: 32g | Saturated Fat: 19g | Polyunsaturated Fat: 10g | Trans Fat: 1g | Cholesterol: 146mg | Sodium: 958mg | Fiber: 2g | Sugar: 20g
Equipment
Pin for later: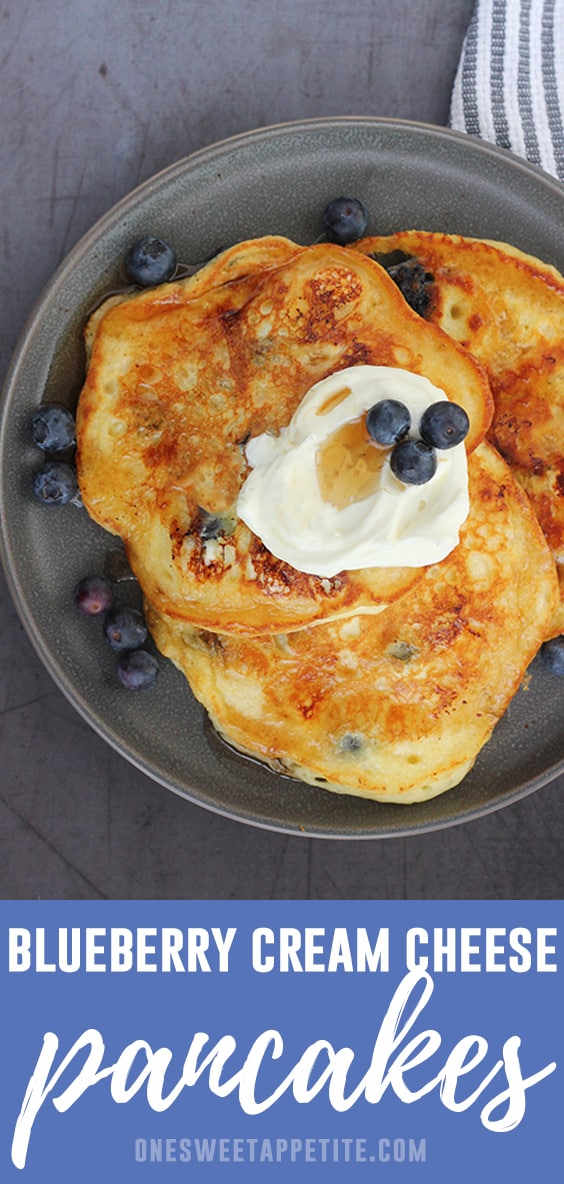 Still hungry? Follow One Sweet Appetite on Facebook, Instagram and Pinterest for more great recipe ideas!
Reader Interactions