This Nutella Mug Cake is the perfect answer to your sweet craving! With just a handful of ingredients and a microwave, you'll be indulging in a warm, gooey delight in no time. This recipe is perfect for those moments when you need a dessert fix ASAP, but don't want to spend hours in the kitchen.
Want even more super quick and easy mug cake flavors? Try my Peanut Butter Chocolate Mug Cake, 2 Ingredient Mug Brownies , Nutella Hot Chocolate, and my Best Ever Chocolate Cake!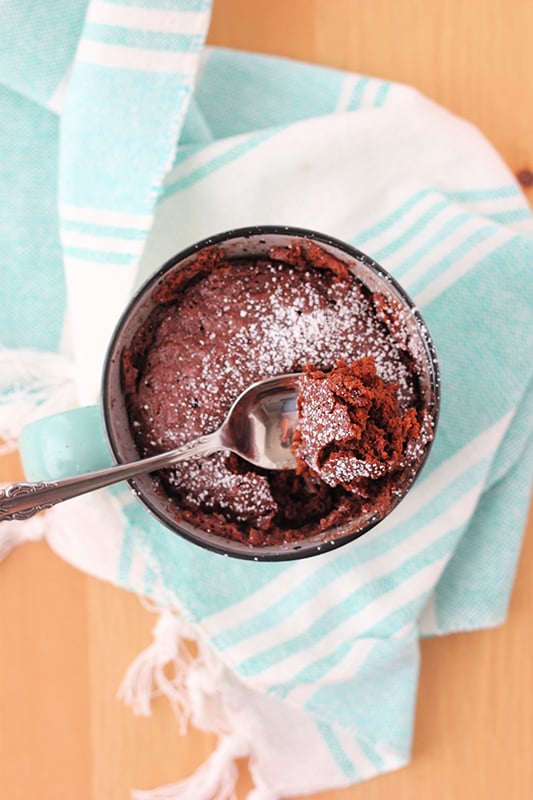 Why You'll Love This Mug Cake
Single Serving: No need to make an entire cake for one person!
No-Bake: Technically, this is classified as a no-bake dessert since all of the cooking is in the microwave!
Customizable: I love that this recipe is so versatile. Add a frosting or filling for a delicious treat that everyone will truly love.
Mug cakes are nothing new to One Sweet Appetite. I've created nearly a dozen recipe and the new flavors just keep coming. It's near impossible not to love a single serve treat that can be ready in under five minutes! It's safe to say I'm officially obsessed.
This Nutella Mug Cake is easily my favorite. I've made it over a dozen times and I'm so happy to say we have the perfect balance of chocolate and hazelnut goodness. It's moist, light, and the perfect cake texture. Delicious all on its own or with a dust of powdered sugar. You will fall in LOVE with this easy mug recipe.
Nutella Mug Cake Ingredients
This recipe calls for ingredients you would need to make a regular cake, but in smaller quantities! For a full list of what you will need and the measurements see the recipe card below, but here's an idea of what you will need:
Flour: I use all-purpose flour in this recipe, but I'm sure other varieties will give you similar results.
Baking Powder and Salt: Always double check the expiration date of your leavening agents to make sure it's still fresh. Expired products won't give you that delightful fluff.
Sugar: I opted for white, or granulated, sugar for this recipe. It adds a touch of sweetness but still lets the Nutella be the star.
Egg: This helps give the cake structure while also adding to the lightness.
Cocoa powder: I tested this with both regular cocoa powder as well as Dutch processed. Both taste delicious. If you want a deeper flavor, opt for the Dutch.
Nutella: Can you use an off brand? Absolutely. We tested all of the top brands of chocolate hazelnut spread and they were all equally delicious.
Milk and Oil: These two ingredients are key to keeping the cake from drying out.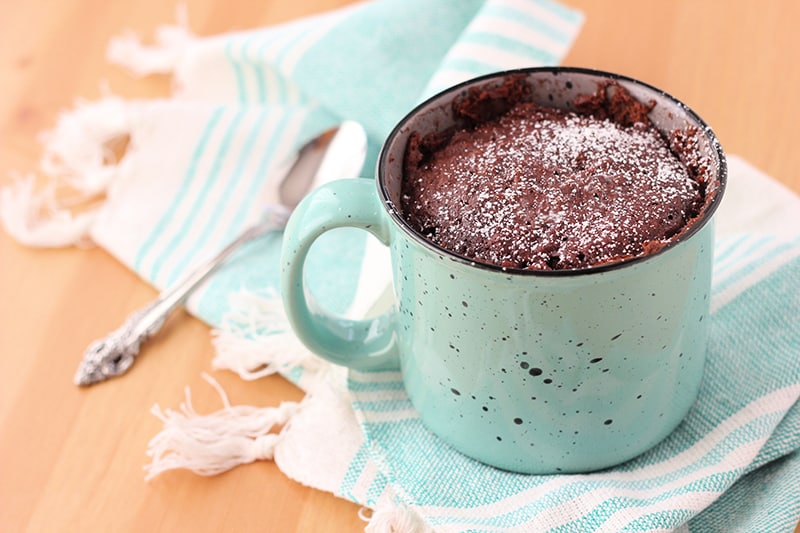 Easy Nutella Mug Cake Recipe
One of the reasons I love mug cakes is how simple they truly are to make. This recipe makes one large cake OR two smaller cakes. Be sure to check the notes, some mugs will cook faster while others might take a little longer. This is due to the microwave wattage and the thickness of your mug.
PREP: Mist the inside of a large mug with baking spray. This helps to make sure the cake doesn't stick to the inside of the mug as it cooked.
MIX: Combine all of the ingredients in a large mixing bowl. Whisk until fully combined.
COOK: Divide into two mugs (or one large mug). Microwave 2 minutes*  or until the cake is cooked through.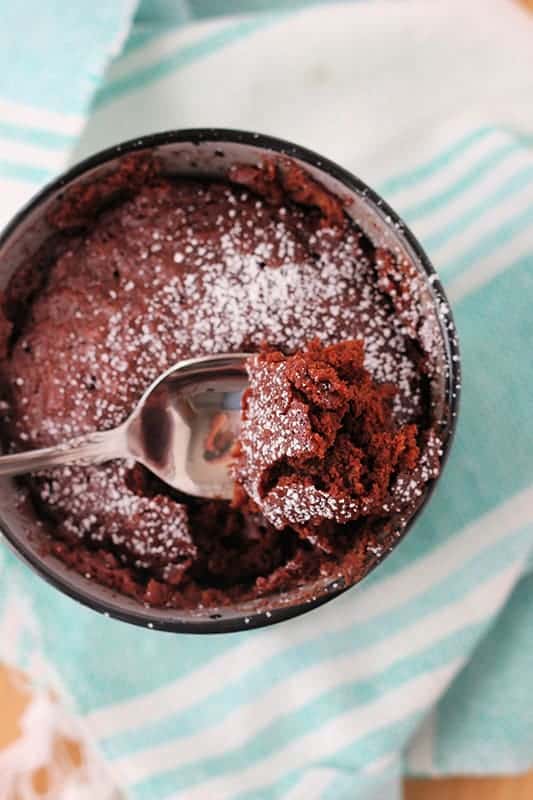 Helpful Tools:
Mug: This recipe doesn't need anything fancy, you can actually use almost any mug. But I really love this mug set (affiliate).
Mini Whisk: Mixing the batter fully is key to a good cake. I love these mini whisks (affiliate). I also use them for hot chocolate, carnation, and even whipping eggs for scrambles.
Baking Spray: You can use cooking spray, like avocado or Pam, but we prefer a baking spray (affiliate). They leave little to no flavor and let the cake flavor shine.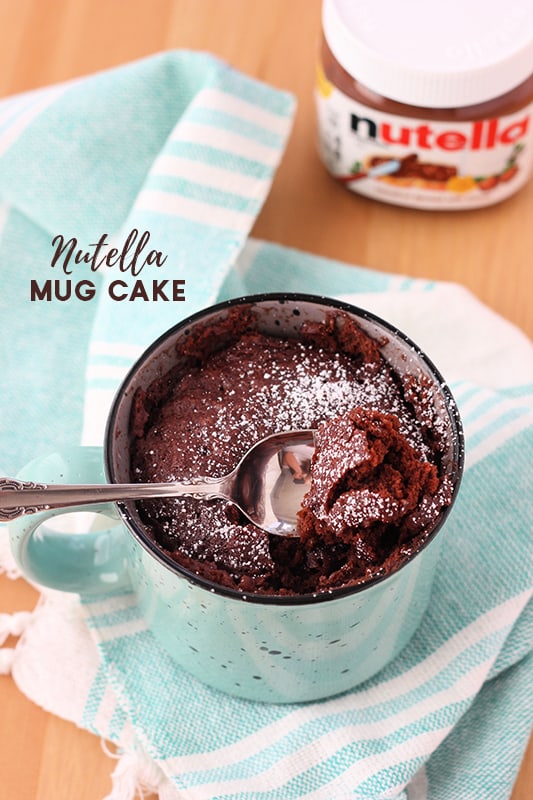 Recipe Notes:
Can I use a different brand of hazelnut spread instead of Nutella?
Yes, you can use a different brand of hazelnut spread as a substitute for Nutella in the mug cake recipe. However, keep in mind that the taste and texture may vary slightly.
Can I substitute Nutella with a healthier alternative?
While Nutella is a popular choice for its flavor, you can explore healthier alternatives like homemade nut butter spreads or other brands that offer lower sugar or organic options.
How long does it take to cook a Nutella mug cake?
Cooking times may vary depending on the wattage of your microwave, but typically a Nutella mug cake will take around 1-2 minutes on high power. Keep a close eye on the cake while microwaving to prevent overcooking.
What kind of mug should I use to make a Nutella mug cake?
It's best to use a microwave-safe mug or a ramekin that can hold around 8-12 ounces (240-350 ml) of batter. Avoid using metallic or non-microwave-safe mugs.
Can I add other ingredients like chocolate chips or nuts to the Nutella mug cake?
Absolutely! Feel free to customize your Nutella mug cake by adding ingredients like chocolate chips, chopped nuts, or even a scoop of ice cream on top after it's cooked.
More Mug Cakes You Will Love
Still Hungry? Follow One Sweet Appetite on Instagram, Pinterest, and Facebook!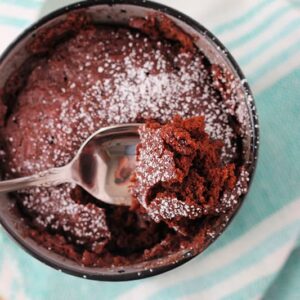 Nutella Mug Cake
The best Nutella Mug Cake Recipe you will find! This recipe has minimal ingredients, whips up in under five minutes, and tastes amazing!
Ingredients
1/4 cup all-purpose flour
1/4 teaspoon baking powder
pinch of salt
1/4 cup granulated sugar
1 large egg
3 Tablespoons cocoa powder
3 Tablespoons Nutella or any other chocolate hazelnut spread
3 Tablespoons whole milk
3 Tablespoons oil I like coconut oil
Instructions
Combine all of your ingredients in a large mixing bowl. Whisk until fully combined.

Divide into two mugs (or one large mug). Microwave 2 minutes*  or until your cake is cooked through.
Notes
*Cooking time will vary depending on if you are making one cake in a large mug vs two in regular sized mugs. I suggest starting at 90 seconds and working your way up to 2 minutes until you find the sweet spot for your microwave.
Nutrition
Serving: 1serving | Calories: 318kcal | Carbohydrates: 34g | Protein: 5g | Fat: 18g | Saturated Fat: 7g | Polyunsaturated Fat: 10g | Cholesterol: 48mg | Sodium: 95mg | Fiber: 2g | Sugar: 24g
Equipment
Reader Interactions