Red Velvet Cupcakes. Do they really need an introduction?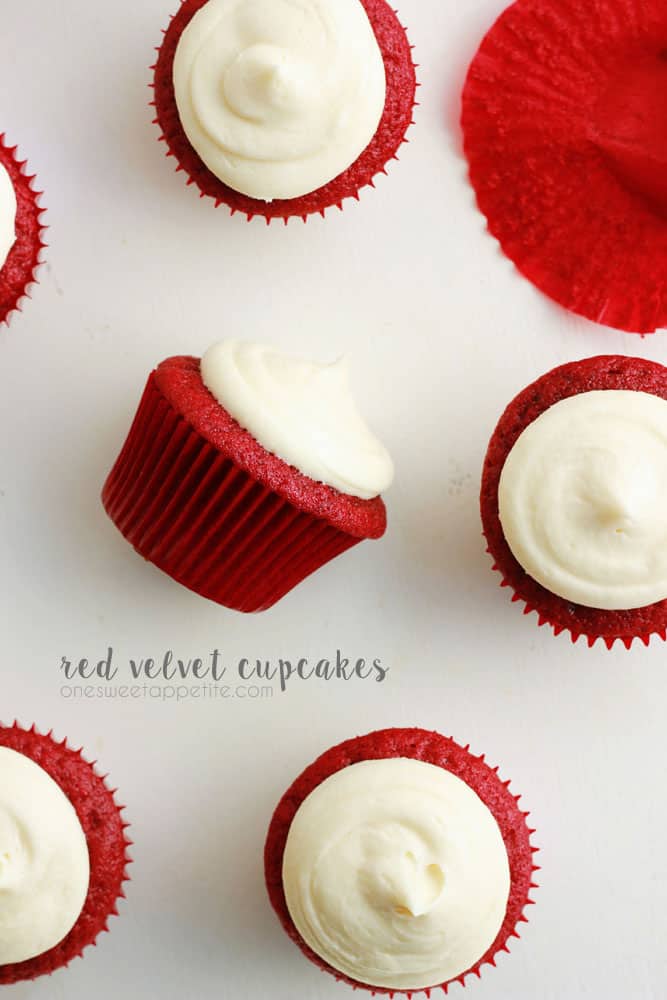 Red Velvet is the most requested cake/cupcake that I make. Everyone in my family (including my six year old) go ga-ga for these cupcakes. I don't know if it's the moist cake or if it's the sweet cream cheese frosting but something in these cute little red bites of deliciousness have everyone hooked.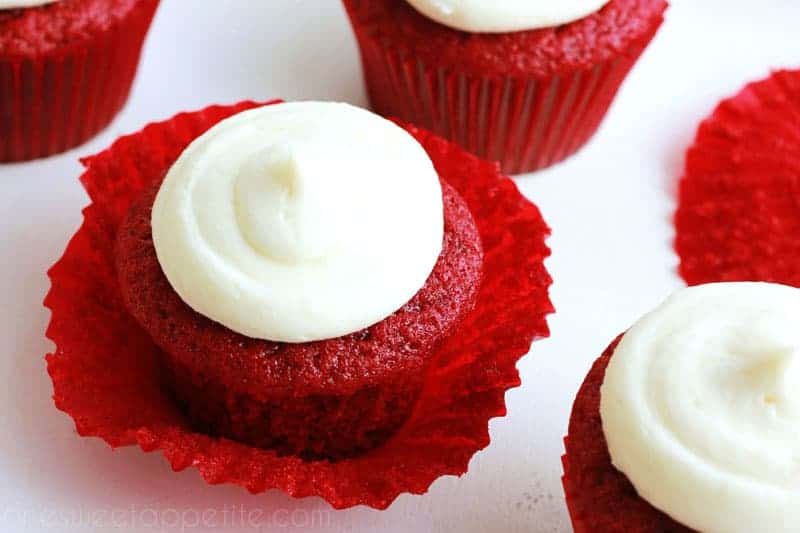 This recipe was technically one of my very first posts. It's a little embarrassing so if you decide to click through know that the photos are horrible and the post itself is even worse. I decided that it was time to recreate these fun little cakes and get the recipe a little more exposure.
Quick fact, red velvet cake didn't used to use so much red food coloring. When you add vinegar and buttermilk to a cake containing cocoa it causes a reaction that helps red hues show from the chocolate powder. So when you'd slice into a red velvet cake years and years ago you'd get a deeper chocolat-ish cake with a slight red tint. Now people kind of expect a brighter color which is why so much dye is used.

So, before you slam me for the amount of food color I used know that you can probably substitute some of that out with beets or beet juice. I have never done it and have no directions for how-to but I'm sure a quick google search will lead you in the right direction.
Red Velvet Cupcakes
Ingredients
2¼ cup all purpose flour
5 tablespoons cornstarch
1½ cups sugar
1 teaspoon baking soda
1 tablespoon cocoa
1 teaspoon salt
2 eggs
1½ cups oil
1 cup whole milk
2 tablespoons red food color
1 teaspoon vanilla
1 teaspoon vinegar
Instructions
Preheat the oven to 350 degrees. Flour 2-8 inch cake pans or line two cupcake tins with paper liners.

Whisk together the flour, cornstarch, sugar, baking soda, cocoa, and salt. Set aside.

Whisk together the eggs, oil, milk, food color, vanilla, and vinegar in the bowl of an electric mixer. Stir in the dry ingredients until smooth.

Divide between your prepared pans.

Bake the cake for 30 minutes or until a toothpick comes out clean. Bake cupcakes 15-18 minutes or until a toothpick comes out clean.
Nutrition
Serving: 1Servings
Reader Interactions