These easy homemade lollipops taste amazing! Made with 5 simple ingredients, and endless flavor options, this is about to be your new go-to candy recipe!
Homemade Sucker Ingredients
Kids, and adults, of all ages will go crazy for this easy sucker recipe!
This candy is made with just 5 ingredients:
Fruit juice
Lime zest
Sugar
Water
Corn syrup
The secret? Invest in a quality candy thermometer ( affiliate link to my fave). Cooking to the right temperature is key.
We love that you can really play around with the flavor combination. I decided to make a cherry lime flavor. The citrus paired with the sweet cherry gives these a sophisticated taste with a stunning appearance.
But you can easily change the fruit juice to fit your families tastes! I did not have a candy mold (affiliate link to my fave) when I made this recipe. Turns out you really do not need one.
How to make suckers without a mold:
Add a hefty amount of powdered sugar to a jelly roll pan.
Use a round cap, shot glass, or other object to make circles into the sugar creating your mold. Make sure the bottom of the pan does not show.
Place a stick in the center of each circle gently pressing into the sugar.
Pour your candy into the mold and let set 10-15 minutes.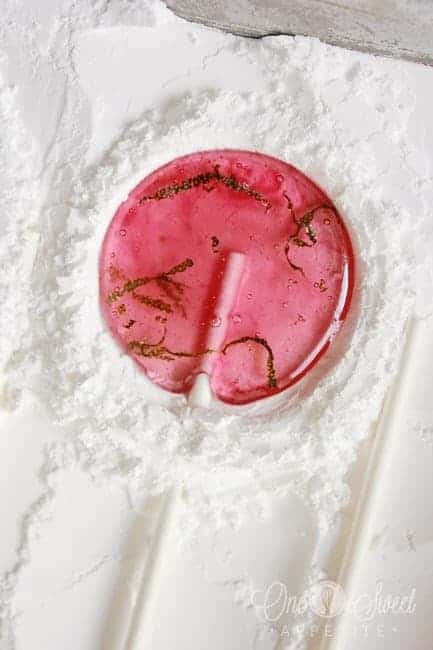 How long to homemade lollipops last?
If stored properly, homemade suckers can last up to two to three weeks. I suggest wrapping each individually with plastic wrap. Store in an air tight container.
TIP: If you add any type of caramel or chocolate to the container your suckers will soak up the moisture and become sticky. Try to keep them in their own container or a container with other hard candies.
Like this recipe? You will love my: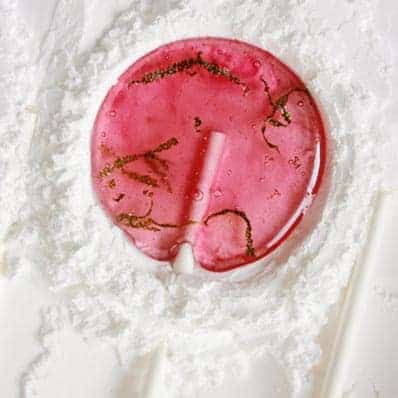 Cherry Lime Suckers
These easy homemade suckers taste amazing! Kid and adult approved, and you don't even need a candy mold!
Ingredients
1/2 cup cherry juice
1 tablespoon lime zest
1 cup granulated sugar
1/4 cup water
1/4 cup corn syrup
Instructions
Cover a jelly roll pan with powdered sugar. Use a round cap, shot glass, or other object to make circles into the sugar creating your mold. Make sure the bottom of the pan does not show. Place a stick in the center of each circle gently pressing into the sugar.

Place the cherry juice into a pan. Boil until reduced to 2 tablespoons. 

Combine the sugar, water, and corn syrup in a separate pan. Heat to a boil and continue to cook until the mixture reaches 300 degrees F.

Working quickly, pour the sugar mixture into a large measuring cup. Stir in the reduced juice and lime zest with a silicone spatula. Pour into the molds and allow to set for 15-20 minutes
Nutrition
Serving: 1Servings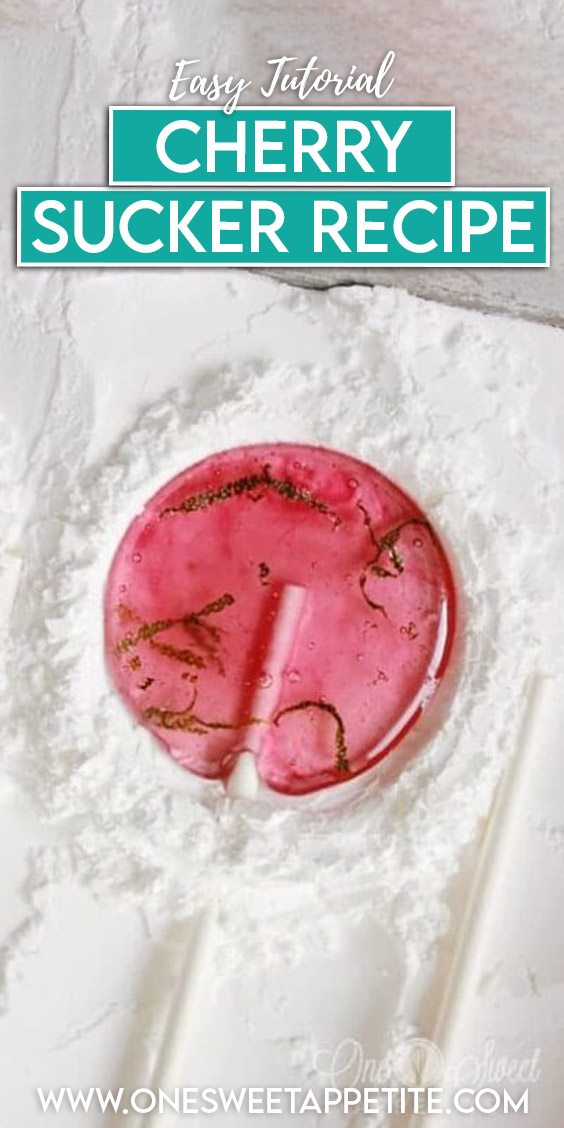 Reader Interactions