This easy Homemade Marshmallow recipe is ideal for snacking, hot cocoa, or camping! You will never buy a bag in the store again!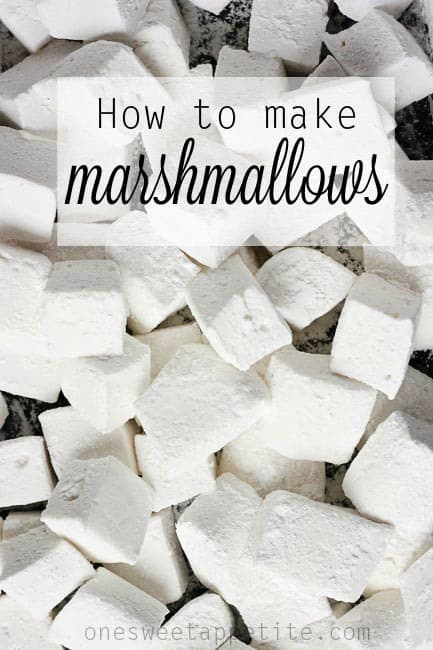 Ya'll… Never in a million years did I think I would love making candy.
Truth is, it is so much easier than I thought.
Since the day I tried this recipe it has been the most requested dessert in our home. Homemade marshmallows are light, fluffy, and so much better than store bought.
You can cut them into practically any shape making them even more fun! They add the perfect finishing touch to your cocoa and melt perfectly in smores!
And I highly recommend you add these to your krispie treats!
Quick Marshmallow Recipe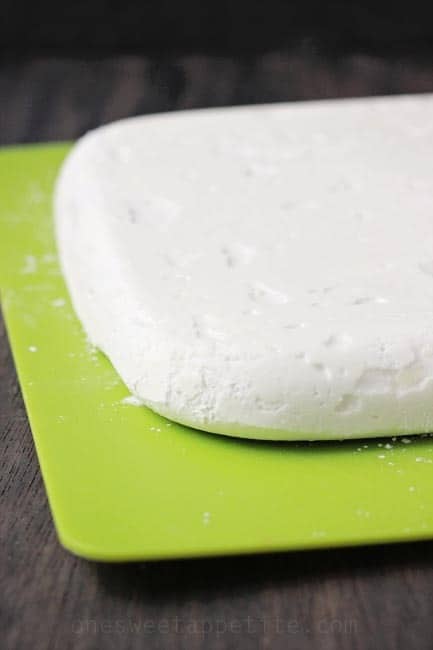 What are marshmallows made of?
Unflavored gelatin
Water
Granulated sugar
Corn syrup
Salt
Vanilla
Powdered sugar
Cornstarch
How do you make marshmallows?
Before we get started I will give you a tip… INVEST IN A GOOD candy thermometer. The very first step is cooking water, sugar, and corn syrup to a temperature of 240 degrees.
From there you want to slowly whisk into bloomed gelatin. Whisk until light and fluffy with a beautiful gloss. Pour into a prepared pan and let sit overnight.
Once you have made it all the way through to this point, your marshmallow should look a little something like the big block above.
Tip it out onto a large cutting board.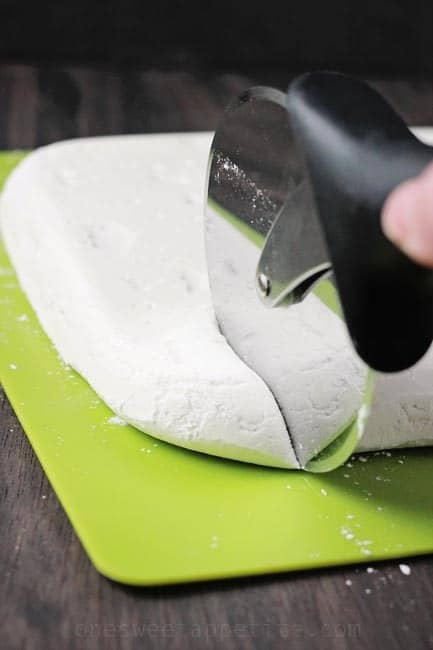 Grab a pizza slicer and start cutting away!
You might need to dust the blade in some of that remaining cornstarch and powdered sugar mixture.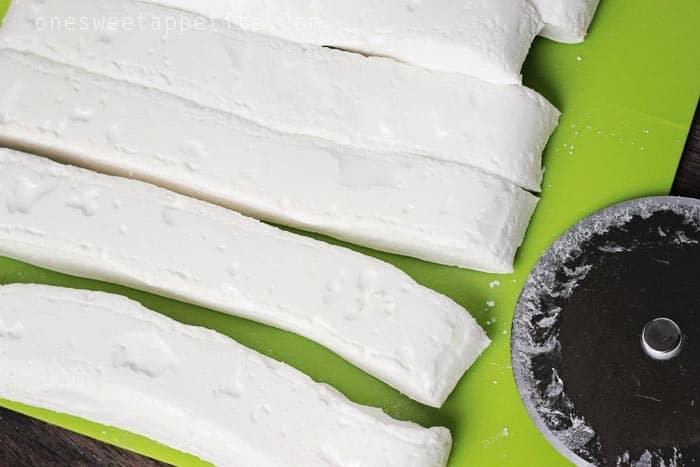 Things are going to get sticky. Very sticky.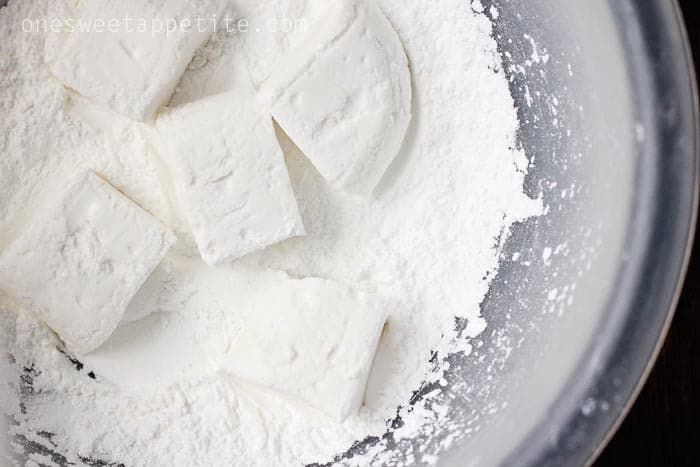 Once you have all of your squares cut, dust them in the remaining cornstarch mixture.
This should help cut back on all of the gooey/sticking together issues you have most likely been having.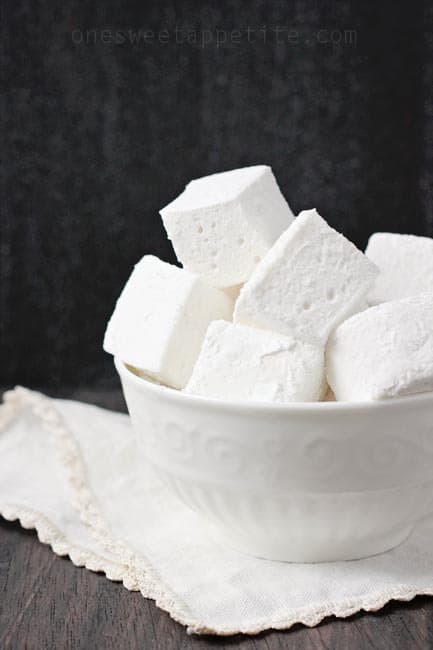 Like this recipe? You will love my:
How to make homemade marshmallows: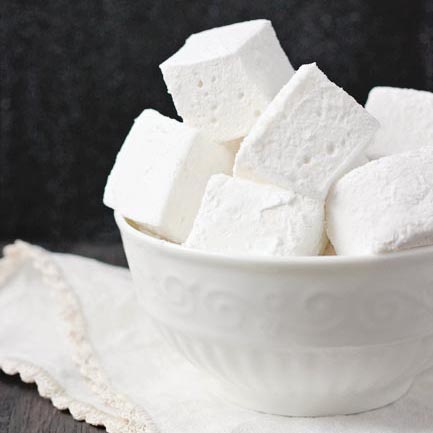 Marshmallow Recipe
Total Time:
6 hours
20 minutes
This easy Homemade Marshmallow recipe is ideal for snacking, hot cocoa, or camping! You will never buy a bag in the store again!
Ingredients
3 packages unflavored gelatin
1 cup ice cold water, divided
1-1/2 cups sugar
1 cup light corn syrup
1/4 teaspoon kosher salt
1 teaspoon vanilla
1/4 cup powdered sugar
1/4 cup cornstarch
Nonstick spray
Instructions
Combine the gelatin and 1/2 cup of water in the bowl of an electric mixer fitted with the whisk attachment.
Stir together the remaining water, sugar, corn syrup, and salt in a medium saucepan. Bring to a boil. Cook until it reaches 240 degrees on a candy thermometer.
Turn your mixer onto low speed and slowly drizzle in the hot liquid, combining with the gelatin. Once you've emptied the saucepan turn the speed to medium and let the magic happen. You want to continue stirring until it has thickened and turned solid white (around 10 minutes).
While that is mixing, combine the powdered sugar and cornstarch. Spritz a 9x13 pan with nonstick spray and dust with a portion of the powdered sugar mix.
Pour your marshmallow into your prepared pan. Dust with a small amount of the remaining powdered sugar mix. Let it sit, uncovered, overnight
Turn the marshmallow out onto a cutting board. Slice into 1 inch pieces and toss in the remaining powdered sugar mixture.
Recommended Products
As an Amazon Associate and member of other affiliate programs, I earn from qualifying purchases.
Pin for later: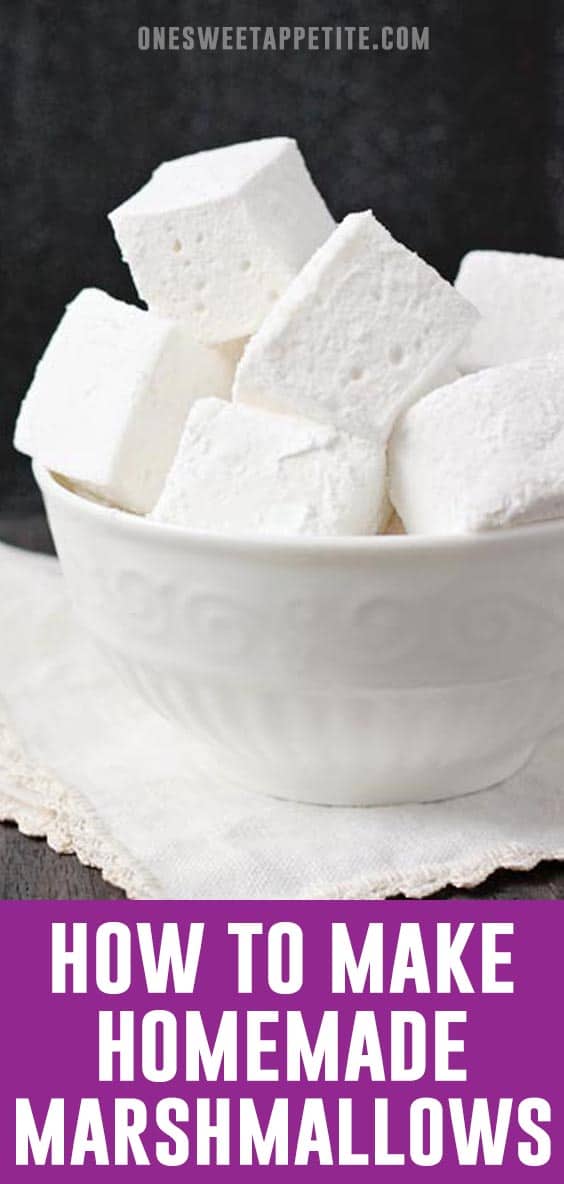 Still hungry? Follow One Sweet Appetite on Facebook, Instagram and Pinterest for more great recipe ideas!