The absolute BEST banana bars. Made with ripe bananas and topped with brown butter frosting for the perfect banana bar recipe.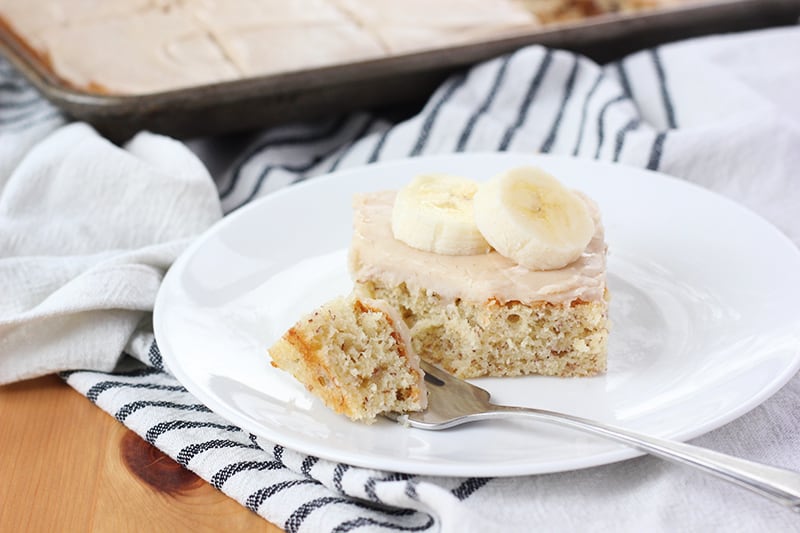 Frosted Banana Bars Recipe
THIS recipe. You guys, I cannot even begin to tell you how in love with it I am.
It came to me from a friend. Or more like a mentor. We were finishing up some training at my job when the trainer brought in a tray of these little gems. She encouraged us all to get over to the snack table and gobble them up before they were gone. At the time, I had no idea what the big deal was.
A few minutes later, one of my favorite gal pals elbowed me and nodded towards the treats…
"Girl, you better go try one of those things. They are INCREDIBLE."
By the time I made it over to sneak one, they were almost gone! I'm so glad I was able to try them because she was right. These are to die for! The sweet and moist banana cake pairs perfectly with the brown butter frosting.
In fact, this frosting is going straight to the top of my MUST-MAKE list.
After weeks of badgering I finally got her to give up her secret dessert recipe.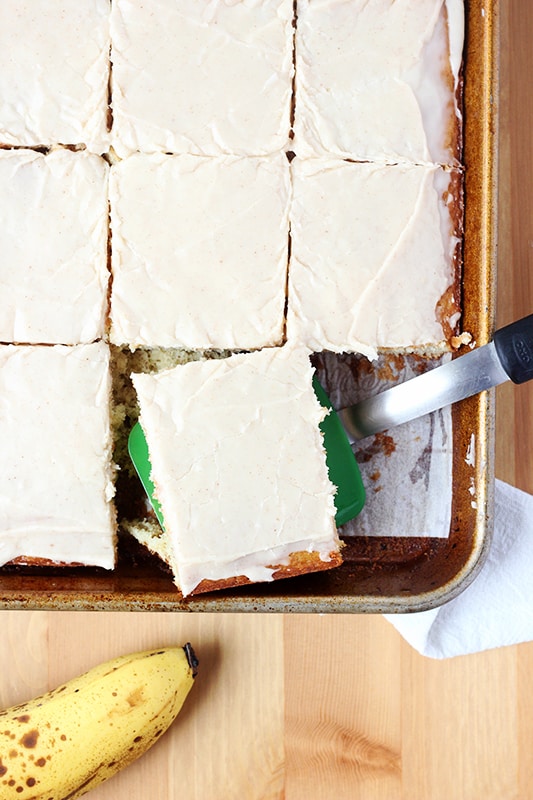 The secret to the moist cake was sour cream! Can you believe that? So genius.
Since I got my hands on the recipe we have made it multiple times. While sour cream is ideal, we have also substituted with Greek yogurt with great success! You really can't go wrong either way.
But let's dig into the nitty gritty: The Frosting.
How to make brown butter frosting:
Gather your ingredients. You want to use about 1/2 cup of butter, 4 cups of powdered sugar, 2 teaspoons of pure vanilla extract, and 6-ish tablespoons of milk.
Place your butter into a medium sized pot. Heat until it just starts to brown, stirring occasionally. DO NOT SKIP THIS STEP. Browning the butter gives you that caramel taste that is killer when paired with the banana cake.
Next you want to whisk in the powdered sugar, vanilla, and milk. I used a metal whisk and stirred until smooth.
Spread onto cake or bars and enjoy!
Make this frosting. Even if you don't make the bars. My niece scraped it all off of her cake and announced to the room that it was so tasty. That really is saying something when you get the approval of a picky three year old.
Let's take a quick detour and talk about bananas. Make sure you use SUPER ripe bananas that are about medium in size. This will add not only flavor but sweetness to the cake. IT also makes your house smell divine while you are baking the bars.
What should ripe bananas look like for baking?
This is a personal preference, but I like mine to be heavily spotted, soft, and super fragrant. This produces a sweet and bold banana flavor that is ideal for breads and cakes.
Bananas not quite ready? Try my Classic Banana Cream Pie instead!
How to freeze bananas:
Show of hands, who always buys bananas with the intent of making bread and ends up waiting a bit too long? Those mushy fruit eventually get tossed in the garbage instead of turning into dessert, but what if I told you there was a way to save them??
At their peak ripeness, place in a ziplock bag and freeze. You can leave it in the peel OR remove it and slice the bananas. That way you won't miss out on making bread when to mood strikes and can always have ripe bananas on hand for baking or smoothies!
Like this recipe? You will love my:
How to make banana bars with brown butter frosting: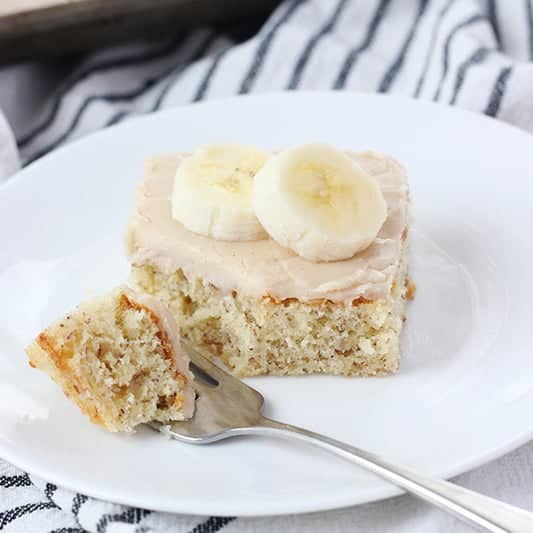 Banana Bars with Brown Butter Frosting
The absolute BEST banana bars. Made with ripe bananas and topped with brown butter frosting for the perfect banana bar recipe.
Ingredients
For the cake:
1-1/2 cup sugar
1/2 cup butter, soft
1 cup sour cream
2 large eggs
1 teaspoon vanilla extract
3 ripe bananas, mashed
2 cups all-purpose flour
1 teaspoon salt
1 teaspoon baking soda
For the frosting:
1/2 cup butter
4 cups powdered sugar
2 teaspoons vanilla extract
6 Tablespoons milk
Instructions
For the cake:
Preheat your oven to 375 degrees. Prep a large jelly roll pan and set aside.
Combine the sugar and butter in a mixing bowl. Whisk 1 minute or until light and fluffy. Add the sour cream and stir until combined.
Add the eggs, one at a time, along with the vanilla extract. Stir in the mashed bananas.
Whisk in the flour, salt, and baking soda. Stir until fully incorporated. Spread into your prepared pan and bake 20-25 minutes or until a toothpick comes out clean.
For the frosting:
Add the butter to a pot. Cook, mixing occasionally, until the butter turns a light brown color. Remove from the heat.
Whisk in the powdered sugar, vanilla, and milk until smooth. Spread onto a cooled cake.
Recommended Products
As an Amazon Associate and member of other affiliate programs, I earn from qualifying purchases.
Pin for later:
Still hungry? Follow One Sweet Appetite on Facebook, Instagram and Pinterest for more great recipe ideas!