I recently was invited to a two day product reveal party for something amazing (more info coming soon). It was more on the crafty side of the blogosphere, which threw me for a huge loop. Why on earth would a company invite ME to something that was obviously more for craft bloggers? Don't they know I don't have a single crafty bone in my body?! Regardless, I decided to put my thinking cap on and make a great first impression. What better way to do that then include little sweet treats with my business cards? I quickly whipped up a batch of salted caramels and realized I have never shared this recipe with all of you!
My husband refers to these as liquid gold. I couldn't agree more. The recipe is fool proof. You couldn't mess it up if you tried. Which is great for me because I frequently need a quick candy to hand out to friends/neighbors/an angry spouse… Just kidding. My husband is never mad at me (yeah right).
Salted Caramels
Ingredients
1 1/2

cups

sugar

1/4

cup

light corn syrup

1/4

cup

water

1

cup

heavy cream

5

tablespoons

salted butter

1-1/2

teaspoons

fleur de sel

plus extra for sprinkling

1/2

teaspoon

pure vanilla extract
Instructions
Line a 9 inch square dish with parchment paper. Allow a little overhang so it will be easy to remove the caramel later for cutting. Spray with cooking spray.

In a deep saucepan (at least 4-1/2 inches) bring the sugar, corn syrup, and water to a boil. Cook until the mixture becomes a nice golden brown color. Try not to stir at all. If you need to mix things up, swirl the pan.

While your sugar is browning combine the heavy cream, butter, and fleur de sel in another small pan. Bring just to a simmer. Turn off the heat and set aside.

When your sugar mixture has browned, remove from the heat and stir in your heavy cream using a wooden spoon. Add the vanilla. Return to the burner and cook an additional ten minutes on a medium/low temperature.

Pour your caramels into your prepared pan and allow to cool slightly. Place in the refrigerator for a few hours or overnight.

When you are ready to cut them simply remove from the pan using the parchment as a handle. Sprinkle additional salt onto the top of your caramel slab and press down slightly. Place on a cutting board and slice into pieces. Use wax paper to wrap each individually.

While I used these as my business card add on… They would also make a fantastic Valentines day treat to anyone and everyone. I promise that they will think you slaved away in the kitchen when it really only takes about half an hour to whip them up!
I'm not too careful with all of my cuttings so I had big, medium, and small pieces. Which was ok with me. I think it gives them a little character.
Store your candies in the refrigerator until you are ready to hand them out. If they get too warm they tend to melt a bit. You can also use unsalted butter and skip the sprinkled topping if you want a less dramatic salty flavor. We love the big salty sweet combo.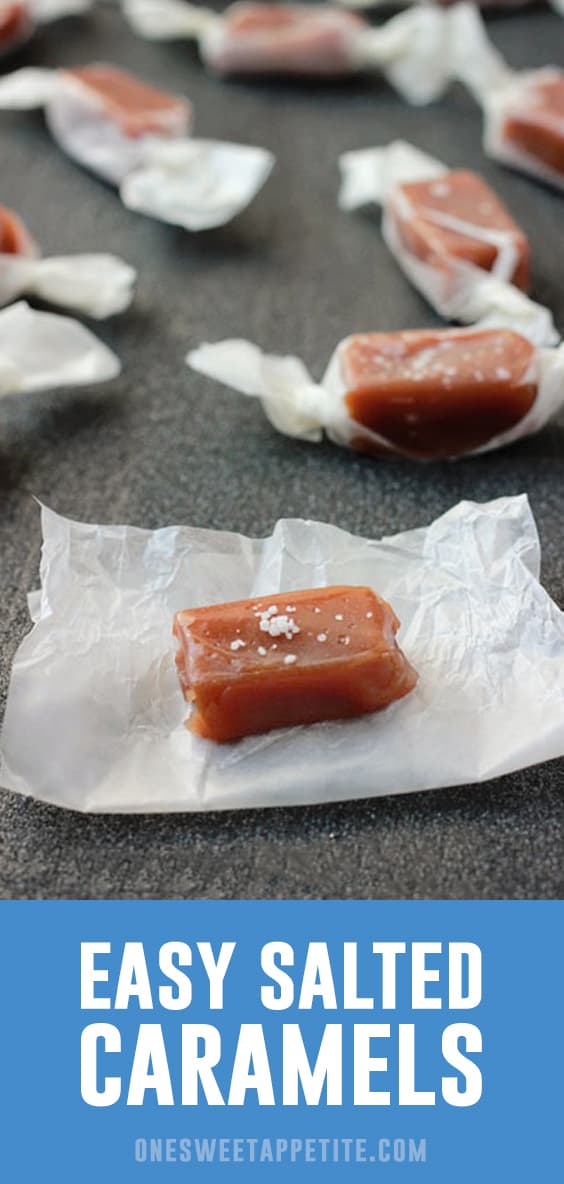 (Visited 2,601 times, 1 visits today)
1