It rains here in North Carolina all of the time. In fact the weather channel ALWAYS says chance of rain. We've just come to realize that above 30% chance means that it is actually going to happen. If not… well… It's a toss up. So whenever we decide we want to make sliders we have to gamble on if it will be out on the grill or stove top. I hate the mess that's left after you cook indoors and vowed to find an easier way. Lucky for me it wasn't too hard.
Making burgers in the oven never really seemed like an option to me, but one day last week I decided to give it a shot. It is basically mess free and takes less than 15 minutes from start to finish!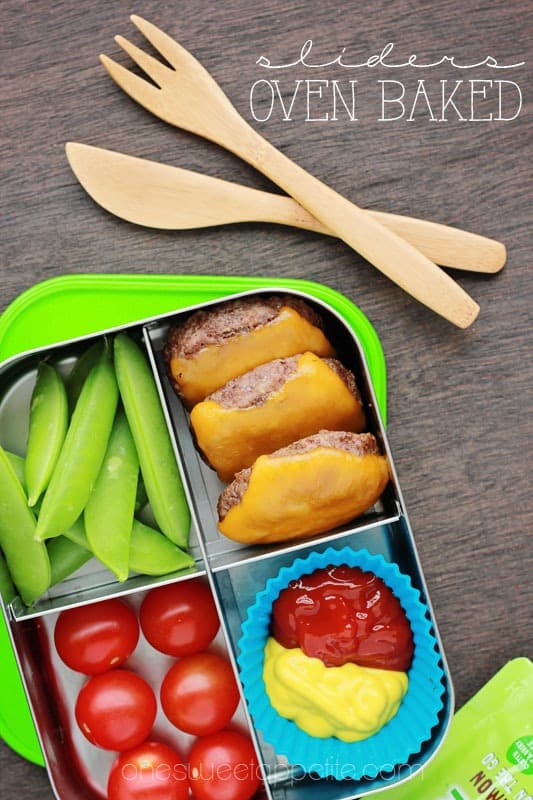 Oven Baked Sliders
Ingredients
1 lb 80/20 beef
salt and pepper
cooking spray
Heat your oven broiler. Line a baking tray with foil and spritz with cooking spray. We love coconut oil spray.
Instructions
Cut your beef into 10 mini burger patties. Place on your prepared sheet and cook five minutes. Flip and continue to cook an additional five.

Top with cheese if desired.
Nutrition
Serving: 1Servings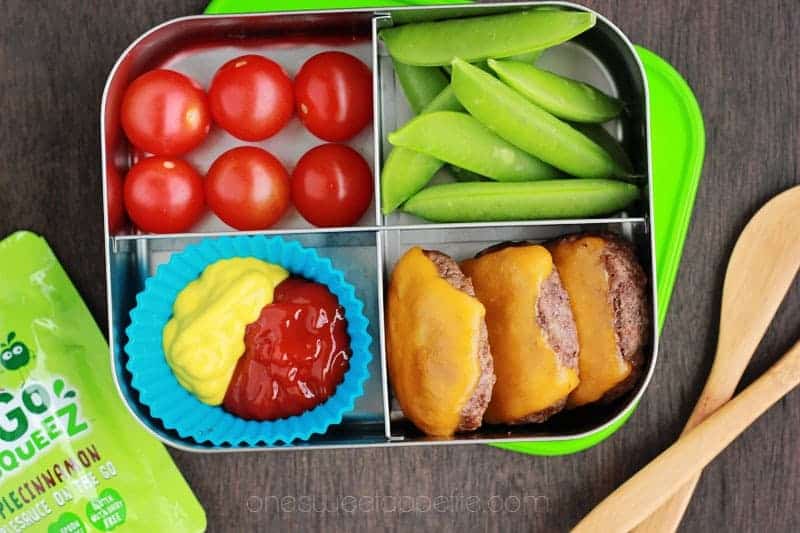 Dax can eat so many of thee bite sized burgers so I made sure to load it up with a lot of side dish items to fill in the gaps. We stuck with peas (at his request), cherry tomatoes, apple sauce, and a little ketchup and mustard to dip. Perfect lunch packed and ready in less than twenty minutes!
I am loving those silicone cupcake wrappers. They are the perfect size to hold sauces and dips without making a giant mess. The tomatoes kind of surprised me. I wasn't sure that my five year old was going to be willing to chomp those down, but he ended up loving the bite sized snack. He proudly let me know that tomatoes and burgers were just meant for each other.
DON'T FORGET TO ENTER THE GIVEAWAY! You can win for you AND your school!
Items I used in this post:
Quad Stainless Steel Food Container
Kids Bamboo Utensils
Silicone Baking Cups
Reader Interactions