I recently discovered all of the amazing flowers you can make with the Cricut Explore. These things are absolutely gorgeous, but the big problem is that I don't have a crafty bone in my body. I can quickly cut and glue these things together but am always left scratching my head when trying to decide what to do with them. I was trying to decide how to add a pop of color to these amazing white chocolate cupcakes when a brilliant idea hit me. Why not take a deep purple paper flower and create a custom cupcake topper?!
Add in a white lace liner (also made with my Cricut Explore) and you are left with an elegant dessert pretty enough for a wedding. I'm smitten with the look and how elegant these turned out. After cutting my flower templates I simply hot glued them onto the top of a toothpick. I don't recommend that you push these all the way into the frosting. I'd leave a bit of a gap to keep the glue from touching the top of the cake. I'm not an expert so I'm not completely sure that glue sticks are food safe, but it seemed like the better option.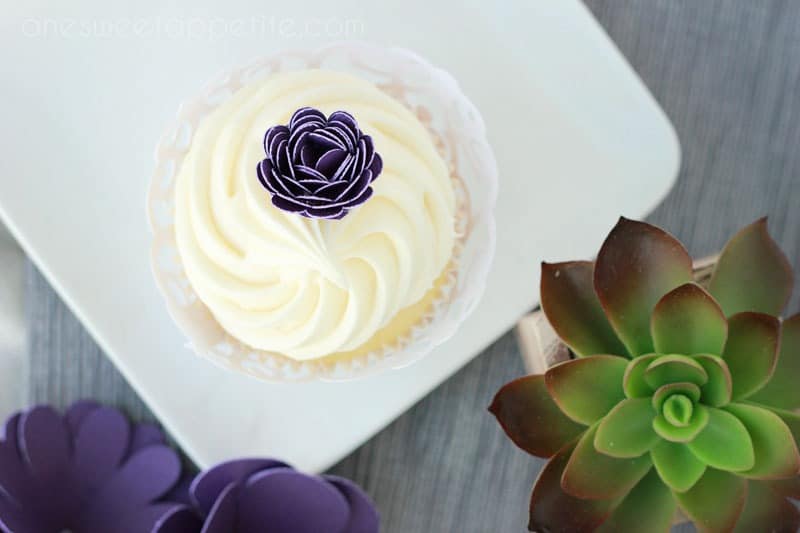 But on to the real reason you are here! I'm sure you are wanting to get to this white chocolate cupcake, am I right? I used this recipe for the cake itself. I'm loving the cake mix hacks and thought I'd give these bad boys a try. Next time I think I'll make my classic white cake so I can compare the two. Both are delicious so I'm sure you will be happy with whichever you chose. The frosting is where this cake shines. I've combined both cream cheese and white chocolate for a decedent finish to these petite treats!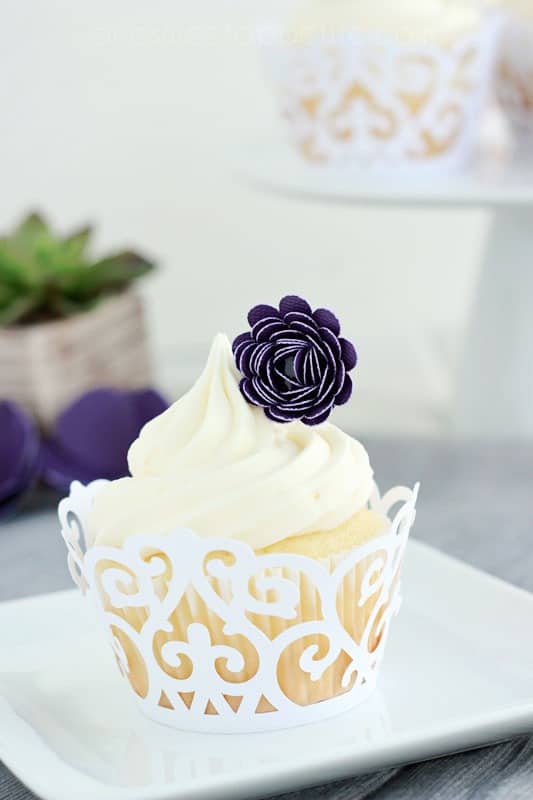 White Chocolate frosting
Ingredients
1/2 cup good quality white chocolate melted and slightly cooled
8 oz cream cheese softened
1/2 cup butter softened
1 teaspoon vanilla extract
4 cups powdered sugar
2 tablespoons heavy cream
Cupcakes of choice. I recommend a white cake.
Instructions
Start by whipping together the cream cheese and butter. Once that is fluffy slowly stir in the melted chocolate. Continue to beat until fully incorporated.

Whisk in the vanilla, powdered sugar, and heavy cream. Beat until your desired consistency is reached. Pipe onto your cooled cupcakes and enjoy!
Nutrition
Serving: 1Servings
Reader Interactions