I've never been much of an apple lover. I've actually avoided them whenever possible. Pies, tarts, dips… Anything that required the fruit was on my no-way-Jose list. Luckily my five year old recently insisted that I take a big ol' chomp out of the perfect apple he picked from our local grocer. It was AMAZING. I had one of those mind blown moments where I realized that I'd truly been missing out my entire life on the deliciousness of this travel friendly fruit. That was right around the same time that I decided to make all things apple and whipped up my delicious Apple Pie Dip. Turns out the leftovers make fantastic apple pie turnovers!
My absolute favorite thing about this recipe is the simplicity. With just two main ingredients you end up with a flaky pastry bursting with juicy apple flavor. The addition of cinnamon really brings fall flavors front and center and fulfills those sweet tooth cravings you get when you are cooped up indoors with the cold weather blues!
I stuck with a rectangle shape, but go ahead and get creative! You can try triangles, hearts, circles… Let your imagination go wild. The sweet frosting on top pairs so well with the light flavor of the dough. Let them sit for an hour and package up to send off to the neighbors for a fun fall treat!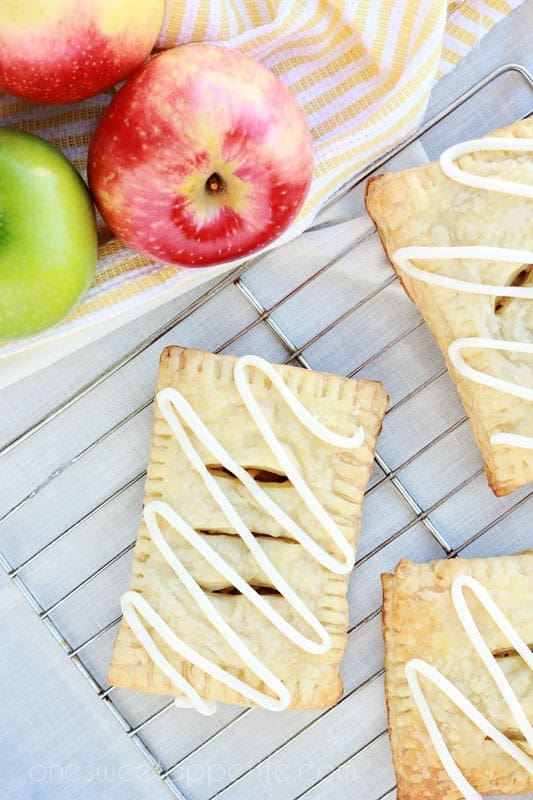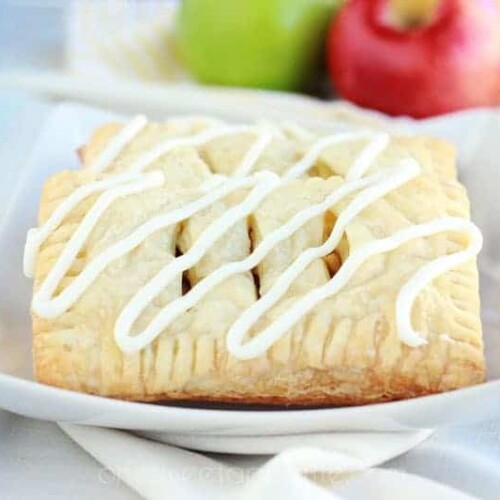 Apple Pie Turnovers
Ingredients
1 box puff pastry sheets
1 batch apple pie dip*
1 egg beat
1 cup powdered sugar
1 tablespoon butter melted
1/4 teaspoon vanilla
1-2 teaspoons milk
Instructions
Preheat your oven to 400 degrees.

Carefully unfold one sheet of your pastry dough. Cut into 6 rectangles.

Fill three of your rectangles with 2-3 tablespoons of apple pie filling. Press a second rectangle onto the top pinching the edges to seal shut creating your turnover.

Brush the tops with your egg and cut small slits in the top to vent.

Bake 20-25 minutes or until lightly browned.

For the frosting combine the powdered sugar, butter, vanilla, and milk. Drizzle over your pastries.
Nutrition
Serving: 1Servings
Get the recipe for
Apple Pie Dip here
.
Reader Interactions