What did you all think of those Strawberry Cupcakes on Wednesday? I honesty never thought a cake mix could taste so good. That's why I decided I needed to take things a step further… Starting with these little gems! Candied fruit is one of my all time favorite treats. It's almost like your very own hand made fruit snacks. And it is SO easy. I decided to add a new tutorial (along with my How to Candy Strawberries) and show you all how to candy lemon slices! Make sure you come back next Monday to see what I used them for!
Start with some thin-ish sliced lemons, a simple syrup, and a lined cookie sheet. For the syrup just boil a little water with sugar until it's completely dissolved. Toss in your lemons and simmer until the edges start to turn into a jelly like color. See all the dark white in the next photo? You want that to go away.
Once you've achieved the look you want you toss them onto a lined tray and place them into the fridge to firm up. That's it. Easy peasy. You can eat every single bit of these candied fruit. I do recommend giving the lemons a good scrub before you slice them. Sometimes they can have a little bit of a waxy outer layer that I'm not terribly fond of. If you are worried about a tartness, let me ease your mind. These things are sweet. They remind me a lot of a lemon flavored fruit snack. Even my five year old goes bananas (or should I say lemons) for this little treat. Enough blabbing. Let's get on to the recipe!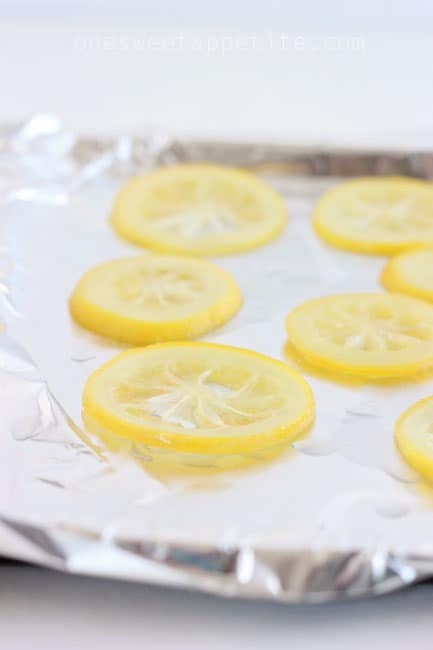 How To Candy Lemon Slices
Ingredients
2

lemons

washed and sliced

1

cup

sugar

1

cup

water
Instructions
Combine the water and sugar in a medium sauce pan. Bring to a boil and cook until all of the sugar is dissolved.

Add you lemon slices and simmer until slightly translucent in color. Remove from the heat with a slotted spoon and place on a lined tray.

Refrigerate until firmed.
(Visited 29,645 times, 15 visits today)
270