Celebrate every occasion with these homemade Champagne Cupcakes! Packed with the bold flavor of champagne and a sweet strawberry filling giving you the perfect cupcake recipe!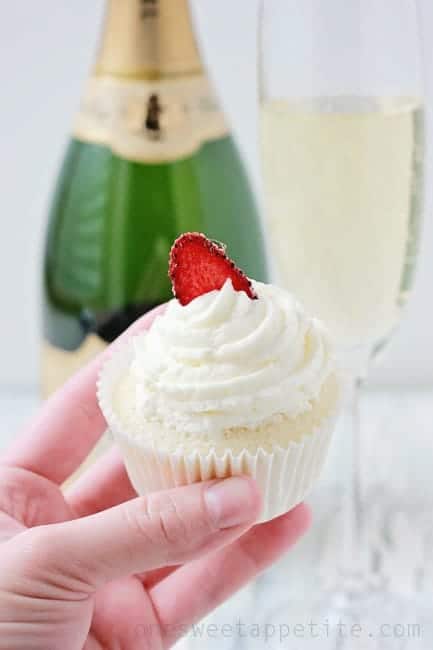 Shout out to all of my champagne loving friends. This recipe is for YOU.
These are insanely delicious Bubby Champagne Cupcakes! All of the magic starts with a light champagne sponge cake. From there you fill it with a sweet strawberry sauce. Top everything off with the most AMAZING champagne buttercream.
Want to get all sorts of fancy? You can even add a candied strawberry right on top.
Recipe Features:
Perfect For Parties: This recipe flavor is so fun for any celebration!
Booze Filled Cake and Frosting!
Strawberry Filling and Easily Customizable.
While these taste great individually, all three components combined are what make the magic happen. There is nothing better than champagne cupcakes with strawberry filling!
Let's dive into some basics so you can really get the best cupcakes!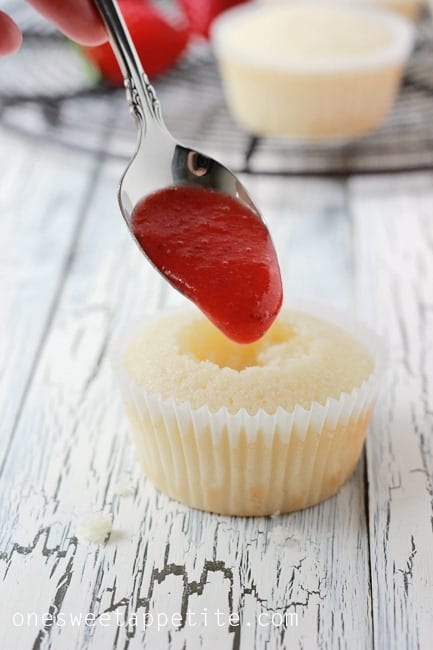 Tips and Tricks:
Follow the tips below for perfect homemade cupcakes every time.
Use the best ingredients available. Using quality ingredients makes all of the difference. For example, pure vanilla extract adds a much bolder, and better, flavor than imitation extract.
Make sure your ingredients are room temperature. This will help everything blend together and incorporate nicely.
Mix slowly. Making sure the ingredients are just incorporated is key. Over mixing can give you a dense cake.
Use a scoop for even cupcake sizes. I like this one (affiliate).
Remove from the cupcake pan (affiliate) immediately. The cupcakes will continue cooking if you leave them in the pan while they cool. This can produce a dry cake.
Cool completely before filling and frosting.
I decided to fill my cupcakes with a simple strawberry sauce. I added a bit of champagne to the sauce but it really was not necessary.
That sauce is delicious all on its own (try it on top of my cinnamon or chocolate waffles. You will not be disappointed).
How to fill a cupcake:
You can see a full tutorial on how to fill a cupcake with step by step photos in this post! Let me walk through the basics with you:
Cool your cupcakes completely.
Use a sharp pairing knife or large piping tip to cut out the center of your cupcake.
Fill with 1-2 tablespoons of your favorite filling.
Place the removed piece of cake back on top.
Frost with your favorite frosting or buttercream.
The strawberry filling really adds a punch of fruity flavor to the soft and spongy cake. Don't skip this part. It also helps to break up the champagne flavor and adds a nice sweetness to the center.
And finally, I topped the cakes with a champagne buttercream! So easy to make it will make your head spin. Pipe it on and you are ready to PAR-TAY!
How to make champagne buttercream:
Use ROOM TEMPERATURE butter.
Mix together with the powdered sugar in the bowl of an electric mixer.
Slowly add a bit of champagne.
Turn the mixer to high and whisk until the desired consistency is reached.
I am not kidding when I say they are champagne flavor packed. You can taste it from the cake to the frosting.
Related Recipes:
Like this recipe? You will love my:
Champagne Cupcakes
Celebrate every occasion with these homemade Champagne Cupcakes! Packed with the bold flavor of champagne and a sweet strawberry filling giving you the perfect cupcake recipe!
Ingredients
Cupcake:
1 1/2 cups cake flour
1 1/2 teaspoons baking powder
1/4 teaspoon salt
1/2 cup butter softened
1 cup sugar
1/2 teaspoon vanilla extract
3 egg whites
1 cup Champagne
Frosting:
3 cups powdered sugar
1 cup butter softened
4 tablespoons champagne
Instructions
Cupcake:
Preheat your oven to 350 degrees. Line two muffin tins with paper liners.

In a small bowl combine the flour, baking powder, and salt. Whisk the egg whites until peaks form and set aside.

Cream together the butter and sugar. Add the vanilla followed by the dry ingredients and champagne. Fold in the egg whites.

Divide the dough between your paper liners. Bake for 15-18 minutes, or until a toothpick comes out clean.
Frosting:
Whisk the butter with an electric mixer until light and fluffy. Slowly add the powdered sugar followed by the champagne. Whisk until fluffy.
Nutrition
Serving: 1Servings | Calories: 460kcal | Carbohydrates: 58g | Protein: 3g | Fat: 23g | Saturated Fat: 15g | Polyunsaturated Fat: 7g | Trans Fat: 1g | Cholesterol: 61mg | Sodium: 303mg | Sugar: 44g
Pin this recipe for later:
Still hungry? Follow One Sweet Appetite on Facebook, Instagram and Pinterest for more great recipe ideas!
Reader Interactions