This post is brought to you by Harmons Grocery.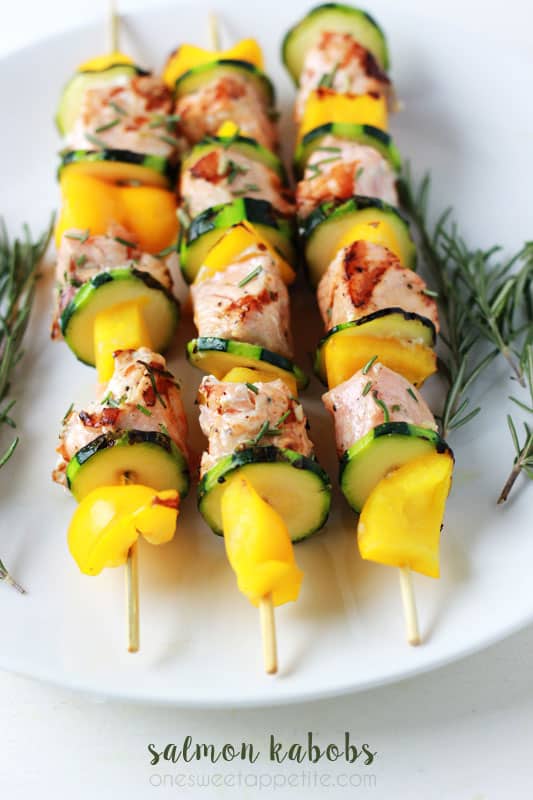 I have a small confession to make… I have never cooked salmon before this recipe. Ever. We aren't really fish eaters here in the One Sweet Appetite home. It's not that we don't like it but that we haven't had enough practice! When I heard that Wild Alaskan salmon season has started at Harmons (beginning last Thursday) I knew it was like a sign from the food gods that I needed to test my culinary skills.
A couple things I learned on my grocery trip…
1. They fly the salmon in straight from Alaska.
2. It's FRESH, never frozen.
3. The meat counter girls know everything.
I was kind of planning on winging it when I got home and had NO idea which direction I was going to take things. They threw in their two cents and gave me some great guidance on the direction I should go.
I got the idea for a kabob from the Food for Thought booklet (available at all of the stores for free or digitally through this link). I'd be ok if all of the food in that book ended up in my belly at one point or another this summer. Anything that is served on a stick makes me feel extra nostalgic and as a bonus makes it extra appetizing to my six year old.
Looking for something a little more traditional that's packed with veggies? Try my Hawaiian Chicken Kabobs!
I used an olive oil base and mixed in some lemon juice, garlic, rosemary, salt and pepper for some added flavor. The rosemary smelled amazing while everything was on the grill but I'm sure you could substitute it for dill. You can also swap out the veggies for any of your favorites. Zucchini happens to be in my fridge at all times. It's simple to prepare and doesn't take long to cook. Tomatoes or sweet onion would be a great compliment to the fish as well!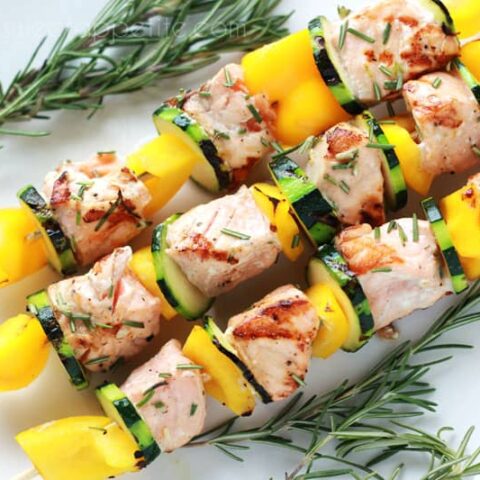 Grilled Salmon Kabobs
Ingredients
1 teaspoon chopped fresh rosemary
1 teaspoon olive oil
1 clove garlic
juice of one lemon
1/4 teaspoon salt
1/8 teaspoon pepper
1 lb fresh salmon, cubed
1 zucchini
1 yellow pepper
or veggies of your choice
Instructions
Heat your grill to medium-high.
Whisk together the rosemary, olive oil, garlic, lemon juice, salt and pepper in a small bowl. Toss the salmon in your dressing mixture.
Build your kabobs layering your chosen veggies and the salmon. Cook on the grill 5-6 minutes on each side or until cooked to your desired doneness.
So are you ready to get grilling? What are some of your favorite summer recipes?