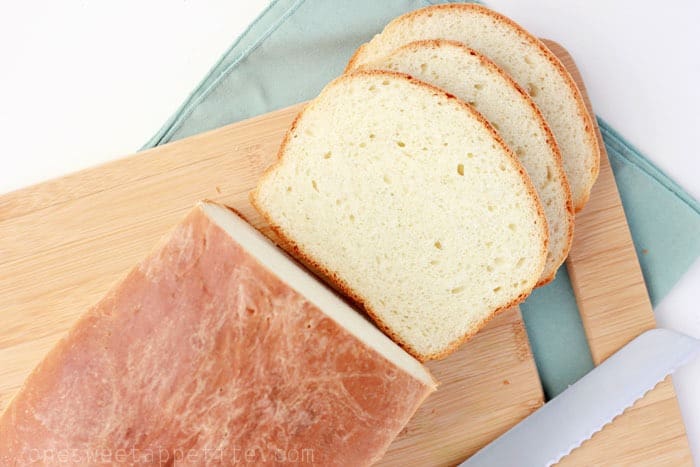 Hello. My name is Jesseca, and I am a bread addict. All kidding aside I do love me some carbs. There is just nothing like a slice of warm bread right  out of the oven slathered in butter and homemade jam. The only downside is that I am a terrible baker of breads. I can whip up cakes, brownies, tarts, pies… but ask me to bake you some bread and I'm at a loss. Or at least I was. Now that I've found this trusty recipe for the best homemade bread I feel like I can conquer the culinary world!
The Best Homemade Bread
Ingredients
2

cups

warm water

2/3

cup

sugar

1-1/2

tablespoons

active dry yeast

1-1/2

teaspoons

salt

1/4

cup

oil

6

cups

bread flour
Instructions
Place your warm water and sugar in the bowl of an electric mixer. Stir until dissolved. Add your yeast and allow to proof until foamy. Typically this will take about five minutes.

Stir in the salt and oil. Now mix in the flour, one cup at a time. Knead with the dough hook for five minutes allowing the dough to pull from the sides and form a ball. Spray your mixing bowl with non stick spray and turn the dough once to coat. Cover with plastic wrap and a clean towel and allow to double in size.

Punch down your dough and knead for 5 minutes. Divide in half and place in two bread pans. Let rise until just over the edge (about 30 minutes).

Bake at 350 for 30 minutes.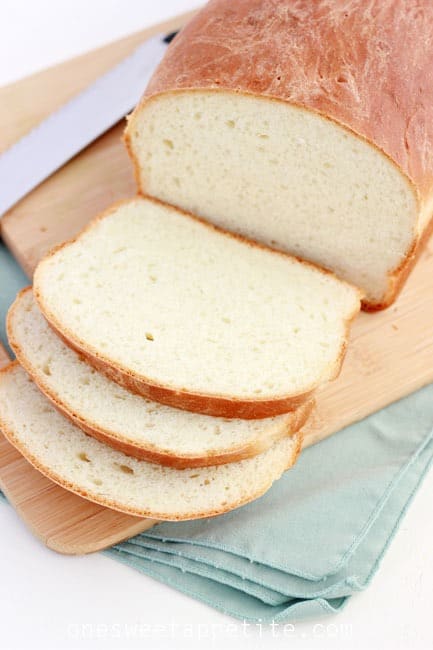 So here are my two suggestions. Don't get your water too warm or it will kill your yeast. I get mine to a temperature where I can hold my finger in it comfortably for a few seconds. Also, if you don't have two bread pans you can form a loaf onto a parchment lined cookie sheet. You'll end up with a more round loaf but it still tastes the same and makes for a cute neighbor gift.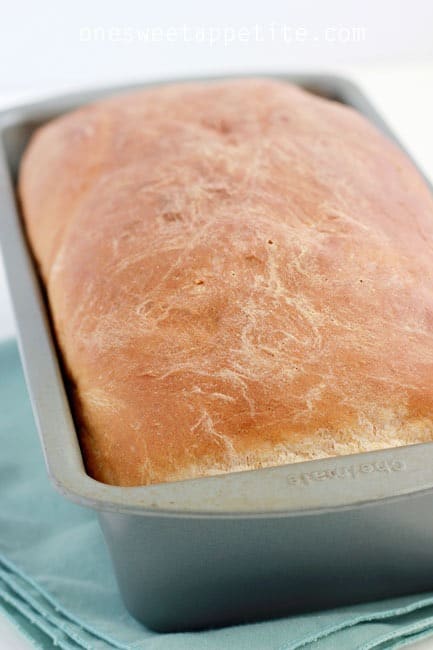 This loaf is light but still thick enough to spread peanut butter without falling apart. We call it the best sandwich bread. Also, if it's been sitting out for a little too long and starting to get stale… Whip up a quick overnight french toast! This bread is the perfect consistency for that great overnight recipe!
(Visited 7,223 times, 1 visits today)
11